EDITOR'S NOTE: This story was updated to reflect current services on Feb. 10, 2022.
At the Indiana University Student Health Center, employees can access a wide range of professional and convenient health and wellness programs. The center contracts with a number of health insurers and will bill for all services, including IU's Anthem PPO Plans. Here are several services you might not have realized you can access right here on campus.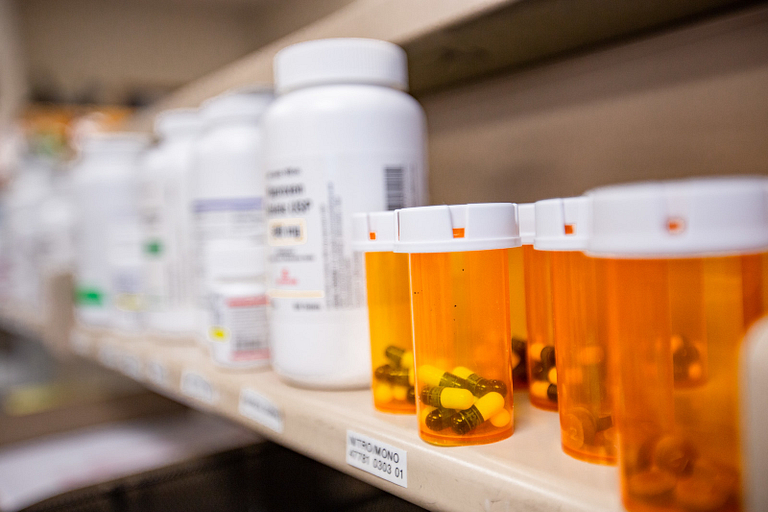 The Acute Care Eye Clinic
The Acute Care Eye Clinic at the IU Student Health Center is staffed with highly trained professionals from the IU School of Optometry capable of treating a variety of symptoms. Employees can be seen for pinkeye, headaches, dry eyes, and more. The eye clinic is also building its concussion referrals; without proper treatment, concussions can lead to lingering vision-related problems.
Another advantage is the clinic's top-of-the-line equipment.
"I would like people to use trained eye care professionals to evaluate their eye-related symptoms and to not go to urgent care medical clinics or the ER," said Jane Ann Grogg, director of the clinic. "The resources we have are very helpful in diagnosing a patient correctly."
The pharmacy
Convenience is key while working, and the IU Student Health Center makes getting your prescriptions easy. The pharmacy is open to faculty and staff, and accepts nearly all prescription drug plans. The IU Student Health Center is part of a multistate buying group that significantly reduces the cost of prescription medications, and the pharmacy carries many over-the-counter medications as well. Curbside pickup is available for employees.
Physical therapy
The IU Student Health Center offers physical therapy services addressing conditions all over the body, including the neck, back, hips and knees. The goal is pain relief, restoration and function, and the center's therapists are trained to work with any condition – whether it was developed though working long hours on a computer or from a sports injury or surgical procedure. The center does require a prescription to begin physical therapy.
Radiology
Employees with an order from any U.S. medical provider can get state-of-the-art diagnostic images from radiology at the IU Student Health Center. Images are available immediately, and a diagnostic report from a board-certified radiologist is ready within 24 hours of an appointment.
The travel clinic
The IU Student Health Center offers guidance for in preparation for travel. The center will look at what pre-travel planning and medications are recommended for your destination and provide those services all in one place. All you have to do is bring documentation of past immunization records and a trip itinerary. Many vaccines that are offered are not available anywhere else in Bloomington. The travel clinic is also open to the public.
Health and nutrition
As part of the Healthy IU Health Screening initiative, the IU Student Health Center offers free health screenings and nutrition counseling for employees and their spouses in order to focus on positive health and well-being. Healthy IU offers a $100 (pre-tax) incentive to each full-time academic and staff employee (and his/her spouse) enrolled in an IU-sponsored health insurance plan. The health screening checks a variety of factors, such as blood pressure, total cholesterol, glucose, height, weight and body mass index, and results are provided during the appointment.
For more information on employee services offered, visit the IU Student Health Center website or make an appointment using the online scheduler.