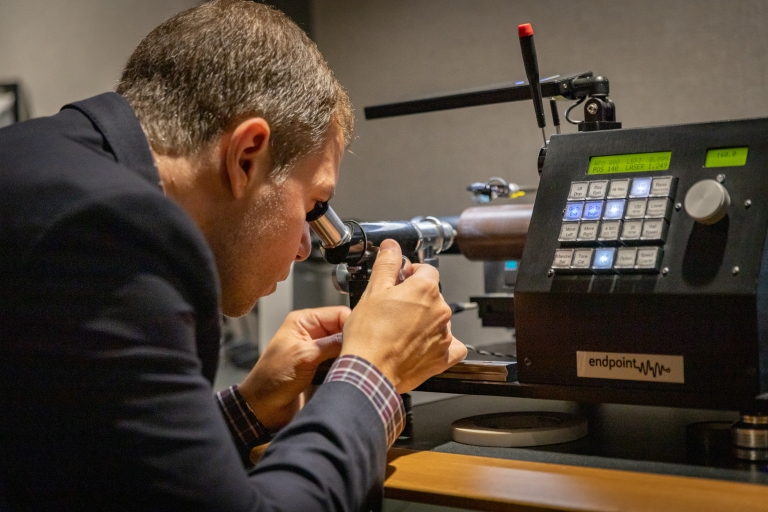 Indiana University's Media Digitization and Preservation Initiative met a major milestone this summer by completing its wax cylinder digitization project.
Wax cylinders are antiquated audio recordings made of thin brown or black wax. They can be easily damaged just by the heat from your hands, and dropping one could destroy it.
IU Libraries' Archives of Traditional Music hold a large collection of about 7,000 wax cylinders, rivaling only the Library of Congress in size in the U.S. Though frequently accessed by patrons through open-reel tape copies made decades ago, these tape copies suffered from numerous technical problems and are now, themselves, obsolete.
Wax cylinders weren't the only medium suffering from age and obsolescence. IU has audiovisual pieces on formats of all kinds, and time was running out to retrieve any of it.
In recognition of the dire state of all audiovisual objects everywhere, IU allocated $15 million in 2013 to the newly minted Media Digitization and Preservation Initiative to digitally preserve and provide access to all 325,000 of the university's significant audio and video recordings by 2020. In 2017, the initiative added the digitization of 25,000 film reels to its goal. A grant from the National Endowment for the Humanities partially funded the wax cylinder digitization, in particular.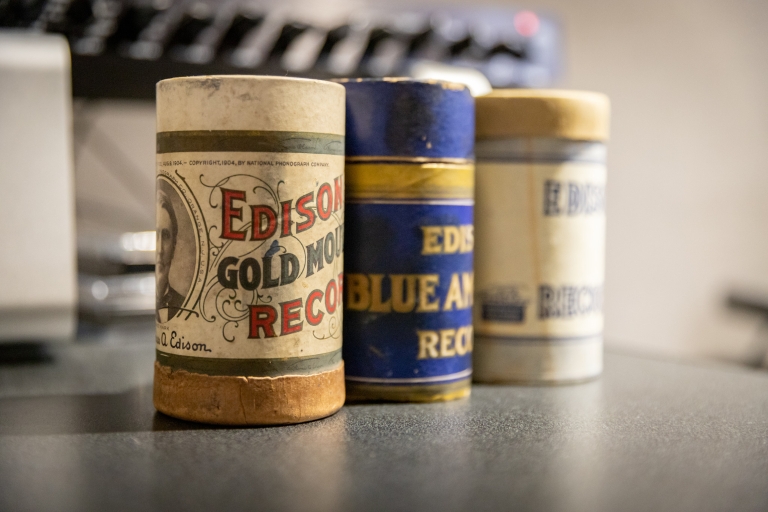 Wax cylinders don't look like much, but these pieces of delicate wax have stories to tell. Some wax cylinders speak of Native American culture 125 years ago. Some are the earliest known recordings in China from 1901. Many are recordings of extinct languages. Still more of them are field recordings from notable ethnologists like Franz Boas, Edward S. Curtis and George Herzog, who advanced the study of culture with their work. And a rare few are simply our historical counterparts from 1920, lining up the family to shout their names at the wax, or perhaps play a little tune for posterity.
Teasing content out of wax cylinders is the job of audio preservation engineer Dan Figurelli and his Media Digitization and Preservation Initiative colleagues. Figurelli started out in sound production, working in recording studios in Chicago and Los Angeles. When he got to Bloomington, he worked for a studio that was preserving thousands of cassettes recorded in the '60s. It was his first foray into the field.
"I found myself really enjoying preservation work. The content is very precious to a lot of people, and it needs to be rescued," he said. "Typically, the older the format, the more difficult it can be to play back properly. I've found restoring unique recordings to be very rewarding work. When I found out what IU was doing with MDPI, I knew that was where I wanted to be."
Digitizing wax cylinders brought a unique need to the table – namely, equipment that could play and digitize them. Such a thing barely existed when the project started, and certainly nothing that could be considered an industry standard for such rare pieces. The Media Digitization and Preservation team auditioned a few options and finally settled on a machine called the endpoint cylinder machine, invented by Los Angeles colleague Nick Bergh.
Bergh's invention uses an optical laser to measure the distance to the cylinder, which allows for accurate calibration, or centering. Once the cylinder is centered, engineers can use a stylus to play back the actual audio. IU bought the very first production model. Following IU's lead, subsequent purchases of the machine came from the Library of Congress, the National Museum of the Czech Republic and Stanford University, Figurelli said.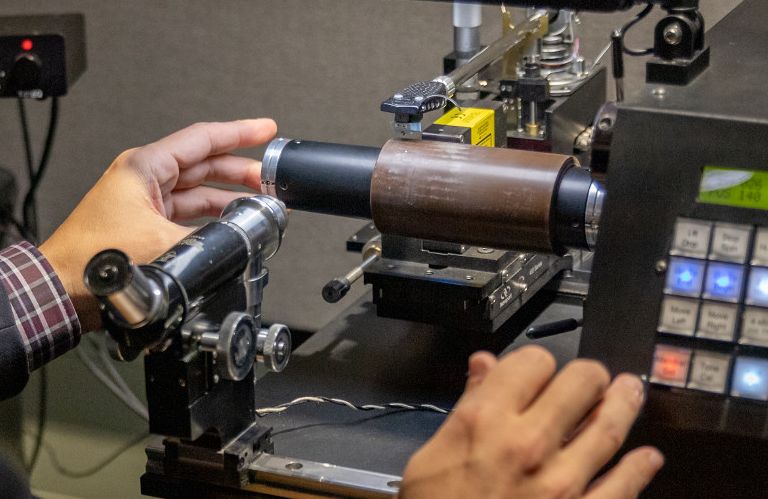 Digitizing cylinders is a meticulous process, and it requires complete focus during a transfer.
"The biggest challenges are the physical conditions of the cylinder, finding the correct speed and dealing with any divots or imperfections in the cylinder, which can cause tracking issues," Figurelli said.
Foreign and extinct languages presented problems of their own, especially if the audio preservation engineer didn't speak the language. Trying to recognize and locate repeated content from a stylus skip in a foreign language file was needle-in-a-haystack work.
On average, Figurelli estimates he was able to digitize 15 cylinders per day. But there were days when the cylinders he pulled were problematic, and on such days, he maybe only completed eight to 10.
Now that the collection has been digitized, the next step is to get the collection cleared to share. This involves working with each indigenous community represented to establish clear protocols for appropriate access. Some of the Media Preservation and Digitization Initiative's digitized collections are already available on the Media Collections Online website.
"You're rescuing this audio that would otherwise be unplayable," Figurelli said. "There is a chance that this material hasn't been heard since it was first recorded, so it's fascinating to hear what's on there, but also to know that it's being digitally preserved and is finally ready to be shared with the rest of the world," Figurelli said.
Amanda Chambliss is a communications project manager and writer with the Office of the Vice President for Information Technology.