The United States Department of State has released the latest list of projects for its Diplomacy Lab, an innovative program designed to bring the resources of U.S. colleges and universities to bear on real-world foreign policy challenges, and faculty members at Indiana University Bloomington and IUPUI can apply to lead a lab.
Launched in 2013, Diplomacy Lab engages teams of students at U.S. universities in research related to critical policy issues in areas such as women's economic empowerment, sustainable development, human rights, violent extremism, global health, energy security and international treaties.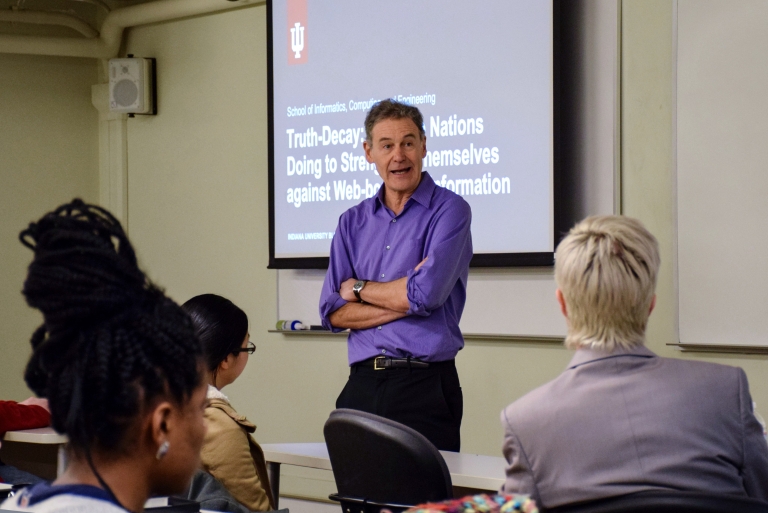 To date, nearly 600 students from both campuses, under the supervision of faculty experts, have worked for State Department clients on issues including public health and nutrition programs in Africa, energy and environmental policy in southeast Asia, educational collaborations in Kosovo, and port security in counternarcotics and counterterrorism.
"Diplomacy Lab allows students to become the research arm of the Department of State on critical issues," said William Foley, senior lecturer in the O'Neill School of Public and Environmental Affairs at IUPUI. "Our students, with an entire graduate course involved, recently offered recommendations which changed State's security policies for selected, major African ports."
Michael Hamburger, professor of earth and atmospheric sciences in the IU Bloomington College of Arts and Sciences, agrees that the labs offer students unmatched experience.
"The Diplomacy Lab program offers IU students an extraordinary opportunity to apply their academic skills to real-world foreign policy issues," Hamburger said. "In my own case, the program has given our science students an opportunity to collaborate with students from political science, public policy and international studies on significant issues of global environmental and energy policy."
As participating schools, IU Bloomington and IUPUI are each entitled to bid on up to six projects for the spring 2020 semester. Faculty members from all disciplines and any academic field are encouraged to apply to lead a Diplomacy Lab.
Labs can range from one-student independent research projects to large lecture-format classes. Research can be conducted as part of a course or seminar or as an independent research project, and students will have opportunities throughout the semester to discuss their research with State Department officials.
"We're delighted to partner with the State Department on its Diplomacy Lab initiative," IU Vice President for International Affairs Hannah Buxbaum said. "It allows our students to contribute in a very real way to the mission of the department in addressing critical international challenges."
Faculty interested in leading a Diplomacy Lab in the spring semester should submit an application on the IU Diplomacy Lab website before Oct. 13.
Brittaney Hartzer is director of marketing and communications for the Office of the Vice President for International Affairs.