A major recycling initiative on the IUPUI campus is expected to be completed by the end of the calendar year.
More than four years after the first desk-side recycling bins arrived in University Hall, the initiative aimed at reducing office waste will be in all but three buildings after the latest wave of bins arrives Friday through Sunday, Sept. 6-8, in the Kuhn House, MLK Community Center, Biotechnology Research and Training Center, and Campus Services buildings 4 and 5.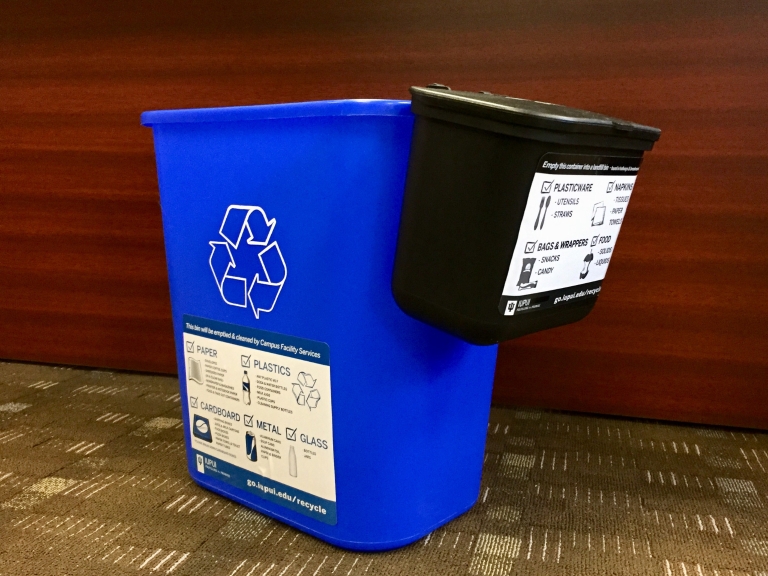 The blue bins with the black waste caddies attached to the side encourage recycling and convenience. The few buildings yet to get the bins are currently under renovation.
Office of Sustainability director Jessica Davis said the desk-side recycling program is getting results, especially at buildings that have more office clusters than labs.
"At University Hall, the recycling rate went up to 50 percent," she revealed. "We'll have it on the entire campus by the end of this year. That's the goal. It's been a labor of love."
The initiative is a collaboration between the sustainability office and Campus Facility Services. The 5,000-plus bins were purchased by Campus Facility Services, and Sustainability produced the decals and measures the efforts.
According to Sustainability:
IUPUI's average campus recycling rate is only 18 percent, the lowest among our peer institutions in the Coalition of Urban Serving Universities, and Indianapolis is one of the most wasteful cities in the nation. Waste audits on campus have demonstrated that up to 70 percent of campus waste can be recycled. Office-dense buildings that have switched to the new desk-side recycling program have an average recycle rate of more than 40 percent.
In office settings, up to 90 percent of waste is recyclable. The desk-side recycling program matches the waste stream by providing bins of the correct size, reinforcing the idea that creating trash is a choice we can all avoid for the betterment of the economy, society and planet.
The desk-side recycling program has changed waste management at IUPUI. Campus Facility workers empty only the blue bins at desks and cubicles. The small, black trash bins are to be emptied into larger, common bins by the office worker. This saves the Campus Facility workers time and reduces the number of plastic bags utilized in campus waste management. The common bins are still emptied by Campus Facilities.
"Every year, IUPUI throws away over 500,000 plastic bags that line desk-side trash bins," Davis said. "A bagless desk-side system decreases the amount of waste generated by IUPUI and reduces the time needed to empty bins."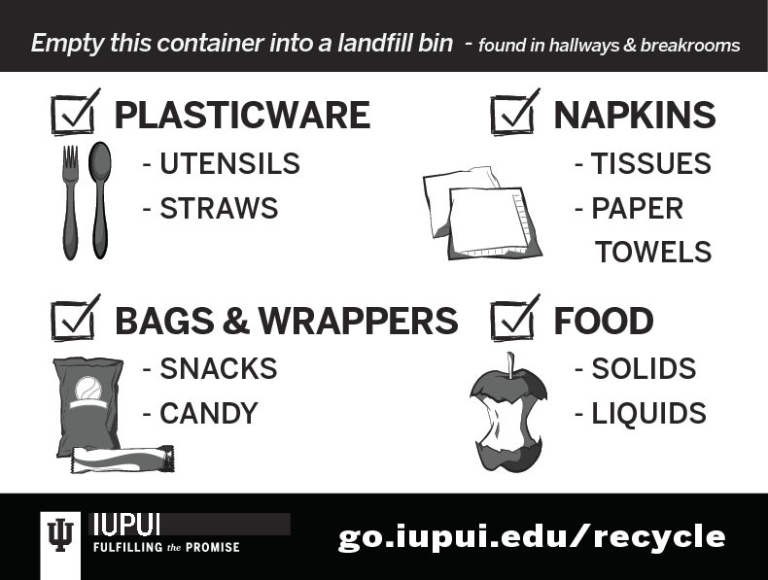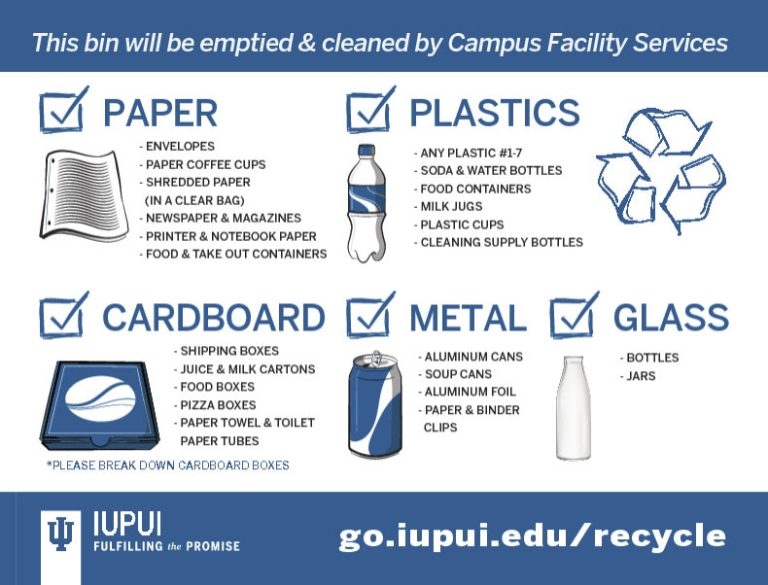 So, you're getting desk-side recycling:
Old desk-side trash bins and cardboard recycling boxes will be removed from your office space by Campus Facility Services and replaced with the new system described here. It is recommended that you shred any necessary documents in your recycle bin before this transition.
Previously, Campus Facility Services emptied only desk-side trash, and users were responsible for disposing of their own recyclables. In the new program, Campus Facility Services will now empty and clean only your recycle bin on their normal waste schedule.
Employees are responsible for their own mini trash bin, including disposing of their mini trash bin contents into a common trash bin found in hallways and break rooms. Employees should not ask anyone else – custodial staff, student workers, colleagues – to empty their personal bin.
The new desk-side waste management system is bagless. No bag liners will be placed in the desk-side recycle or mini trash bins. Campus Facility Services will clean your recycle bin if it becomes dirty, and you may feel free to manage your mini trash bin as you see fit. Some people bring a grocery bag from home, but some find they produce so little trash at their desk, there is no need for a bag.
Every desk-side recycle and trash bin will come equipped with educational decals to inform users of what is and is not recyclable or trash.
Recycle and trash bins found in common areas – hallways and break rooms –will not change. They will still be emptied daily and have a liner in the bin.
If you would like a representative from IUPUI Sustainability to present to your office, please email sustindy@iupui.edu.