You gotta Regatta.
The annual canoe race and festival comes to downtown Indianapolis on Sept. 21 and invites IUPUI students, faculty, staff and the community to attend this free annual event. You can even bring your dogs.
And it's more than one day of canoe races. Here's your guide to Regatta day and the week of events leading up to it. Plus, how faculty and staff can get involved and volunteer.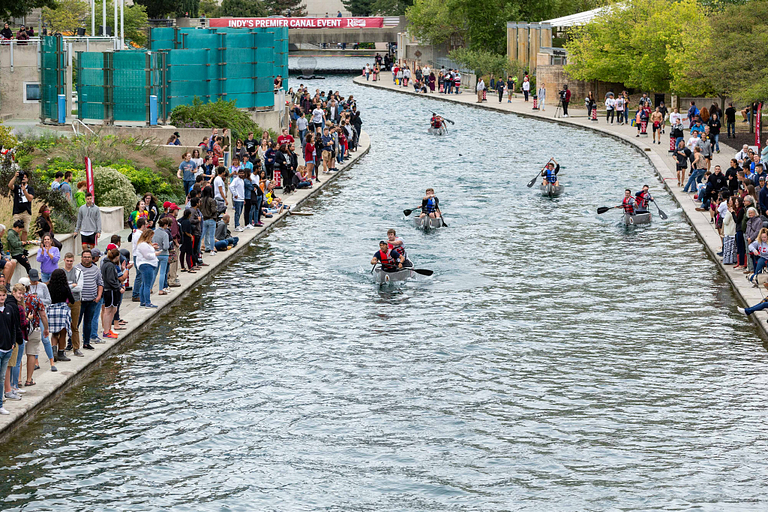 Let's start with Regatta day
Regatta takes place in downtown Indianapolis on the canal. The race will take place between the Indiana State Museum and Military Park, with the start of the race at Blackford Street and the exchange point in the Ohio Street Basin. The Regatta festival is in Military Park, adjacent to the race's starting point. The best part? It's on campus and an easy walk from various parking garages.
Regatta Schedule
The Regatta Community Festival will be open 9 a.m. to 4:30 p.m. and will encompass loads of entertainment and activities, including rides, face painting, henna art, inflatables, balloon artists and more. You can find the festival in Military Park, adjacent to the canal where the canoe races will occur.
The opening ceremony is at 10 a.m., with Wave 1 of the race beginning at 10:30 following the Regatta Court Pace Boat.
Regatta Royalty will be crowned at 12:15 p.m. on the Regatta stage, which is located in Military Park, along the sidewalk parallel to the canal.
Winners of the dog costume contest will be unveiled at 1:30 p.m. on the stage. Bring your dressed-up pup to the festival to enter them in the contest. Registration is 11 a.m. to 1 p.m.
Watch performances from students like the SAPB Talent Show winner at 2 p.m., the African Student Association Dance Team at 2:30 p.m. and the On a Side Note a cappella group at 3 p.m., all on the Regatta stage.
Canoe race finals
This year, IU campuses from across the state are competing to celebrate the university's Bicentennial Year. Watch IU Kokomo, IUPUC, IU Southeast and IU East duke it out in the IU Campus Competition Division Finals at 3 p.m.
IUPUI Women's Division Finals begin at 3:15 p.m., IUPUI Co-Ed Division Finals begin at 3:30 p.m. and IUPUI Men's Division Finals begin at 3:45 p.m.
The closing ceremony will begin at 4 p.m. on the Regatta stage.
No rain cancellations
Bring your poncho. Regatta will go on rain or shine.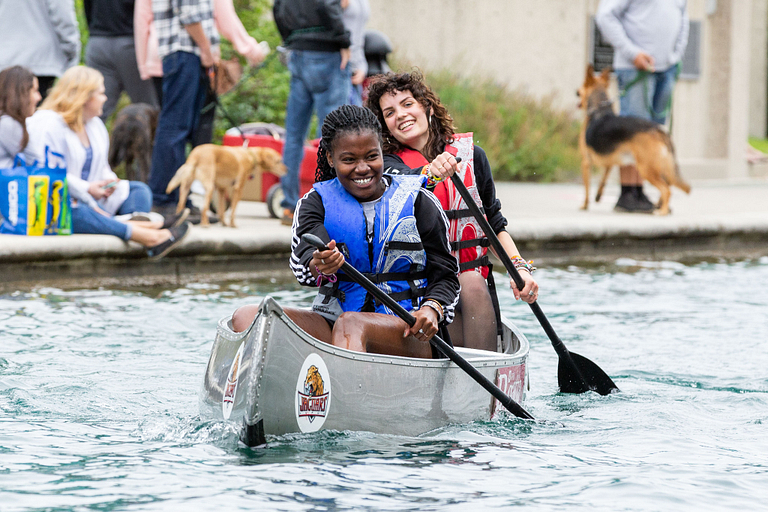 How to help out
IUPUI offers several ways for employees to give back ahead of and on race day.
Regatta Service Day will take place from 8 a.m. to noon Saturday, Sept. 14, and is a partnership with Westminster Neighborhood Services to give back to those impacted by the gentrification of Indianapolis, including the construction of IUPUI. Projects include working in the soup kitchen, in the classroom with kids and more. Sign up online to take part.
Employees can also help by volunteering for Regatta setup, on Sept. 20 and on the day of the event, by taking shifts for a few hours. Learn more and sign up online.
More information
See a full list of Regatta Week activities.
For important day-of information and updates, be sure to follow @IUPUIRegatta on Facebook, Instagram and Twitter.