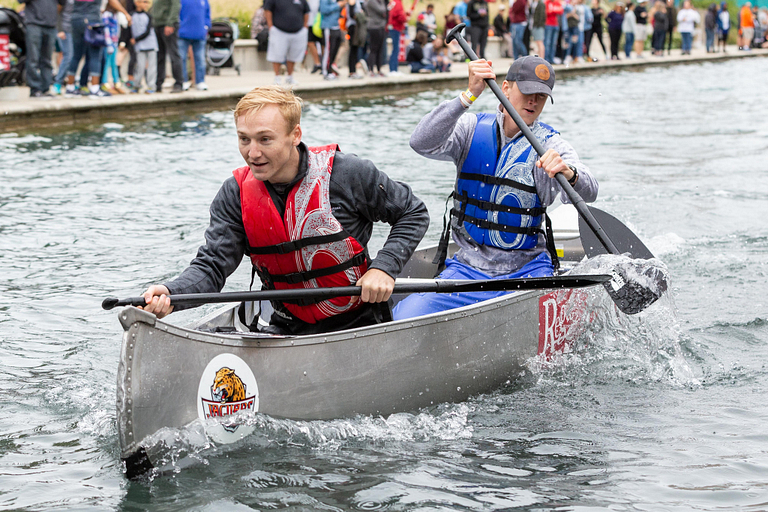 You gotta Regatta. The annual canoe race and festival comes to downtown Indianapolis on Sept. 21 and invites IUPUI students, faculty, staff and the community to attend this free annual event. You can even bring your dogs.
Leading up to race day is Regatta Week, which features a variety of events hosted by student organizations that are meant to hype you up for the big day.
Regatta Week begins Sept. 15. Here are some events you won't want to miss.
Monday, Sept. 16
Popsicle social, noon, Campus Center
Ever wanted to help plan Regatta or gain experience to add to your resume? Stop by to meet the current steering committee and learn how to join.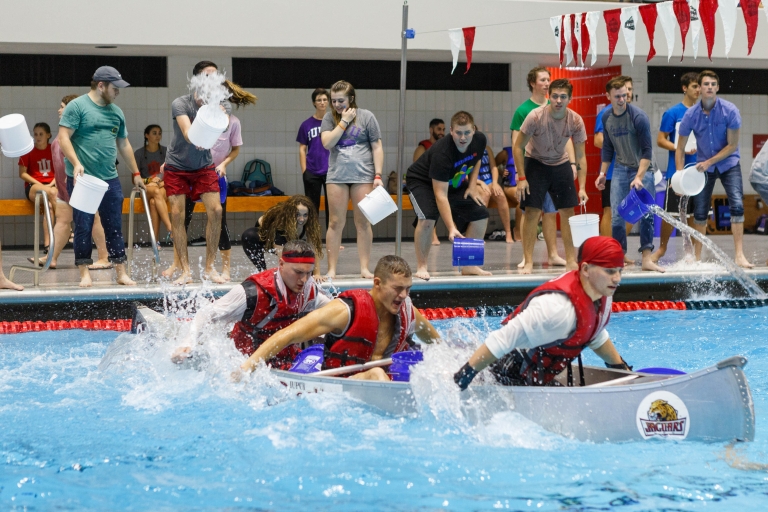 Tuesday, Sept. 17
Talent show, 6 p.m., Campus Center
Can you talk with your mouth closed? Are you prepping for your "America's Got Talent" audition? SAPB wants you to perform. The top three vote-getters receive money on their CrimsonCard, and the first-place winner performs onstage at the Regatta festival Saturday, Sept. 21. You can sign up at the talent show or follow @iupuiSAPB on Twitter, Instagram and Facebook for the link to register your act in advance. Don't want to perform? That's OK, too. Come watch and vote for the winners.
Battleships and water games, 8 p.m., IU Natatorium
Teams of three can sign up for Battleships – a contest to sink other teams' canoes –until Sept. 15. Have you ever played tug of war, but in a canoe? That's on the schedule, too. If you're not a fan of water games, there will be plenty of other activities to participate in, sponsored by Jagathon and VIDA.
Wednesday, Sept. 18
Stuff-A-Plush, 11:30 a.m., Campus Center TV Lounge
Make your own jaguar stuffed animal, courtesy of SAPB. There is a limited quantity, so we recommend arriving early. Your new furry friend will also receive a commemorative T-shirt.
S'mores 'n Oars, 6 p.m., University Tower Circle Drive
Fuel up for the rest of the week with fluffy marshmallows. Decorate your own paddle and enjoy s'mores with Housing and Residence Life.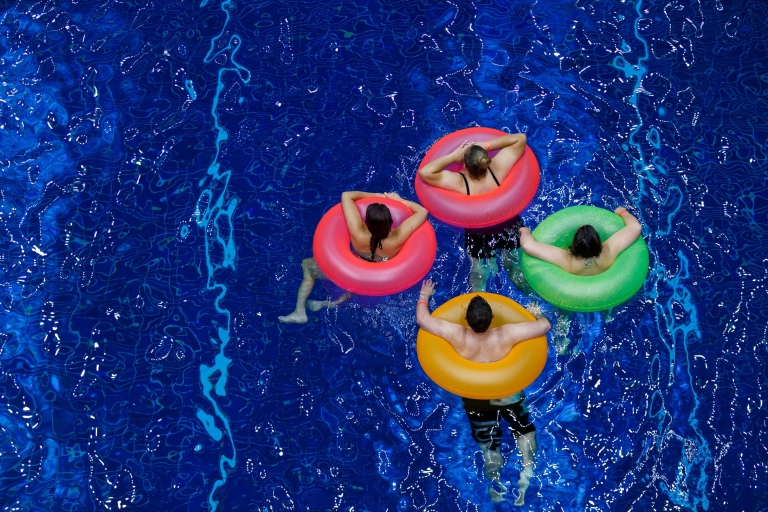 Thursday, Sept. 19
Phi Delt Onward 5K, 7 p.m., NCAA Hall of Champions
Run to benefit the LiveLikeLou Foundation for ALS with Phi Delta Theta. Registration begins at 7 p.m., and the race will start at 8:30 p.m.
Flick 'n Float, 9 p.m., IU Natatorium
Sit back, float and relax in the Nat while you watch "Moana." SAPB will provide the floats – please don't bring your own. You can also watch from the bleachers or sit on the side of the pool if swimming isn't your thing. You can use the lockers in the Nat, but you'll need to bring your own lock. Doors open at 8:30 p.m.; the movie starts at 9 p.m.
Friday, Sept. 20
Women's soccer vs. Northern Kentucky, 11 a.m., Carroll Stadium
Practice getting loud for race day as you cheer on the Jags to victory over the Norse in this Horizon League matchup.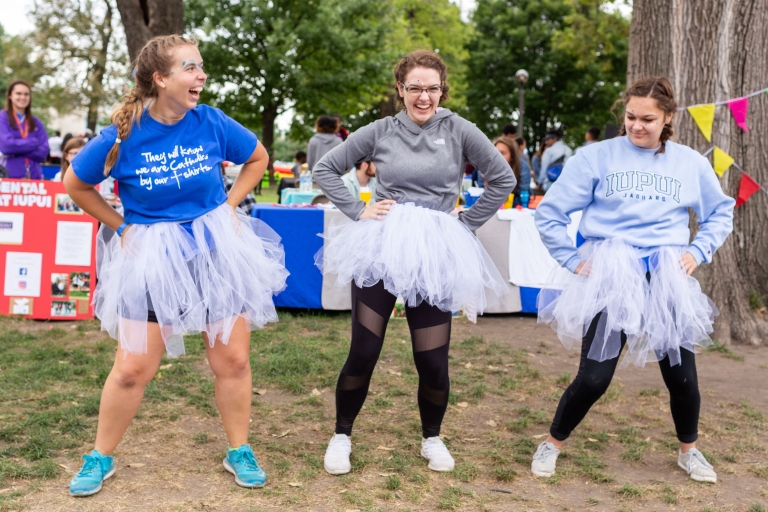 Saturday, Sept. 21
It's Regatta day! Regatta, the canoe race and festival, is one of the top five things you must experience as an IUPUI student. Here's how it works.
Location
The Regatta race takes place in downtown Indianapolis on the canal, between the Indiana State Museum and Military Park, with the start of the race at Blackford Street and the exchange point in the Ohio Street Basin. The Regatta festival is in Military Park, adjacent to the race's starting point. The best part? It's on campus and an easy walk from various student parking garages and residence halls.
Regatta schedule
The Regatta Community Festival will be open 9 a.m. to 4:30 p.m. and will encompass loads of entertainment and activities, including festival rides, face painting, henna art, inflatables, balloon artists and more. You can find the festival in Military Park, adjacent to the canal where the canoe races will occur.
The Regatta Family Meet and Greet is scheduled for 9 to 10:30 a.m. You can register now at families.iupui.edu.
The opening ceremony is at 10 a.m., with Wave 1 of the race beginning at 10:30 following the Regatta Court Pace Boat.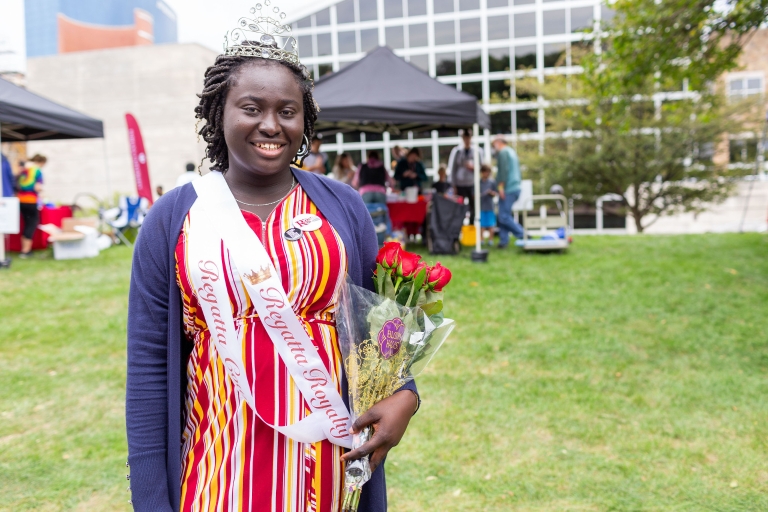 Regatta Royalty will be crowned at 12:15 p.m. on the Regatta stage, which is located in Military Park, along the sidewalk parallel to the canal.
Winners of the dog costume contest will be unveiled at 1:30 p.m. on the stage. Bring your dressed-up pup to the festival to enter them in the contest. Registration is 11 a.m. to 1 p.m.
Watch performances from students like the SAPB Talent Show winner at 2 p.m., the African Student Association Dance Team at 2:30 p.m. and the On a Side Note a cappella group at 3:00 p.m., all on the Regatta stage.
Canoe race finals
This year, IU campuses from across the state are competing to celebrate the university's Bicentennial Year. Watch IU Kokomo, IUPUC, IU Southeast and IU East duke it out in the IU Campus Competition Division Finals at 3 p.m.
IUPUI Women's Division Finals begin at 3:15 p.m., IUPUI Co-Ed Division Finals begin at 3:30 p.m. and IUPUI Men's Division Finals begin at 3:45 p.m.
The closing ceremony will begin at 4 p.m. on the Regatta stage.
What happens if it rains?
Bring your poncho. Regatta will go on rain or shine.
For important day-of information and updates, be sure to follow @IUPUIRegatta on Facebook, Instagram and Twitter.