Follow her heart or her head? That was the question facing Nidhi Ramanathan, now a Kelley School of Business senior at IUPUI.
As she headed into her last summer break before graduation, Ramanathan had two options. One was to seek a financial consulting summer internship in the U.S., an option tied to her career plans of working in the field of finance as a financial analyst, a business consultant or an investment banker. The other was to follow her passion for community service by helping teach English to youngsters in two rural schools in India.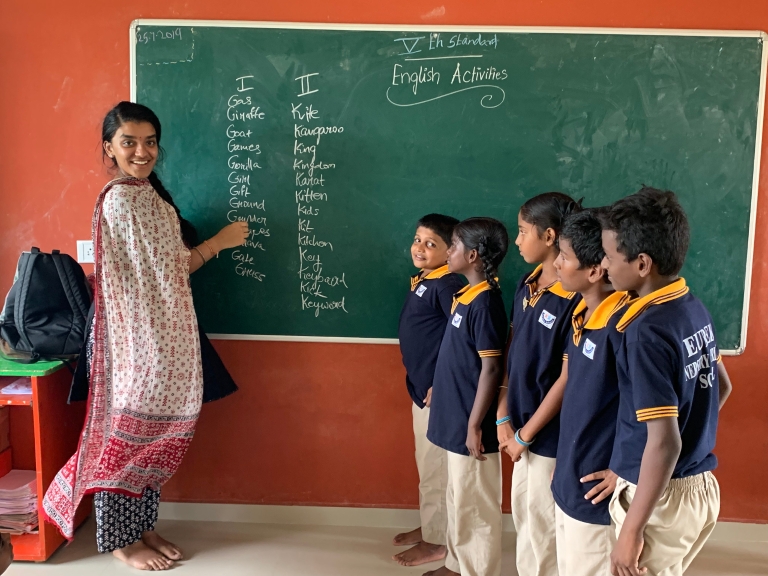 Her heart won out.
"I decided this would be my only chance to go back to my roots, stay in touch with my own culture and give back to my community in my nation, India," Ramanathan said. Although she was born and raised in Dubai, she said, she is "a true Indian at heart."
There was also the opportunity to pursue her love of Indian dance in the city where the educational nonprofit organization at which she interned, AID India, was located. "This was one of the only opportunities I could have gotten during my college career to go back to Chennai in India, which is the hub of classical music and dance. It was just an amazing opportunity," she said.
Ramanathan served as an AID India content development intern in June and July, creating different kinds of English-language exercises for classes for students 8 to 12 years old.
"I was basically involved in creating teaching material and different vocabulary exercises to enhance their English as I encouraged them to speak in English, at least while they were in class," she said. As a dancer, she also utilized her creative instincts and choreographed a routine to the national song of India for the students' performance at their annual Independence Day celebrations at school.
It was an enriching and wonderful experience, she said.
"Although this experience was not related to finance, it enriched me with values that I need to instill in myself to have a successful career," Ramanathan said. "Working with the people at AID India taught me so many values, like commitment, dedication for what I do and empathy for the people around me."
She also came away from working with the students with lessons learned about approaching her work life. "The children taught me to aspire to the highest level with the resources I have in hand, even when those resources are limited and don't include the latest technology. They work hard to do what they can to succeed."
"These overall experiences taught me to stay grounded, and at the same time ensure that I am working to the best of my potential so I can achieve all of my dreams," she said.
Those sentiments would not surprise her fellow Kelley Honors students. In a Kelley publication, Ramanathan summed up her advice to other international students and to all students looking to make the most of their time at Kelley: "Get involved and use the resources available."
"There is always a door waiting to be opened in life," she said.
In addition to being part of Kelley Honors, Ramanathan has been involved in a variety of student organizations and initiatives, including becoming the founding treasurer of IUPUI's Model UN, serving as president of the student organization Kelley Indianapolis Cares, and participating in Days of Service and other volunteer programs.