Is she beauty?
Is she grace?
Is she contractually obligated to wear her sash to every media appearance?
Milan Nguyen checks those boxes and more, having won the title of Miss Indiana United States and representing the Hoosier State in this year's Miss United States competition. You might assume all pageant participants are just a pretty face talking about world peace, but Nguyen's story runs deeper.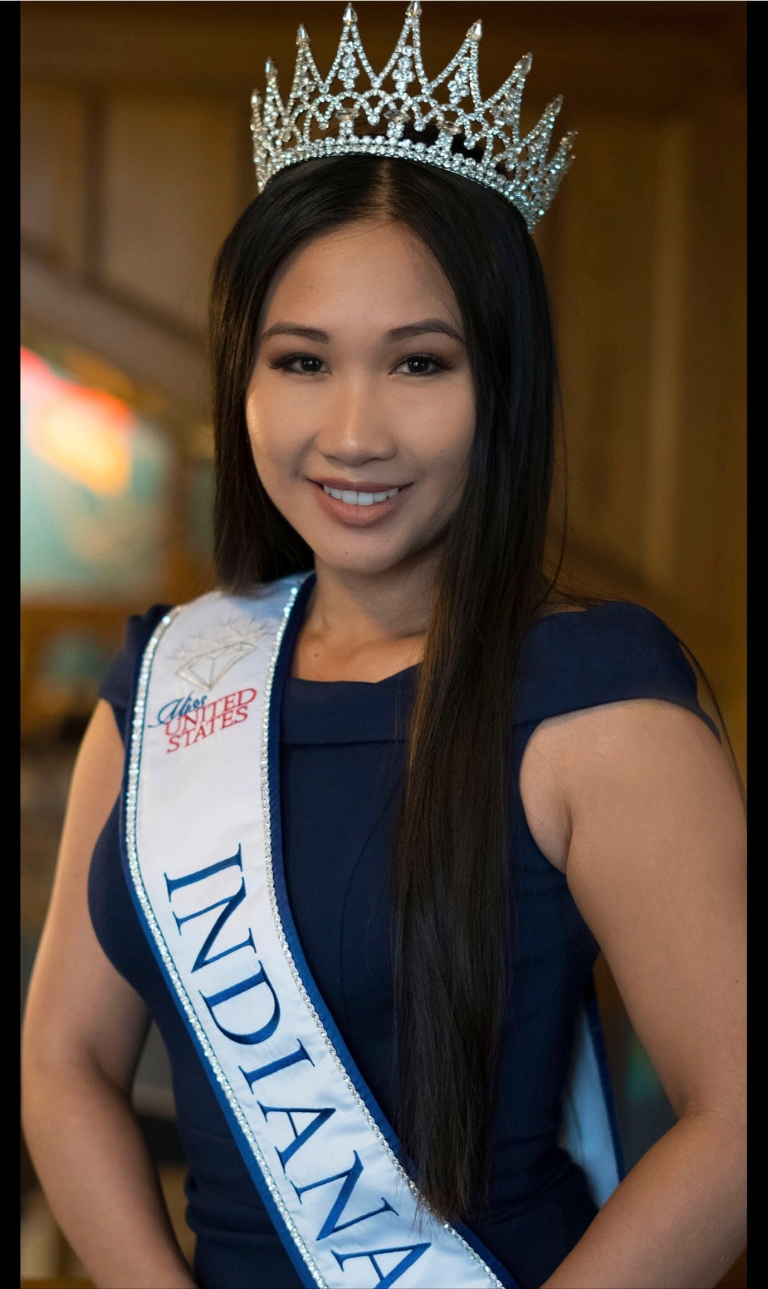 "I've traveled all over the world and lived in different states, and I think that something that is very pure and valuable is our sense of community, love for our neighbors and our hospitality," said Nguyen, who hails from Greencastle. "I can honestly say I have really never been anywhere else that I've felt that strong sense of love for one another."
That sense of community is what led Nguyen to pursue a Ph.D. in social work at IUPUI after studying communications and biology at Indiana University in Bloomington. This decision came after spending time on a conservation facility in South Africa, working with lions and tigers. While it was a rewarding experience, it showed her that it wasn't her true calling.
Meanwhile, her student debt and cost of living were piling up, an all-too familiar reality. She began competing in pageants in hopes of winning scholarships to offset her bills.
But shortly after she began her graduate work, she experienced something equally as challenging: homelessness.
"There were some traumatic events leading up to that, and it really affected the way I was able to exist in society and contribute," Nguyen said.
Her parents moved back to their home state of California, leaving her without a strong support system to rely on. Along with that, she was in an unhealthy relationship that left her in a dark hole that she struggled to climb out of.
"I was so deeply depressed and frazzled by my emotional problems that I wasn't very proactive about finding a place to live," Nguyen said. "I couldn't commute to Bloomington for my studies, and as the avalanche of problems I faced grew, I found myself sleeping on a bench outside of Kroger."
The focus of her graduate work is clinical mental health, something that her eyes were opened to during this time. The stress her situation created on her mental health left her exhausted, and looking back, she can't believe it put her in a place where sleeping outside was preferable to expending the energy needed to function.
"A lot of people deal with mental health issues who don't have the access to resources to better care for their mental well-being, and it's something that we should talk about," Nguyen said. "It's stigmatized, and it shouldn't be. We don't do that with physical health; why do we do it with our mental health?"
She eventually began working for the veteran population of Indianapolis that experienced homelessness. Her personal experiences made her better able to empathize and relate to people; she realizes it can affect everyone differently. As of now, the homeless veteran population in Indianapolis is at functional zero, meaning Veterans Affairs cannot positively identify any homeless veterans in the area.
"Everyone has unique stories and circumstances, but if we are better able to provide preventative measures and find appropriate interventions, we can address these problems proactively, versus reactively," she said.
Nguyen didn't take a traditional route to royalty, but her experiences shaped her into who she is today.
"My values, my commitment to service, my love for my community – those are at the forefront of not only who I am as a person, but who I am as a representative of this state."