INDIANAPOLIS – IUPUI Chancellor Nasser H. Paydar will dedicate the Shreve Gateway to the campus in a ribbon-cutting ceremony at 10:30 a.m. Wednesday, Sept. 11.
In August 2018, Indiana University alumni Jefferson and Mary Shreve made a gift to IUPUI to name the gateway that officially welcomes all who come to campus. The structure was completed in spring 2019.
The Shreve Gateway is composed of limestone, stainless steel, precast concrete and glass and echoes the composition of other iconic campus buildings such as the Campus Center, the Herron School of Art and Design's Eskenazi Hall, and University Library.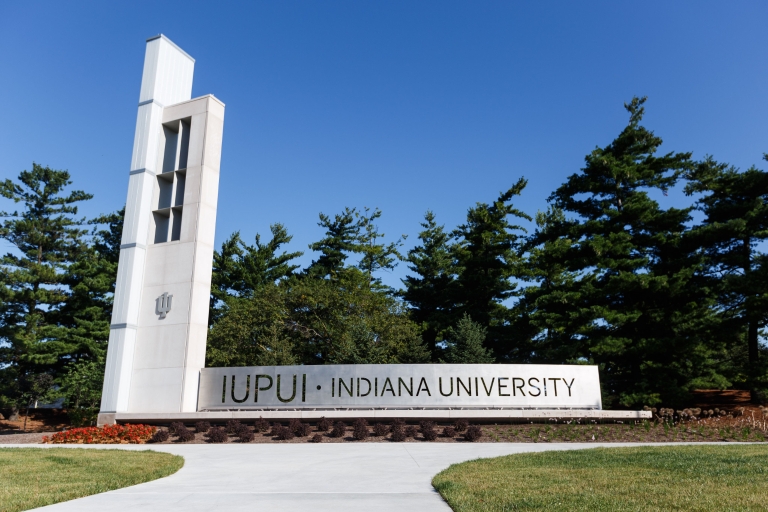 The generous gift from the Shreves also allowed IUPUI to create two new scholarships in the family name:
The Shreve Study Abroad Scholarship increases opportunities for international study abroad experiences for IUPUI students who are Indiana residents.
The Shreve Opportunity Scholarship supports qualified Indiana residents in need of financial assistance while in pursuit of a degree at IUPUI.
The Shreves will join Chancellor Paydar and more than 50 other university officials, community members and invited guests to dedicate this new campus icon and celebrate a new year of academic opportunities for IUPUI students.
WHAT: Shreve Gateway dedication and ribbon-cutting
WHEN: 10:30 a.m. Wednesday, Sept. 11, 2019
WHERE: The corner of Michigan and West streets, downtown Indianapolis
WHO: Nasser H. Paydar, IUPUI chancellor*; Jefferson and Mary Shreve*; MaryEllen Bishop, Indiana University trustee*; community leaders; and invited guests
*Designated speakers