While earthquakes seem to be more of a West Coast problem, they can – and do – happen in Indiana.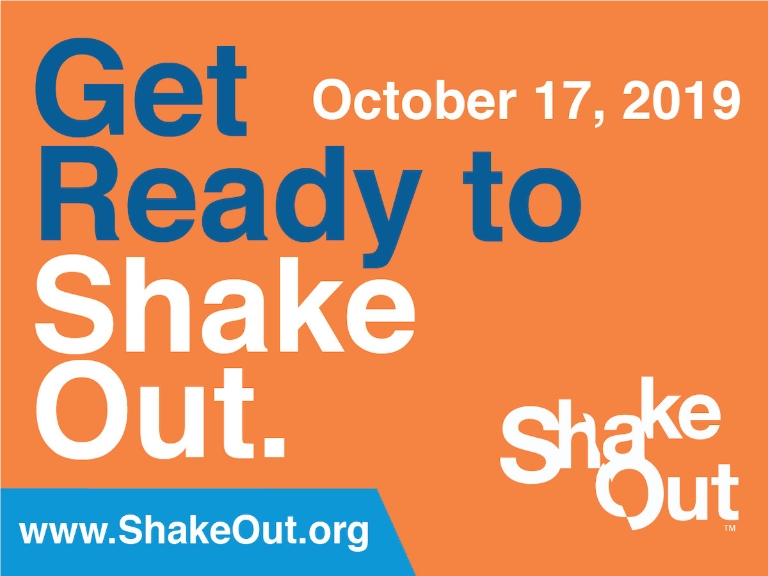 The state has dozens of faults, and many of them are in the southwestern corner of the state, extending into Illinois and northern Kentucky. Known as the Wabash Valley Fault System, those faults are likely to have movement in the future.
That's why the Indiana University community on all campuses is encouraged to participate in the Great ShakeOut, a nationwide earthquake drill.
At 10:17 a.m. Oct. 17, IU will issue an alert prompting students, faculty and staff to participate in the drill by practicing the "Drop, Cover and Hold On" response for protecting yourself during an earthquake.
Here's how to join the drill:
Drop to the ground, take cover under a table or desk, and hold on as if an earthquake were happening. (There are also modifications for those with disabilities or additional needs.)
Hold on for about a minute, look around and ask these questions: What would fall on you or others? What would be damaged? What would life be like afterwards? How can you prepare?
Practicing "Drop, Cover and Hold On" will make the response more automatic if an earthquake were to happen, because most occur without warning, leaving little time to react.
While seismologists can't predict them, it is reasonable to think an earthquake will happen in Indiana at some point due to prehistoric evidence of strong earthquakes with epicenters in Indiana.
The most intense earthquake on record in Indiana happened in September 1909 in the Wabash River Valley, according to the U.S. Geological Survey. That earthquake was a 6.5 magnitude –strong enough to be destructive over an area up to 60 miles in diameter – and ground shaking lasted for about 45 seconds in some areas, with aftershocks for several days.
To be prepared for an earthquake in Indiana, here's what to keep in mind, before, during and after:
Before an earthquake
Make sure you have a fire extinguisher, a first-aid kit, a battery-powered radio, a flashlight and extra batteries at home.
Know first aid.
Learn how to turn off the gas, water and electricity.
Make a plan of where to meet your family after an earthquake.
Don't leave heavy objects on shelves; they'll fall during a strong quake.
Anchor heavy furniture, cupboards and appliances to the walls or floor.
Learn the earthquake plan at your school or workplace.
During an earthquake
Stay calm.
If you're indoors, stay inside. If you're outside, stay outside.
Indoors, stand against a wall near the center of the building or crawl under a desk or table. Stay away from windows and outside doors.
Don't use elevators.
Outside, stay in the open and away from power lines, buildings and anything else that could fall on you.
If you are in your car, stop and stay inside the car until the earthquake stops.
After an earthquake
Check yourself and others for injuries. Provide first aid for anyone who needs it.
Check water, gas and electric lines for damage. If any are damaged, shut off the valves. Check for the smell of gas. If you smell it, open all the windows and doors, leave immediately, and report it to the authorities. Don't use matches, candles or any flame near the broken gas lines.
Turn on the radio. Don't use the phone unless it's an emergency.
Stay out of damaged areas, including buildings, and away from anything that could fall, such as chimneys.
Be careful around broken glass and debris. Wear boots or sturdy shoes to keep from cutting your feet.
If you're at school or work, follow the emergency plan or the instructions of the person in charge.
Expect aftershocks.