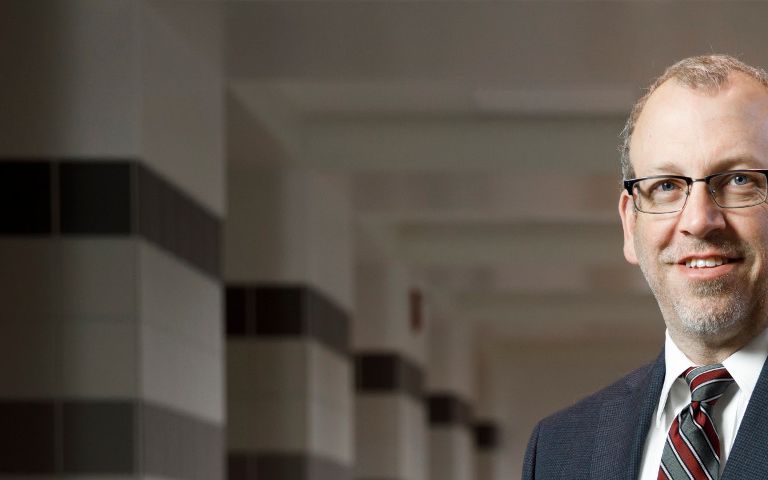 Mike Beam, senior assistant vice provost for undergraduate education, has also been appointed Indiana University's first assistant vice president for school partnerships.
Beam has been at IU for 17 years, most recently focusing on managing IU's dual-credit program, a growing area both at IU and in the state. In addition to his role in undergraduate education, Beam will now also work across campuses and with schools across the state to strengthen partnerships and build more collaboration.
Beam answered questions about his new role and the impact it will have, not only to IU but to schools and students across Indiana.
Question: We know IU is a leader in the state in regard to dual-credit programs. How do you hope this position will allow you, and ultimately IU, to have a bigger connection and more collaboration with both regional campuses as well as Indiana high schools?
Answer: Each of IU's campuses is a dedicated partner to school districts across the state. The Office of School Partnerships will help to systematically deepen and target our support, and leverage the resources of seven campuses, seven schools of education, and other IU schools and organizations to partner with Indiana schools and school corporations. A primary objective of the office is to increase access to IU for our school partners, and to foster and champion collaborations so that they can be replicated through partnerships across the state.
Q: Bicentennial Priority Four is Re-imagining Education. It sounds like this role and the work you'll be doing perfectly aligns with this priority. How do you hope to re-imagine education?
A: In a word: collaboratively. IU's connection to the state is strengthened by collaborations with schools as sites for research in education and other disciplines (social work, psychology, music, etc.), as well as for application of research in "real-world" settings. These interactions connect research to practice, distribute innovation throughout the state, build networks among mutually invested collaborators, and connect local and state issues to national trends, policy frameworks and emerging knowledge. Through these interactions, teachers, school leaders and faculty are consistently re-imagining the educational landscape.
The Office of School Partnerships represents a commitment to make IU schools of education as accessible as possible, to strengthen the intersections between IU and Indiana's school corporations, and to utilize networks to maximize awareness and implementation of innovations.
Q: How does IU having a strong, statewide collaboration with multiple education partners (school districts, Department of Education, Commission on Higher Education, etc.) impact and benefit students?
A: Educating Indiana's students, and preparing current and future teachers and school leaders, is an enormous enterprise. In order to provide Hoosiers with the best education possible (K-16), education partners must be coordinated in order to effectively deliver existing educational programs while simultaneously assessing and fostering innovation that is attentive to emerging and future needs.
This office will strengthen the university's ability to support high-quality education across the state through central leadership that enables educators, K-12 school districts, the Department of Education, and state and regional agencies to successfully maximize, navigate, and access university resources and support.
Q: A year from now, what do you hope to look back on and see as the biggest impact of this new role?
A: We have such a great story to tell and already have many strong relationships with Indiana schools. At the end of the first year, we intend for every Indiana school corporation to be connected directly to the Office of School Partnerships and one of IU's schools of education so that each school district has a clear path to potential research/practice partnerships, professional development opportunities, teacher preparation and retention programs, and instructional innovations that are possible through collaboration with IU schools of education. Building this network and engaging each school district directly is the focus of year one.