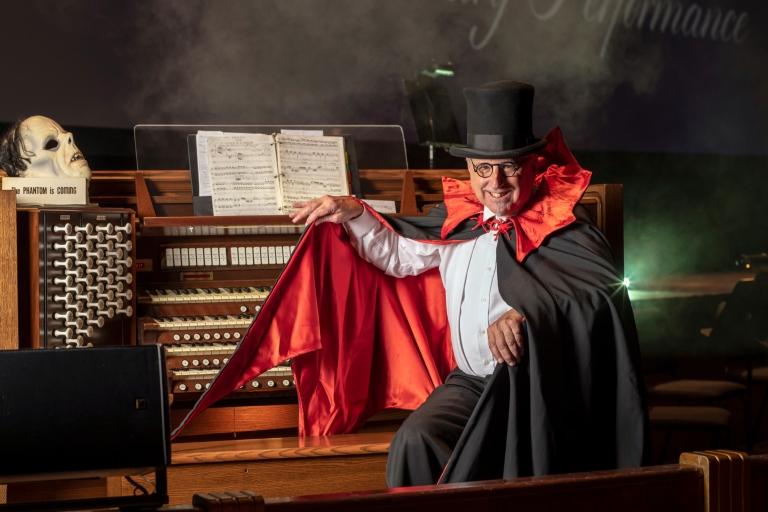 Dennis James, a world-renowned cinema organist and Indiana University alumnus, will perform his film score to 1925's "The Lost World" live on the IU Auditorium concert pipe organ during a family-friendly event Oct. 24.
This 1925 silent fantasy dinosaur adventure film is the first film adaptation of Sir Arthur Conan Doyle's novel about a land where prehistoric creatures roam. The film features iconic film star Wallace Beery as Professor Challenger.
James answered questions about his career and his artistry in advance of the October event.
Question: What attracted you to playing the pipe organ?
Answer: I began my musical career at the age of 7 by studying the accordion, or the "stomach-piano," because it was the local instrument of choice for budding musicians in Cleveland in 1957. However, I realized that none of my seventh-grade classmates wanted to hear my renditions of "Lady of Spain" complete with bellows shake.
We had an electronic organ at home, and I had previously embarrassed my brother Rodger with competitive technique display, so it was a no-brainer for me to make the shift when I turned 12. I played my first pipe organ a few weeks later on a visit to my accordion teacher's church, where he served as the organist. I think it was at that visit the seed was planted.
Q: As you developed mastery, what about the instrument inspired or surprised you?
A: When I was 16, my teacher Leonard MacLain had a heart attack and was taken to the hospital. He was scheduled to play a major solo concert for a national convention of theater pipe organ enthusiasts in Detroit. He decided to send me to play in his place. I hadn't seen a theater pipe organ except for a brief encounter with one in a residence installation when I was about 9, and hadn't played one yet at all.
Leonard and I sat together with a hand slide viewer, and he showed the controls on a full-scale, top-of-the-line, custom, four-manual Wurlitzer theater pipe organ. He would say, "Now this thing does this, and when you set this then you better do that," and so forth. The last thing he said was, "And when you arrive, put this pedal here on the far right side all the way down, and then you put down all the way the shoe next to it, and then play a full, double-hand chord on the next to bottom row of keys. That's the very first thing you do."
The point was to let this newbie, 16-year-old kid know what he was getting into. I did exactly that, and nearly flipped back off the organ bench to the floor in fright. Such a sound, such overwhelming power! You talk to any adolescent boy organist and you'll find out it's all about the tremendous sound. Leonard knew exactly what was going to happen – he was preparing me to play these things, and he did a really good job!
Q: What makes silent films, and specifically "The Lost World," enjoyable for all ages?
A: People today often don't realize that these historical films were never really silent. From the very start, shown in a Parisian café in 1895, they always had accompanying, live-produced music and sound effects. Films before recorded sound came to be called "silent" as a pejorative industry dismissal, and when the sound movies arrived in 1926, they were first known as "talkies" since the big change was hearing the actors speak.
There seems to be a new fascination among younger viewers toward the live music component of what is now this nearly forgotten part of the original practice of exhibiting film. To experience live and in real time how movies were presented the way they were meant to be – performed in a large, communal setting such as the 3,000-plus seat IU Auditorium with the preserved film images – and heard with historically accurate, original musical accompaniment performed with a thorough and fully realized respect for the past … Well, if one loves movies, as do most moviegoers today, seeing and hearing them as they were originally intended to be experienced simply should not be missed.
Q: What does live pipe organ music add to a silent film?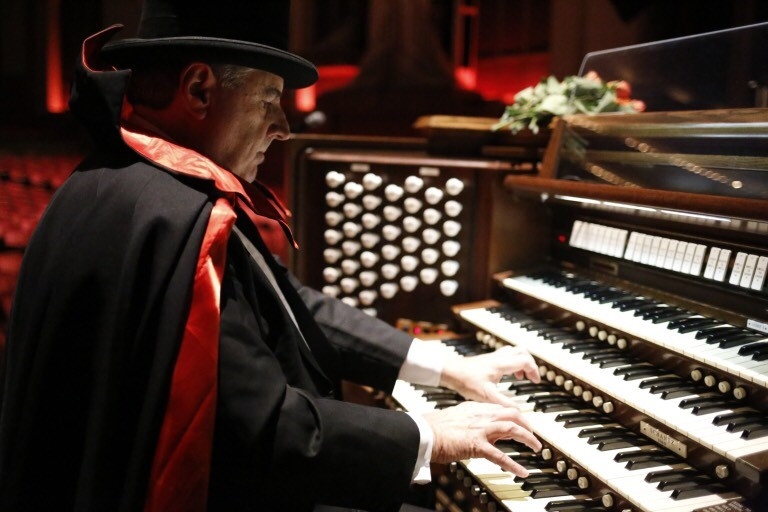 A: I witnessed what the live music does first-hand upon seeing and hearing my first silent film show with accompaniment by a professional theater pipe organ player. It was in the summer of 1969 during my first break at home in New Jersey after freshman-year studies at IU.
Gaylord Carter, the major touring film player at the time, was coming in from Los Angeles to perform at the Tower Theatre's Wurlitzer organ in Upper Darby, Pennsylvania. The film was "The Mark of Zorro" starring Douglas Fairbanks. Gaylord played his own quite thrilling score made up of a combination of published theater organ generics used in the scorings in the 1920s plus his own inimitable improvisational cascades.
It was a sold-out house, and I remember eagerly turning to my dad at the end, thoroughly impressed by the cheers and standing ovation, and saying to him those fateful words: "I can do that!" I went home that night after the post-performance reception and pulled out some music paper and wrote out his entire score from memory. And to this day, as a sort of tribute to Gaylord, I build my own score around Gaylord's work, preserving about 20 percent of his efforts encased in my own historical revival work, bringing the excitement of live music to film just how films were invented to be presented.
Q: What challenges does a silent film score present that aren't as common with more traditionally classical music?
A: The biggest challenge is actually finding these original scores created for film. I think it was the discovery that the original music materials from the heyday of the silent film still survived – and that it wasn't just a cliché-ridden field of make-it-up music by show-off players carried out under the guise of improvisation – that really started my career.
My pursuit in finding original scores came first from seeing the first page of Louis F. Gottschalk's full orchestra score to D. W. Griffith's 1919 film "Broken Blossoms" in the seminal motion picture theater history book, "The Best Remaining Seats," published in the 1960s. I chased down Ben M. Hall, the author, and he led me to archive contacts holding both the complete musical score with full orchestral part, and also a completely preserved theatrical print of the film. That led me to present my first organ-plus-orchestra screening while at IU, filling the IU Auditorium again along with the Bloomington Symphony Orchestra in the pit.
My next encounter with original scores came about in my piano solo accompaniment work for the Harry Geduld film history class film screenings series on campus. The Museum of Modern Art found a copy of the original piano/conductor part from the orchestra set of the original score for Paramount Pictures' "Beau Geste." This was a true revelation to me, for it combined what emerged to be the typical compilation assembly scoring process of the time combined with original, newly composed material.
I was surprised to see how well the prepared music fit exactly with the screen images, and my whole concept of how to go about film scoring shifted from vapid personal scoring composition and nascent total improvisation efforts over to the genuine, complete revival with historical preservation efforts toward these surviving period-published materials.
Q: Has silent film or performing silent film scores changed with the advent of technology or other innovations?
A: The most decisive technological change is the ease of access to the films with the digital revolution – first in DVD distribution, and now with Blu-Ray and streaming, virtually anyone can do whatever they like with these public-domain images.
In recent decades there has been an emergent division of approach among musicians presuming to become silent film accompanists. On the one hand are thoroughly trained, accredited and research-driven professional musicians such as myself dedicated to continuing the silent film scorings in the precise manner as originally conceived by the period-filmmakers themselves. On the other hand are the amateur, enthusiast-marketed, musical mediocrities usually hiding the myth of improvising music accompaniments to silent films as historical fact, and that music produced being anachronistic derived completely away from matching what audiences heard when the films were re-released.
Happily, my Silent Film Concerts' historical-revival approach has become particularly popular in Europe in recent years, brought in to counteract the prevailing trend there of historic score replacements. My programs give an opportunity to historical arts enthusiasts and cultural preservationists alike to experience fully realized, critically acclaimed and historically accurate accompaniments to silent films, focusing on the original period-release music actually written for silent films when they were first circulated.
Q: What makes the combination of Halloween and pipe organ music so satisfying?
A: I am convinced it is because the Erik character – played by Lon Chaney, the so-called "Man of a Thousand Faces," in the 1925 "The Phantom of the Opera" – was a demented organist seen playing a pipe organ console in his underground lair. Bringing that vision to life is, as you say, really satisfying!
Q: This will be the 51st "Dennis James Hosts Halloween." What silent film scores remain on your performance bucket list?
A: I am looking forward to performing this November for the very first time to the dramatic Native American 1920 silent film "The Last of the Mohicans," directed by Maurice Tourneur. I received a commission to create a period-authentic scoring for presentation at the upcoming Glimmerglass Film Days festival in Cooperstown, New York.
Q: What is your favorite part of returning to IU Bloomington for a performance?
A: It is celebrating that my now 50-plus-year career as a professional silent film musician began as a kind of counterculture satire of an academic organ recital. It was a joke by this clever sophomore undergraduate organ major! I had come up with the idea of putting on a Halloween cape, and when I walked out that very first show, the whole spirit of everything was set when I was immediately inundated with paper airplanes – around 4,000 of them – thrown at me by the festive audience when I stepped out to perform. I had to shovel them off of the organ to be able to play the first piece.
Q: What might audiences find especially interesting during the Oct. 24 performance at IU Auditorium. Is there anything they should listen for?
A: One of the typical comments from audience members after my performances is rather apologetic, with them saying such things as "I got so caught up in the film that I forgot to listen to you play!" And we film players actually take that as a compliment, demonstrating quite well that we've actually done our job!
For those new to the experience of live music with film, take a moment once in a while during the show to witness the participatory aspect of my performing music to silent film – which I find the most satisfying and enjoyable aspect of it all.
I get thoroughly immersed in the tasks of filling in by musical implication and impression the fulfilling missing aspects of what later became standard film attributes: fully realized structure, synchronized sound effects, and even dialogue and color. There's another plane of existence that arises in me during performances when I become bonded with the film and draw the audience into the experience as well. It is much more experiential than just the witnessing of films so typical in today's cookie-cutter box, unadorned movie theaters.
The Oct. 24 concert begins at 7 p.m. at IU Auditorium, 1211 E. Seventh St. The annual costume contest precedes it. Ticket prices start at $7 for IU students, $14 for the general public. They can be purchased by visiting the IU Auditorium website or calling 812-855-1103.