It was the Nobel Prize that shocked IU nation and the world.
In October 2009, the Royal Swedish Academy of Sciences announced that it had awarded the Nobel Prize for Economic Sciences to Indiana University professor Elinor Ostrom. Ostrom, who passed away in 2012 at age 78, is the first and only woman so far to receive the Nobel in economics.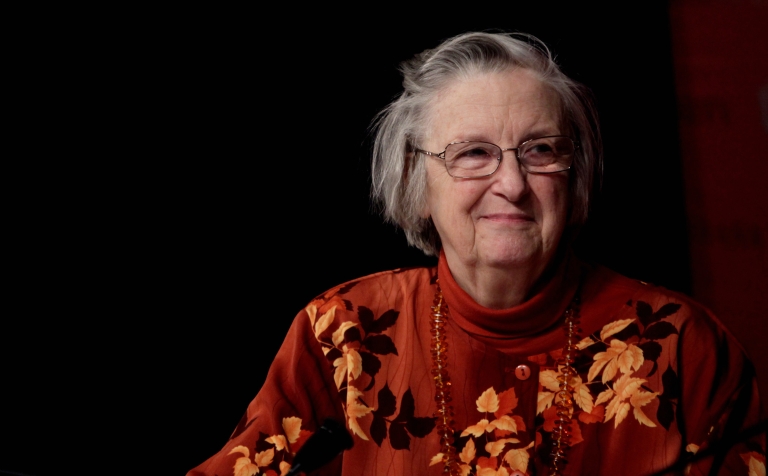 Ten years later, Ostrom's legacy will have a permanent place on the Bloomington campus where she conducted so much of her pathbreaking scholarship and influenced so many students and colleagues. At 1:30 p.m. Monday, Oct. 7, as part of the yearlong IU Bicentennial celebration, a historical marker in her honor will be placed outside Woodburn Hall, 1100 E. Seventh St. Woodburn is the home of IU Bloomington's Department of Political Science, where Ostrom taught for many years and where her office was housed.
The 2009 Nobel announcement took many at the time by surprise. Even Ostrom – who a short time later earned the title of Distinguished Professor – admitted to being "flabbergasted" when she received the news. But to her friends and colleagues at IU and around the world, "Lin" Ostrom was already a living legend, well known for being a pioneering social scientist and one of the world's preeminent scholars on the management of common pool resources. She was – and remains – especially renowned for her 1990 landmark and still highly influential book, "Governing the Commons," which challenged conventional wisdom that critical common property, such as air, groundwater and forests, is universally poorly managed by humans and thus needs either to be regulated by central authorities or privatized.
It's nearly impossible to overstate the overwhelming pride that members of the IU and Indiana community felt after Ostrom's historic Nobel, the honor she brought to IU faculty, students, staff and alumni, and her enormous lasting legacy. That legacy lives on through the Ostrom Workshop in Political Theory and Policy Analysis, which she and her husband, Vincent, founded in 1973 and which was renamed for the couple in 2012. The workshop brings scholars together from around the world to address some of the world's most critical challenges, including those related to national resource governance, cybersecurity and the internet, data management, and the development of political, economic and legal institutions.
Modeled after the state of Indiana's historical marker program and many successful municipal programs, IU's Historical Marker Program notes significant people, places, events and organizations that have had an extraordinary impact on the university, state, nation and world. Ostrom's marker will be the first of the new markers placed at IU Bloomington.
Ostrom Memorial Lecture
"Indiana University is a place-based institution, with campuses serving all parts of the state, and a dense network of alumni found in nearly every corner of the globe," said James Capshew, university historian and director of the IU Historical Marker Program. "The Historical Marker Program is designed to pay homage to the learning environment of every campus, with notable buildings and other campus features marked, and to commemorate exceptional achievement by the people of IU, in any field of endeavor.
"Elinor Ostrom spent her entire career at IU Bloomington, making outstanding contributions to any group she was a part of, including her home department. Thus, she stands as an embodiment of the university's academic culture – locally grounded but with worldwide impact."
The marker dedication will kick off a day of commemorative events celebrating the 10th anniversary of Ostrom's Nobel Prize, which will also include an open house at the Ostrom Workshop, a showing of a clip from the documentary film "Actual World, Possible Future" about the lives of Lin and Vincent Ostrom, and a discussion with IU faculty members Mike McGinnis, Jimmy Walker and Bill Blomquist.
Additionally, as announced in June by IU President Michael A. McRobbie during the sixth Workshop on the Ostrom Workshop, the marker will eventually be joined by a statue of Ostrom, commissioned and funded by funds from IU's Well House Society. Both the new marker and statue reflect the mission of the one of the signature projects of IU's Bicentennial Office, "Bridging the Visibility Gap," which is bringing to light the unknown and underappreciated stories of the women and underrepresented minorities who have helped to build and strengthen IU.
Acting Ostrom Workshop director Scott Shackelford is among those who recognize how much distinction Ostrom delivered to IU with her Nobel victory a decade ago.
"Lin's legacy is alive and well not only in the many lives she and Vincent touched directly through their generosity and tireless mentorship, but also indirectly in the spirit of multi-disciplinary, cutting-edge scholarship that continues to pervade the workshop – and community – they created and nurtured," said Shackelford, a professor of business law and ethics at the IU Kelley School of Business and chair of IU Bloomington's Cybersecurity Program. "From applying their insights on polycentric governance to address the climate crisis and help secure the Internet of Things, to making democracy harder to hack, Lin's life and work continue to enrich Bloomington and the academy. We at the workshop are proud to carry the torch they lit."