Campus energy challenge starts Oct. 14
The annual IU Energy Challenge, a competition between campus buildings to save water and electricity, is a time when all Hoosiers are encouraged to take action and see their positive impact. This year's contest is Oct. 14 to Nov. 8.
In the 2018 Energy Challenge, participants saved 760,314 kilowatt hours of electricity, equivalent to powering 848 American homes for a month, and 877,416 gallons of water, equivalent to 1.3 Olympic-size swimming pools.
Before the competition, a baseline of water and electricity use for participating buildings is measured and campus buildings are grouped by similar use. Progress is tracked during the contest, and winners are determined by percentage reduction against their own baseline.
An honorable mention will be rewarded to the buildings in each category (athletics, administrative and academic, residence halls, and Greek houses) that conserve the most water and energy, and one overall winner will be recognized.
IU to celebrate Thank a Donor Day on Oct. 10
The Indiana University Foundation and partners across campus are teaming up for an event to celebrate all that's made possible thanks to IU donors.
As part of the week of homecoming festivities, Thank a Donor Day will take place Oct. 10. Several schools and non-academic units will be hosting activities, giveaways and thank-you stations from 11 a.m. to 3 p.m.
The annual Thank a Donor Day started in 2013 as Hoosier Donor Day. The goal is to educate students about the impact of philanthropy at IU, as well as recognize the generous donors who support IU, including the more than 300,000 people who have supported For All: The Indiana University Bicentennial Campaign.
The impact of philanthropy on campus will be made apparent by red bows displayed at locations made possible by donor support, such as the Eskenazi Museum of Art, Sample Gates, labs, classrooms and more. Some scholarship recipients, faculty members with endowed professorships and others whose IU experiences are supported by IU donors will be wearing red bows.
Campus Commute adds Sunday service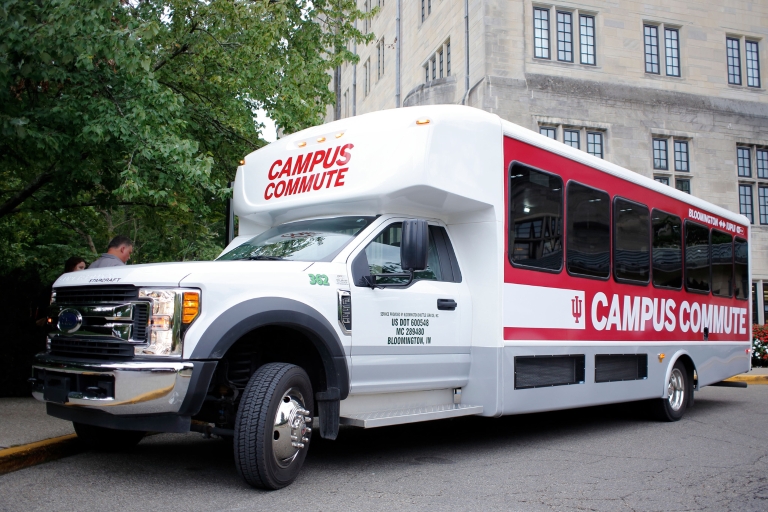 Starting Oct. 13, Campus Commute is launching a pilot program to add Sunday service. The added trips are slated to run through Dec. 1 but could be extended based on ridership.
For riders in Bloomington, there will be two Sunday shuttles. The first picks up riders at the Indiana Memorial Union at 1:30 p.m. and at the stadium purple lot at 1:45 p.m. and arrives at the IUPUI Campus Center at 3:15 p.m. and the Indiana Statehouse at 3:25 p.m.
The second shuttle picks up riders at 4:45 p.m. at the IMU and at 5 p.m. at the stadium purple lot and arrives at the IUPUI Campus Center at 6:15 p.m. and the statehouse at 6:25 p.m.
There will also be two Sunday shuttles from IUPUI. The first picks up riders at the Campus Center at 3:15 p.m. and at the statehouse at 3:25 p.m. and arrives at the Indiana Memorial Union at 4:45 p.m. and the stadium purple lot at 4:55 p.m. The second will pick up riders at 6:15 p.m. at the Campus Center and at the statehouse at 6:25 p.m. and arrives at the IMU at 7:45 p.m. and the stadium purple lot at 7:55 p.m.
Reservations are recommended; the shuttle fare is $12 one way. Service is also available Monday to Friday.
Find full schedules and make reservations on the Campus Commute website.
Five alums to receive Distinguished Alumni Service Award
Five IU alumni will receive the Distinguished Alumni Service Award on Oct. 10 during the IU Homecoming weekend.
Matthew R. Gutwein, Jane M. Jorgensen, Edwin Cochran Marshall, Lillian S. Stokes and Isaac P. Torres were selected as the 2019 recipients based on their service and achievement in their fields and their contributions to their university, state and country. It is the highest honor given by the university to its alumni.
IU President Michael A. McRobbie will present the award in Alumni Hall at the Indiana Memorial Union. The national chair of the IU Alumni Association, Deanna D. Crispen, will preside at the presentation ceremony.
Alumni Jonathan Banks, Tan Kheng Hua visit campus for IU Bicentennial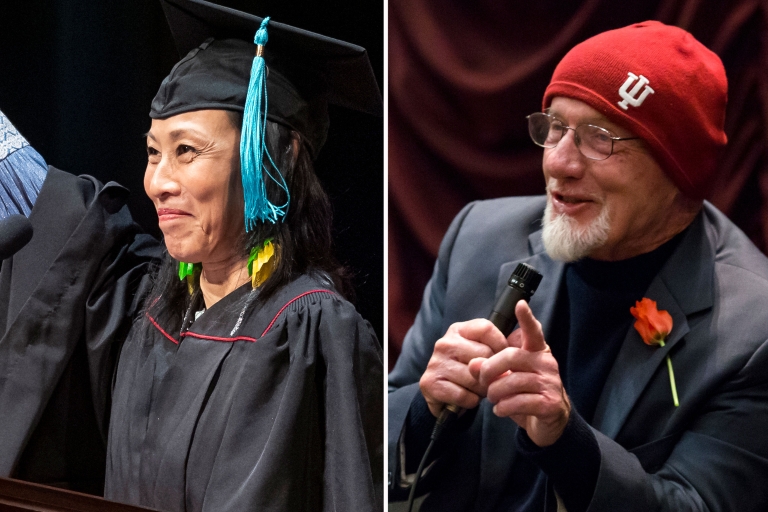 "Breaking Bad" actor Jonathan Banks spoke last week at the Lee Norvelle Studio Theatre during the IU Bicentennial lecture series.
Banks attended IU in the 1960s. He had to drop out, but he still credits his career successes to his time at IU. IU Bicentennial director Kelly Kish and IU Cinema director Jon Vickers awarded Banks with the IU Bicentennial Medal, which recognizes distinguished service in support of the university.
The former Hoosier has had over 200 acting roles, including the popular AMC series "Breaking Bad," and has been nominated for six Emmys.
Actress and alumna Tan Kheng Hua also visited campus to speak at the bicentennial events. She said that making "Crazy Rich Asians" – the first Hollywood film to star an all-Asian cast in 25 years – had a lot to do with her time at IU, even if she didn't see it then. She came to Bloomington in January 1984 from Singapore to study at IU. On a whim, she signed up for an acting class, and she said the class and IU changed her life. She advised the crowd to believe in every moment, even if they seem imperfect.
Proposal Development Services resource portal launched to assist researchers
IU Bloomington's Proposal Development Services team, which writes proposals for external funding for research and creative activity, has created an online, one-stop shop offering proposal development guidance to faculty members seeking grants.
The internally accessible portal houses a number of tools and resources to support faculty members as they plan, write and prepare external grant proposals for research and creative activity funding, including:
Articles on grant writing and rhetoric.
Common proposal component templates and examples.
An overview of the Bloomington campus support landscape.
Federal agency guidance.
Foundation and corporate funders guidance.
Early stage investigator resources.
The new portal is available on IU's Confluence platform. For more information, contact ovprhelp@iu.edu.
School of Art, Architecture + Design to host open studios event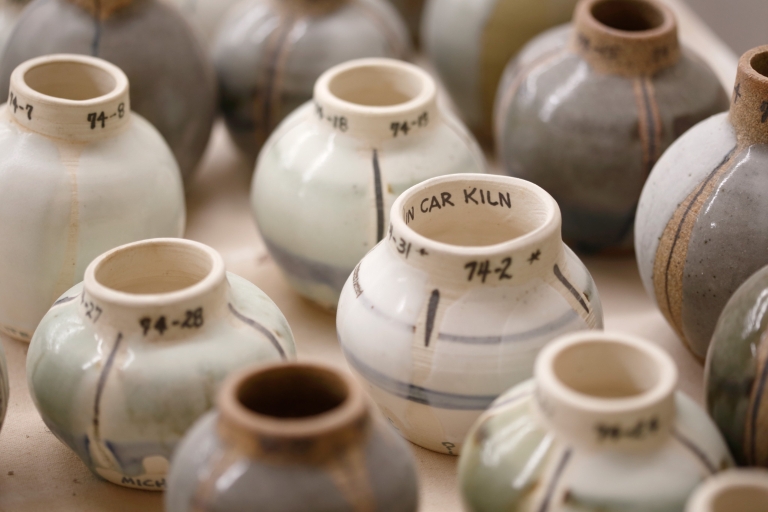 Explore IU artists' studio practices and fields of study during the Eskenazi School of Art, Architecture + Design Open Studios event from 5:30 to 9:30 p.m. Friday, Oct. 11.
The school will host the event at Kirkwood Hall, the Fine Arts Building and the Studio Arts Annex. Each location will have different works of art featured, including fashion and interior design at Kirkwood and ceramics at the annex. All attendees are encouraged to try some artwork of their own while visiting each site.
This event is free and open to the public. Parking is available in the Global and International Studies Building/Wells Library parking lots, Jordan Avenue Parking Garage, Fee Lane Parking Garage and Indiana Memorial Union parking lot.
Several diversity-focused groups to celebrate milestone anniversaries
Dating back to the 1940s and then IU President Herman B Wells' historic work toward ending segregation not only on campus but off campus as well, IU has maintained a focus on celebrating and cultivating a diverse campus environment. In the 2019-20 academic year, several diversity-focused groups will celebrate milestone anniversaries.