Filled with tradition and plenty of reasons to reminisce, IU Homecoming is upon us.
And there are plenty of ways to participate, whether it's attending Friday's parade, watching new homeowners get the keys to their Habitat for Humanity house or cheering during Saturday's football game.
Here's what you need to know about this weekend celebrations: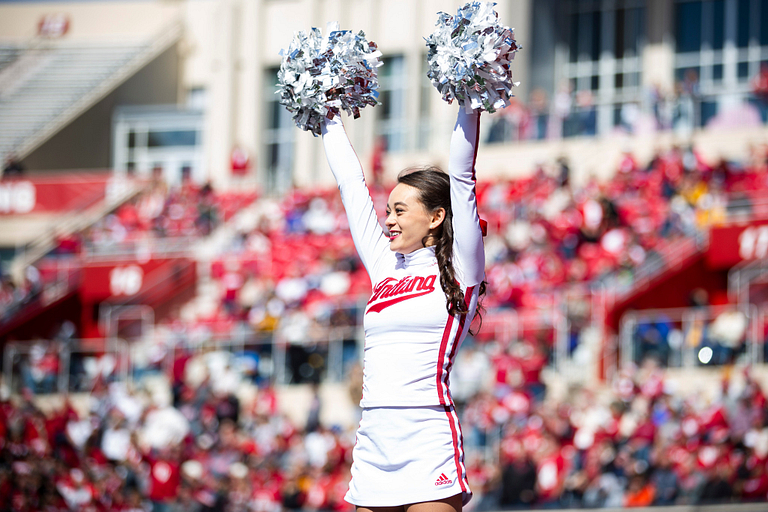 Start on the parade route
The homecoming parade starts at 6 p.m. Friday at the intersection of 17th Street and Woodlawn Avenue. It travels south on Woodlawn, ending at the Indiana Memorial Union.
Cheer on the Hoosiers
Kickoff for the game against Rutgers is at noon Saturday. But plenty of festivities are planned ahead of the game as well.
About 2 hours and 15 minutes before kickoff, fans can gather on the east side of Memorial Stadium to show their support during the team's pre-game walk and as the Marching Hundred and cheerleaders lead the singing of "Indiana, Our Indiana."
The stadium opens 90 minutes before kickoff, and the pre-game show starts about 11:40 a.m. Plus, if you haven't been to Memorial Stadium for a game this year, here are four new things you might notice.
Crown IU's royalty
The IU Homecoming court will now be two royals, instead of a king and queen, who receive scholarships and represent IU at homecoming festivities.
The change was prompted by IU student feedback to the selection committee and the IU Alumni Association. Students chosen for the court are selected for their dedication to community service, academic performance and affinity for IU.
Celebrate a Habitat for Humanity tradition
This year is the 10th time that IU and the Kelley School of Business have partnered with Habitat for Humanity of Monroe County to build a home for a local family. The annual 10-day building blitz happens on campus across 17th Street from the IU Athletics complex. And the Whirlpool Corp. has sponsored every campus build since the first in 2010.
This year, the home is being built for Bob and Alice Wilmoth, who will receive the keys on the field of Memorial Stadium before the homecoming game. A house dedication will also take place that morning at 8:30 a.m. at the build site. A special guest, chef Roshara Sanders – better known as "Chef Ro" – has been invited to participate at the dedication. An Army veteran, she grew up in a Habitat house and went on to win the popular Food Network program "Chopped." She will share her personal connection to this project and some tailgate goodies.
Ticket giveaway
Enter here for your chance to win two tickets to the homecoming football game against Rutgers at noon Saturday.