More than 2,000 hours of audio and video field recordings of vocabulary, interviews and storytelling from indigenous people reside in the collection of the American Indian Studies Research Institute at Indiana University. Now, some of these recordings are being put to use to help one indigenous community reclaim its endangered language and culture.
Description of the following video:
[Words appear: Experts predict 50-90% of indigenous languages will disappear by 2100. ]
[Video: A picture of a Native American woman and an old map are pinned to a cork board.]
[Words appear: With decades of relationships and trust, faculty expertise, and collections … ]
[Video: A man in an office opens a box with a record inside.]
[Video: Old tapes sit on a shelf in the same office.]
[Words appear: Indiana University is helping one indigenous language avoid this fate.]
[Video: A man sitting at a computer opens a notebook and takes out a pen.]
[Words appear: The American Indian Studies Research Institute is partnering with]
[Video: A sign outside a building that says American Indian Studies Research Inst. 422 N Indiana Ave.]
[Words appear: an Assiniboine community in the Northern Great Plains]
[Video: Zooms in on a map of the United States, first highlighting Montana in red and then a reservation in the Northern Great Plains.]
[Words appear: to develop K-12 materials that will teach the Nakoda language on reservations.]
[Video: Four textbooks lay on a table.]
[Words appear: Using recordings made by the institute's founders in the '70s and '80s,]
[Video: A reel-to-reel tape player spins.]
[Words appear: traditional stories told by tribal elders are being transformed]
[Video: A photo of three Assiniboine elders.]
[Words appear: into textbooks and dictionaries for the Assiniboine children.]
[Video: A woman holds printed pages of a textbook.]
[Video: A cover of a storybook with drawings of tepees and Nakoda words.]
[Words appear: Illustrations for the books are done by Assiniboine artists.]
[Video: A cover of a storybook with Nakoda words and drawings of mice in indigenous clothing.]
[Words appear: The recordings are digitized by the]
[Video: A man sits at a computer.]
[Words appear: Center for the Documentation of Endangered Languages at IU.]
[Video: A computer program displays sound waves of a recording.]
[Words appear: Linguists transcribe the recordings]
[Video: A man sits at a computer.]
[Words appear: using a writing system developed for the spoken-only language.]
[Video: A finger points to a line of translation in a transcription of a Nakoda story on a computer screen.]
[Words appear: Curriculum developers then create materials]
[Video: A woman stands at a table with several textbooks laid out.]
[Words appear: centered on themes and lessons told in these stories.]
[Video: A hand swipes through a phone application featuring the Nakoda alphabet.]
[Words appear: Teachers from the Assiniboine community provide feedback during each step.]
[Video: The cover of a storybook features Nakoda words and a drawing of an indigenous man holding a pot.]
[Words appear: The team hopes to complete materials for K-5 by summer 2020.]
[Video: A page of a storybook features Nakoda words and a drawing of indigenous people gathering twigs.]
[Words appear: Learn more www.indiana.edu/~aisri.]
[Video: Nakoda language textbooks lie on a table, and a woman stands in the background, out of focus.]
[END OF TRANSCRIPT]
Anthropology faculty member and institute director Laura L. Scheiber recently received funding to continue work with the Assiniboine people of the Northern Great Plains of North America to strengthen their language, Nakoda, by creating instructional materials, dictionaries and storybooks for use in reservation schools and households. Many of these materials pull from stories recorded by IU faculty in the 1970s and 1980s.
Founded in 1985 by IU anthropology professors Raymond DeMallie and Douglas Parks, the American Indian Studies Research Institute has a long history of interdisciplinary research projects that attempt to fully understand and describe the language, culture or history of the native people of the Americas. In 2007, the institute launched a partnership with the Red Cloud Indian School in Pine Ridge, South Dakota, to create the first comprehensive Lakota language curriculum for K-12 schools.
The success of these materials, coupled with decades of relationship-building and contact with the university, inspired leaders in the Assiniboine community to approach the institute about working together to create similar instructional materials for Nakoda. They hope that using the narratives told by tribe elders as the basis for the instructional materials will allow learners to not only reclaim the language but to more fully understand the Assiniboine worldview.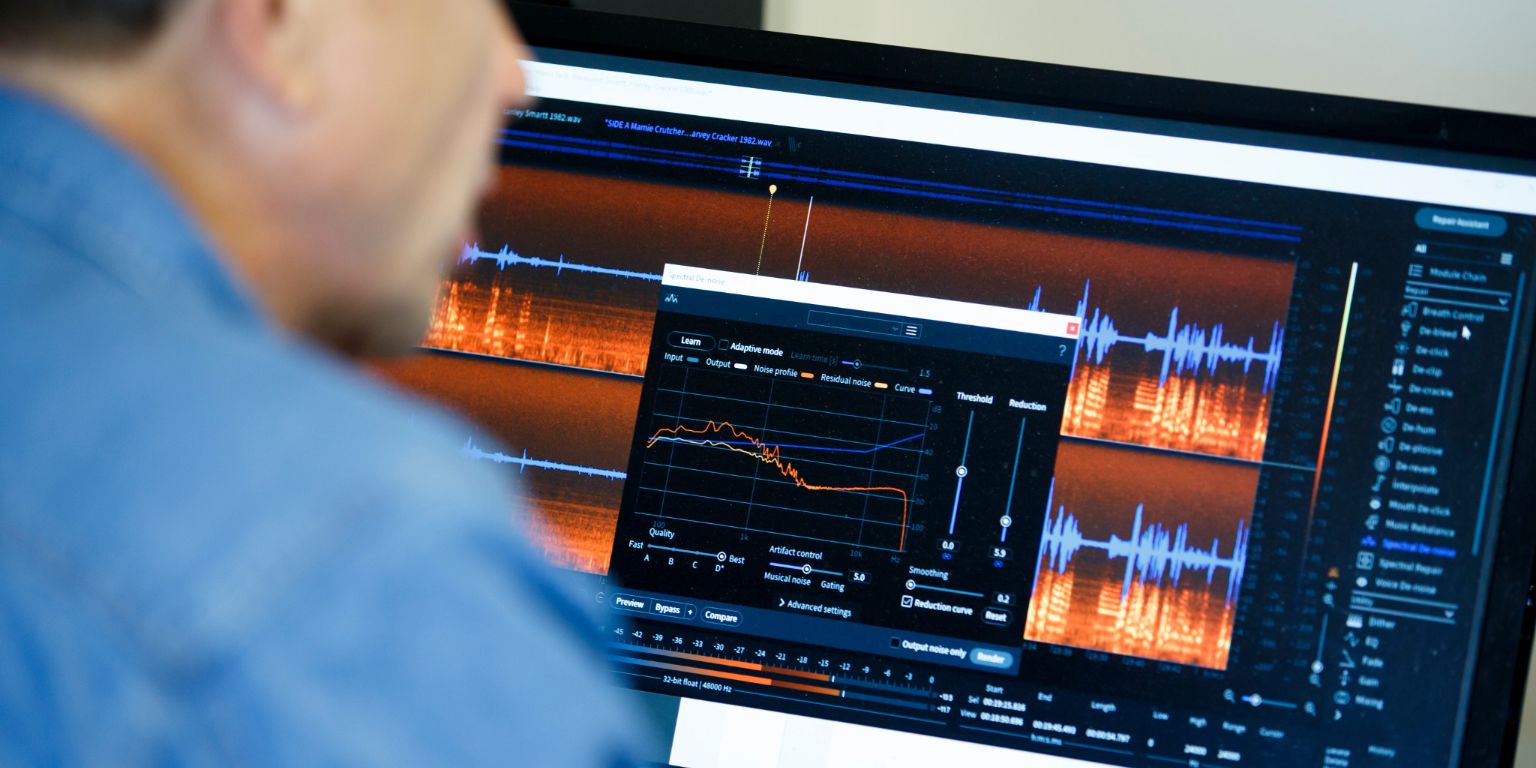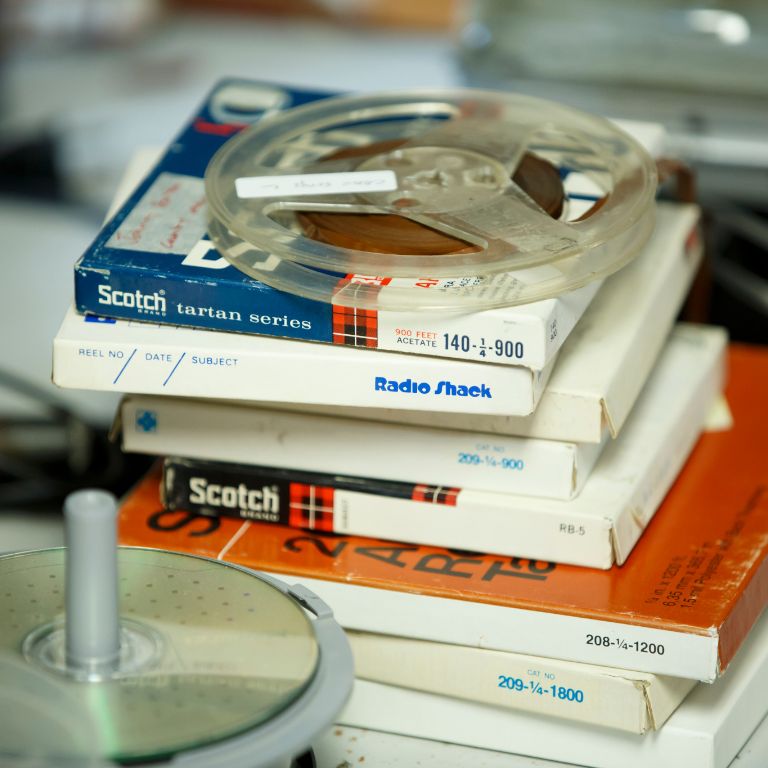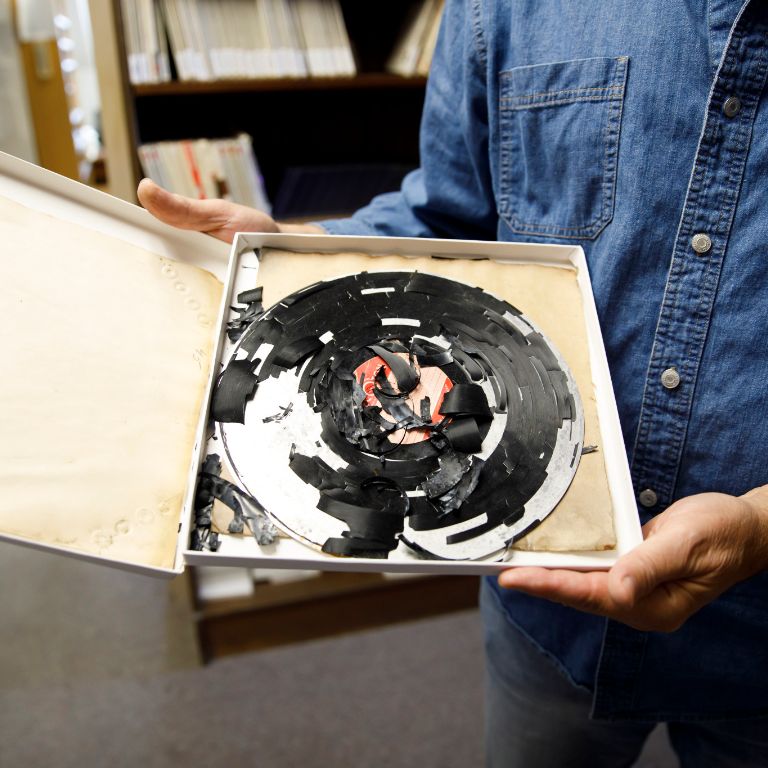 Photos by James Brosher, Indiana University
"Euro-Western ideologies of languages often treat them as just codes with referential value – you use it to label the world," said Richard Henne-Ochoa, interim acting director of the institute. "In contrast, indigenous ideologies of language emphasize the relational aspect of language: how you relate to other people, how you relate to the environment, how you relate to the cosmos. All of these stories reveal that."
Mike Turcotte and Tuffy Helgeson, teachers in two Assiniboine communities in Montana who have been responsible for raising funding and leading the past two years of the project, consult with the team at IU during every step of the process. Turcotte and Helgeson recently visited campus, members of the institute's team traveled to Saskatchewan to meet some community members, and the partners are in frequent contact via email and phone.
Beyond informing the team about what's best for their community, Turcotte and Helgeson provide insights and cultural nuances that the institute's staff members may overlook. For example, Helgeson explained that the Nakoda word for Sunday is literally "holy day." He said Assiniboine people believe every day to be holy, and labeling Sunday as the only holy day in a week – or having a name for days of the week in general – reveals the impact of Western and Christian worldviews.
Helgeson has been aware of IU's work with his tribe since he was a young boy and faculty were visiting the reservation to work with his grandparents. At first, he said, many members of his community were skeptical of the visitors' motivations. But after years of trust-building and partnership, Helgeson said the work being done by the university is revered as essential.
"Just in my lifetime, I've gone from being fully immersed in my language to having very few people I'm able to speak to," Helgeson said. "The work we are doing with IU is building a foundation for the next generation, including my son who is in second grade, to be able to be fully immersed like I once was."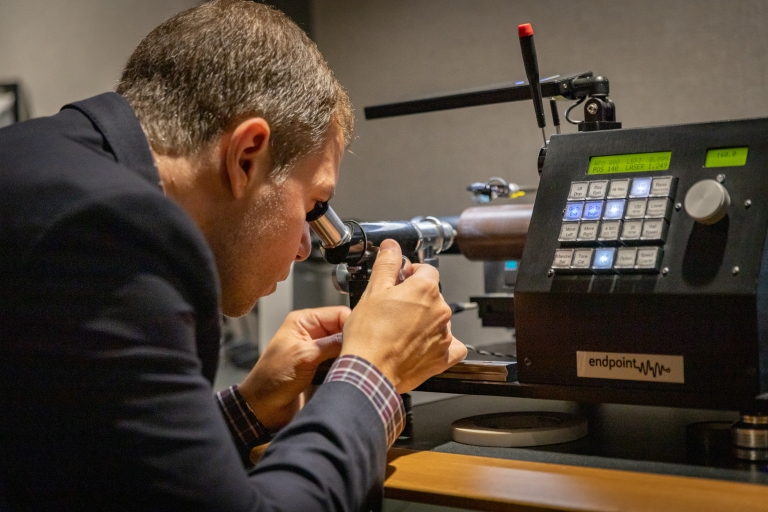 Indiana University's Media Digitization and Preservation Initiative met a major milestone this summer by completing its wax cylinder digitization project.
Wax cylinders are antiquated audio recordings made of thin brown or black wax. They can be easily damaged just by the heat from your hands, and dropping one could destroy it.
IULibraries' Archives of Traditional Music hold a large collection of about 7,000 wax cylinders, rivaling only the Library of Congress in size in the U.S. Though frequently accessed by patrons through open-reel tape copies made decades ago, these tape copies suffered from numerous technical problems and are now, themselves, obsolete.
Wax cylinders weren't the only medium suffering from age and obsolescence. IU has audiovisual pieces on formats of all kinds, and time was running out to retrieve any of it.
In recognition of the dire state of all audiovisual objects everywhere, IU allocated $15 million in 2013 to the newly minted Media Digitization and Preservation Initiative to digitally preserve and provide access to all 325,000 of the university's significant audio and video recordings by 2020. In 2017, the initiative added the digitization of 25,000 film reels to its goal. A grant from the National Endowment for the Humanities partially funded the wax cylinder digitization, in particular.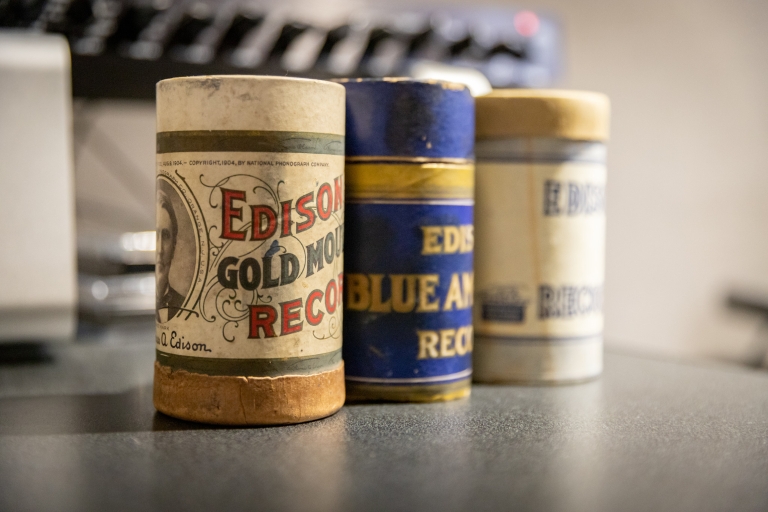 Wax cylinders don't look like much, but these pieces of delicate wax have stories to tell. Some wax cylinders speak of Native American culture 125 years ago. Some are the earliest known recordings in China from 1901. Many are recordings of extinct languages. Still more of them are field recordings from notable ethnologists like Franz Boas, Edward S. Curtis and George Herzog, who advanced the study of culture with their work. And a rare few are simply our historical counterparts from 1920, lining up the family to shout their names at the wax, or perhaps play a little tune for posterity.
Teasing content out of wax cylinders is the job of audio preservation engineer Dan Figurelli and his Media Digitization and Preservation Initiative colleagues. Figurelli started out in sound production, working in recording studios in Chicago and Los Angeles. When he got to Bloomington, he worked for a studio that was preserving thousands of cassettes recorded in the '60s. It was his first foray into the field.
"I found myself really enjoying preservation work. The content is very precious to a lot of people, and it needs to be rescued," he said. "Typically, the older the format, the more difficult it can be to play back properly. I've found restoring unique recordings to be very rewarding work. When I found out what IU was doing with MDPI, I knew that was where I wanted to be."
Digitizing wax cylinders brought a unique need to the table – namely, equipment that could play and digitize them. Such a thing barely existed when the project started, and certainly nothing that could be considered an industry standard for such rare pieces. The Media Digitization and Preservation team auditioned a few options and finally settled on a machine called the endpoint cylinder machine, invented by Los Angeles colleague Nick Bergh.
Bergh's invention uses an optical laser to measure the distance to the cylinder, which allows for accurate calibration, or centering. Once the cylinder is centered, engineers can use a stylus to play back the actual audio. IU bought the very first production model. Following IU's lead, subsequent purchases of the machine came from the Library of Congress, the National Museum of the Czech Republic and Stanford University, Figurelli said.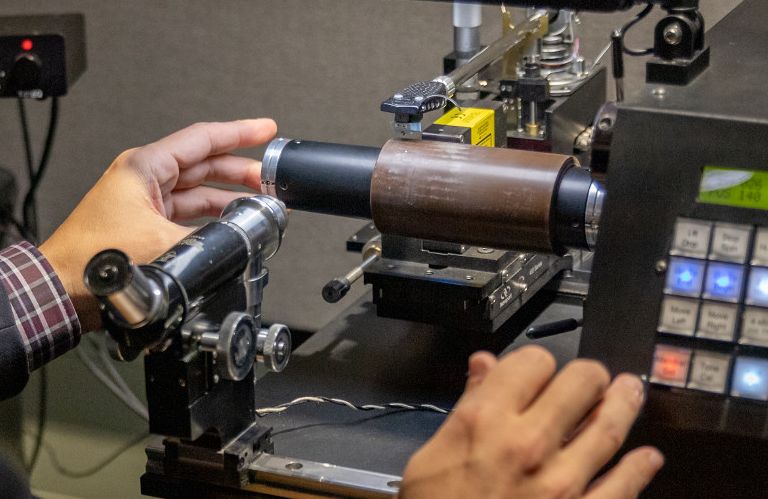 Digitizing cylinders is a meticulous process, and it requires complete focus during a transfer.
"The biggest challenges are the physical conditions of the cylinder, finding the correct speed and dealing with any divots or imperfections in the cylinder, which can cause tracking issues," Figurelli said.
Foreign and extinct languages presented problems of their own, especially if the audio preservation engineer didn't speak the language. Trying to recognize and locate repeated content from a stylus skip in a foreign language file was needle-in-a-haystack work.
On average, Figurelli estimates he was able to digitize 15 cylinders per day. But there were days when the cylinders he pulled were problematic, and on such days, he maybe only completed eight to 10.
Now that the collection has been digitized, the next step is to get the collection cleared to share. This involves working with each indigenous community represented to establish clear protocols for appropriate access. Some of the Media Preservation and Digitization Initiative's digitized collections are already available on the Media Collections Online website.
"You're rescuing this audio that would otherwise be unplayable," Figurelli said. "There is a chance that this material hasn't been heard since it was first recorded, so it's fascinating to hear what's on there, but also to know that it's being digitally preserved and is finally ready to be shared with the rest of the world," Figurelli said.
Amanda Chambliss is a communications project manager and writer with the Office of the Vice President for Information Technology.
Jon Bowman, director of the Center for the Documentation of Endangered Languages at IU, pointed out the care the institute is taking to ensure that its Assiniboine partners are determining what will be most useful for their community.
"If we just come up with a curriculum without their consultation, then it's just more colonizing; it's just repeating the old crime," he said. "When it's through their own elders' old stories, that's where they can hopefully get an idea of a worldview that simply isn't available otherwise."
The process for transforming the field recordings into instructional materials starts with Bowman, who digitizes the recordings of the Assiniboine elders in his center's lab. Many of these recordings have been transcribed by hand by DeMallie, who worked closely with native Nakoda speakers to develop a writing system for the spoken-only language. Linguists take these transcriptions, along with vocabulary collected by DeMallie, and enter them into a computer database. When recordings that haven't been transcribed are entered into the database, a literal translation is quickly produced.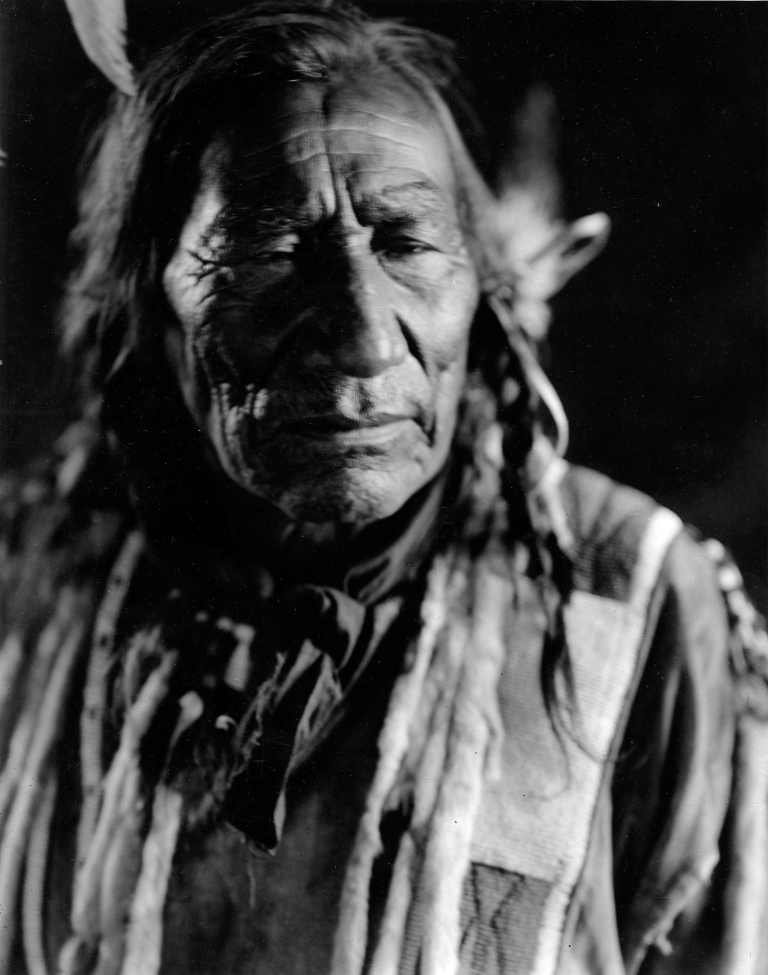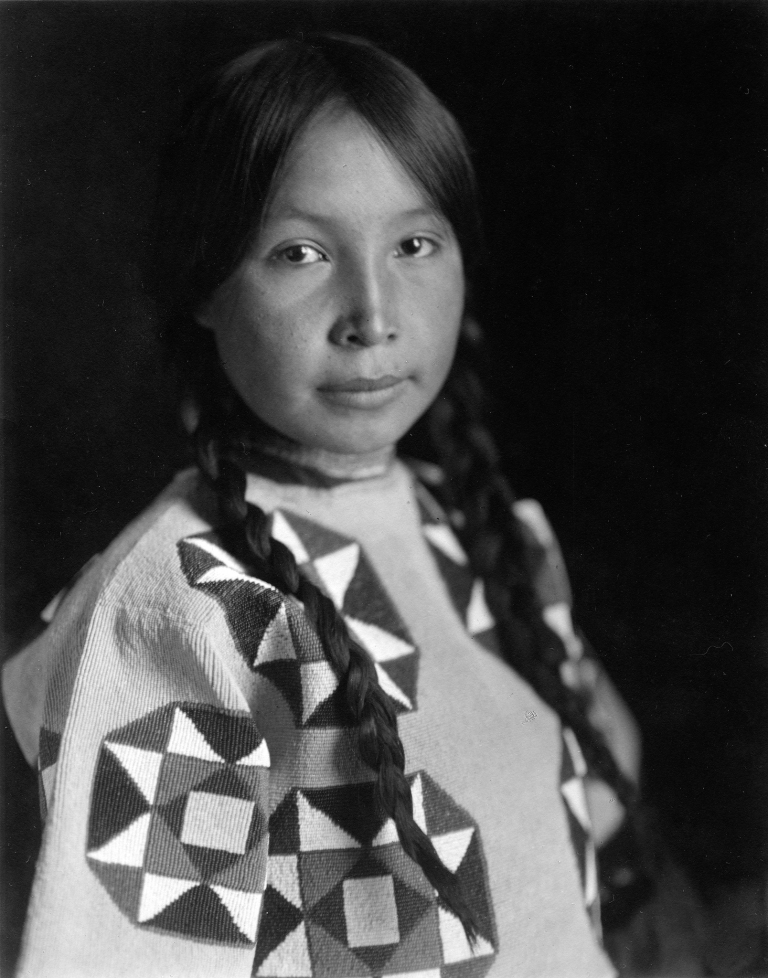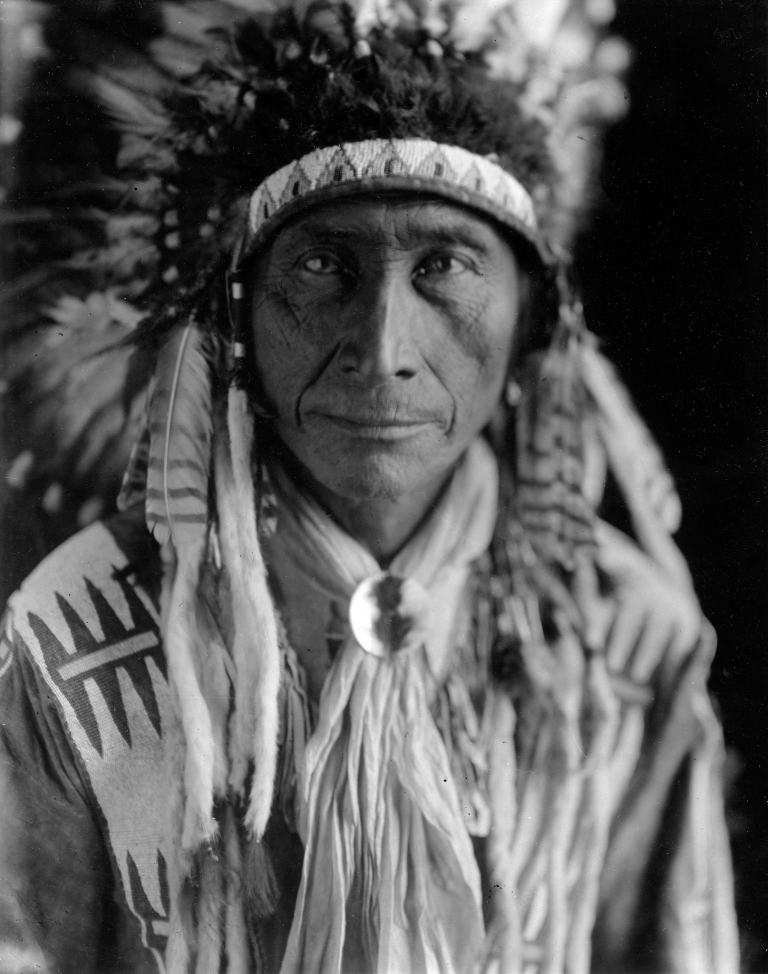 Linguists then work closely with native speakers to interpret the literal translations, correct errors and account for idioms. Once a revised translation is created, linguists work with curriculum developers to synthesize the recordings into stories that can be used to teach beginning language learners. Then curriculum developers build lessons and work with native artists to produce the textbooks and dictionaries, a difficult feat considering only a handful of native speakers remain to help with this process.
The team hopes to have instructional material for students in kindergarten through fifth grade completed by the end of July 2020. Materials for kindergarten and first grade, along with a teacher's manual, will be presented at a meeting of the Montana Indian Education Association in April. The team is also developing an educational app and hopes to create a Nakoda keyboard for smartphones so the community can text and communicate via Facebook Messenger in their native language.
In addition to helping the Assiniboine people reclaim their language, IU has been repatriating culture by sharing recordings of songs in IU's Archives of Traditional Music and sharing archival images of Assiniboine people from the early 1900s that are part of the collection at the Mathers Museum of World Cultures. Bowman said these materials have inspired members of the indigenous community to uncover old recordings, often in outdated formats, from their own basements and attics. Recently, he helped digitize one of these recordings made on a badly damaged record and uncovered seven lost songs.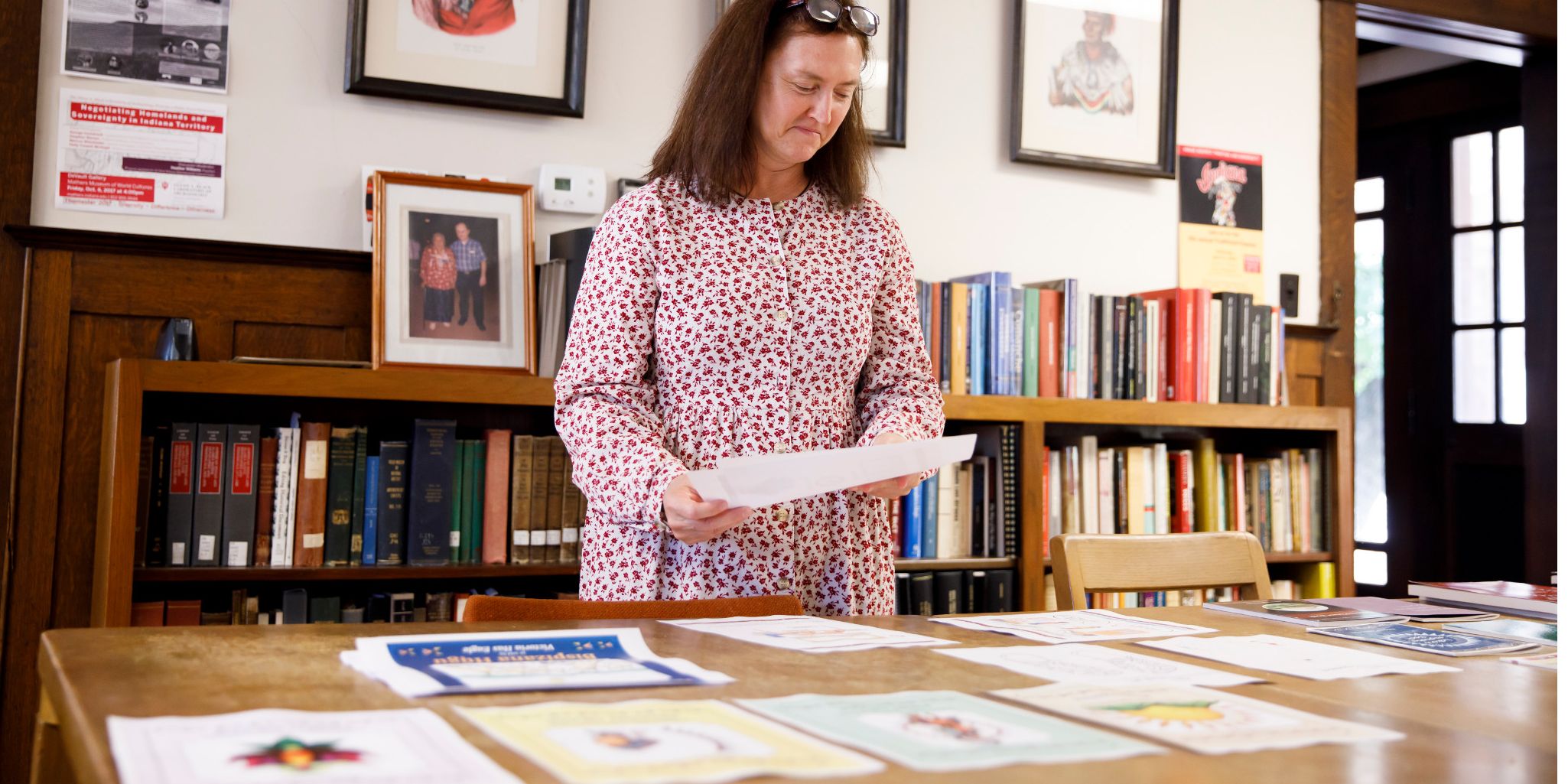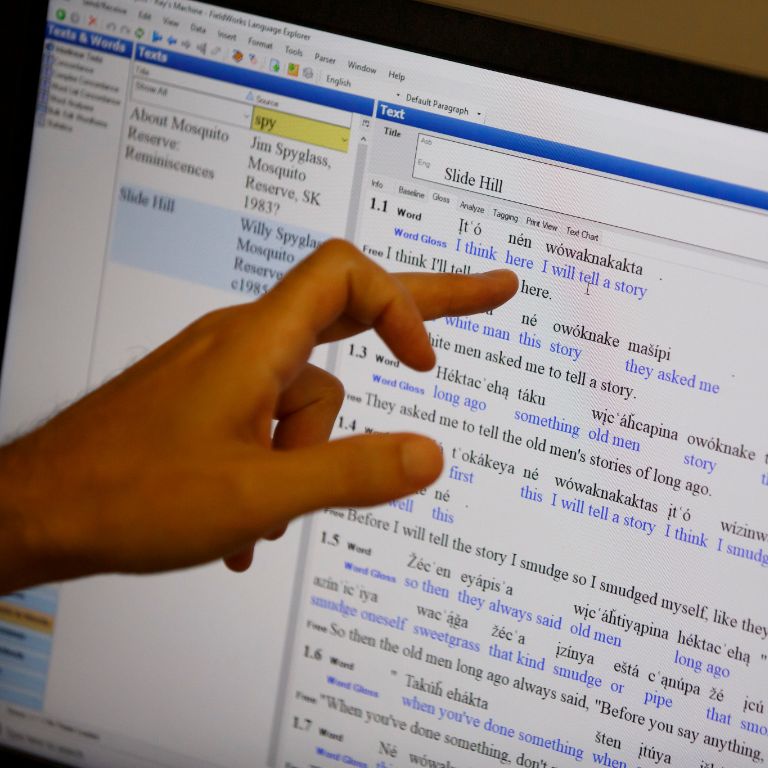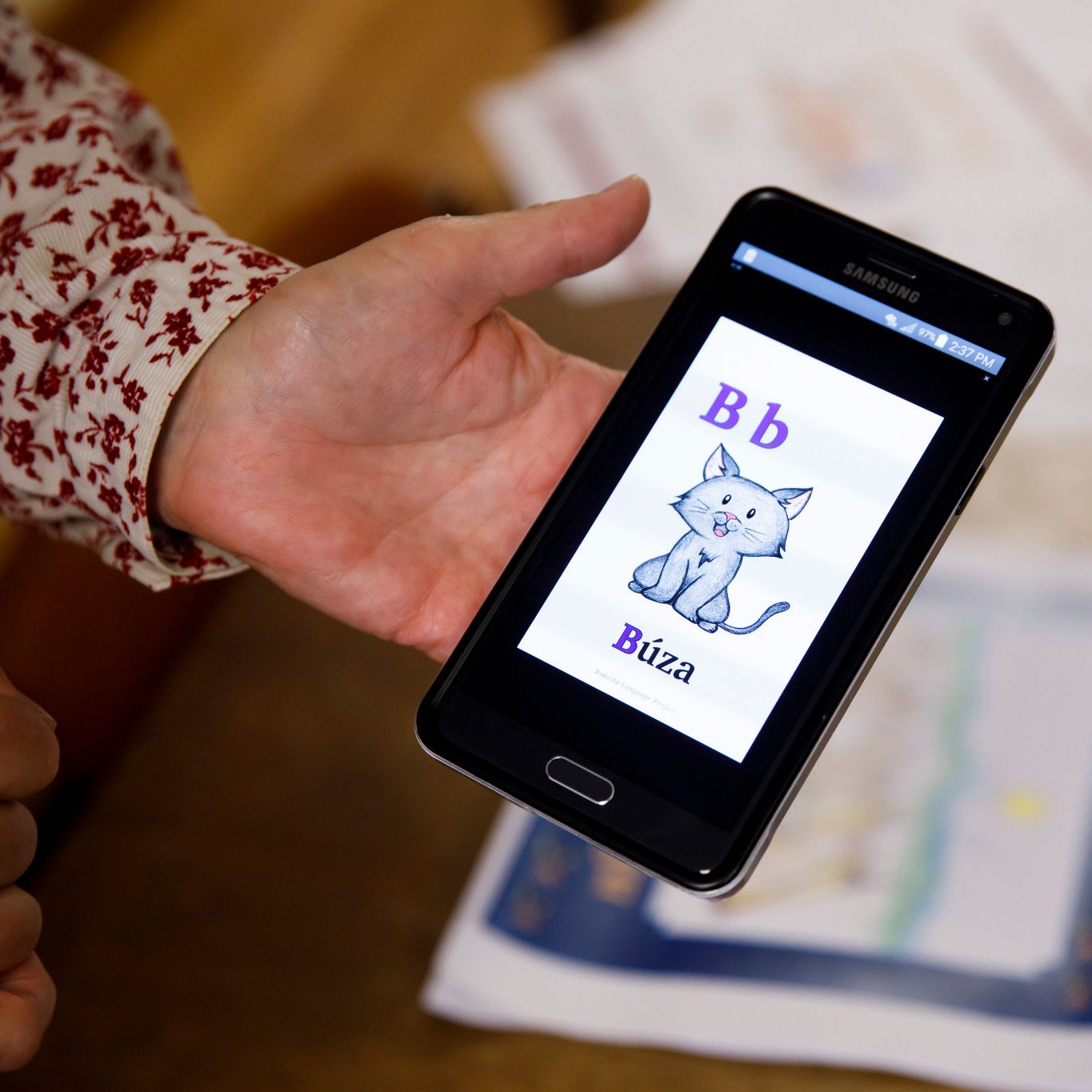 Photos by James Brosher, Indiana University
Curriculum developer Cynthia Ramlo said IU may be the only university that can work with the Assiniboine on a language project of this scope and impact, given its resources like the Archives of Traditional Music, the Mathers Museum and the American Indian Studies Research Institute, as well as decades of faculty connections and research with these communities and its strength in digitization.
Henne-Ochoa said the institute hopes to continue building on the tradition of research and repatriation of indigenous culture by strengthening ties with people like the Assiniboine and creating new relationships with other tribes. Eventually, he said, the institute would like to work with other tribes to create instructional material for their languages and even create exchange programs for students and faculty at indigenous universities.
"We are in an era where there's strong potential for reconciliation," Henne-Ochoa said. "If we listen to indigenous people and hear and appreciate that they have worldviews, indigenous epistemologies and knowledge systems, we can not only understand the human experience, we can enrich the human experience for everyone."