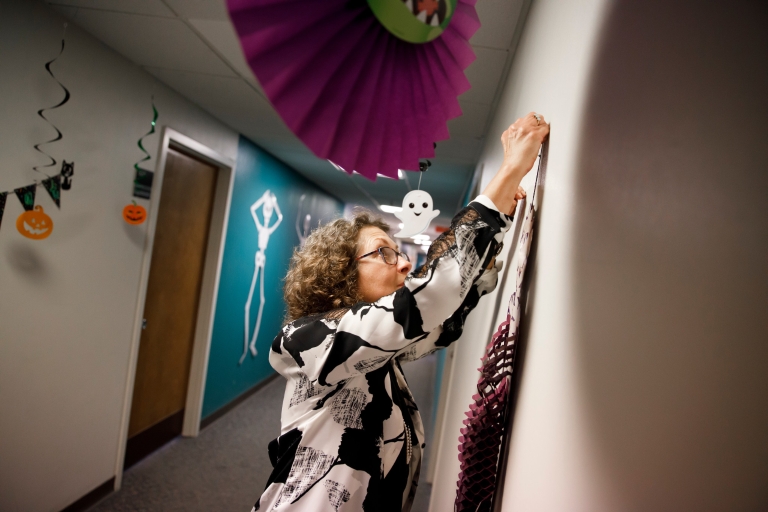 Floors four and five of the Poplars building are decked out with ghosts, bats and other spooky figures ready to greet dozens of trick-or-treaters eager to get their sugar rush.
Financial management services employees Mardi Leonard, Joy Maddox and Theresa Cain decorate their floors every year in preparation for trick-or-treating at the Poplars, an exclusive experience for staff and their kids.
"It's the only time in our department where we see families," Leonard said.
The trio pay for the decorations out of their own pockets or receive donations from fellow staff. They each take many trips to Hobby Lobby and the dollar store to stock up on new decorations throughout the year. Once they've gathered their supplies, Leonard estimated that it takes six to eight hours of taping and thumbtacking to complete the finished hallways. Maddox is especially fond of her newest addition.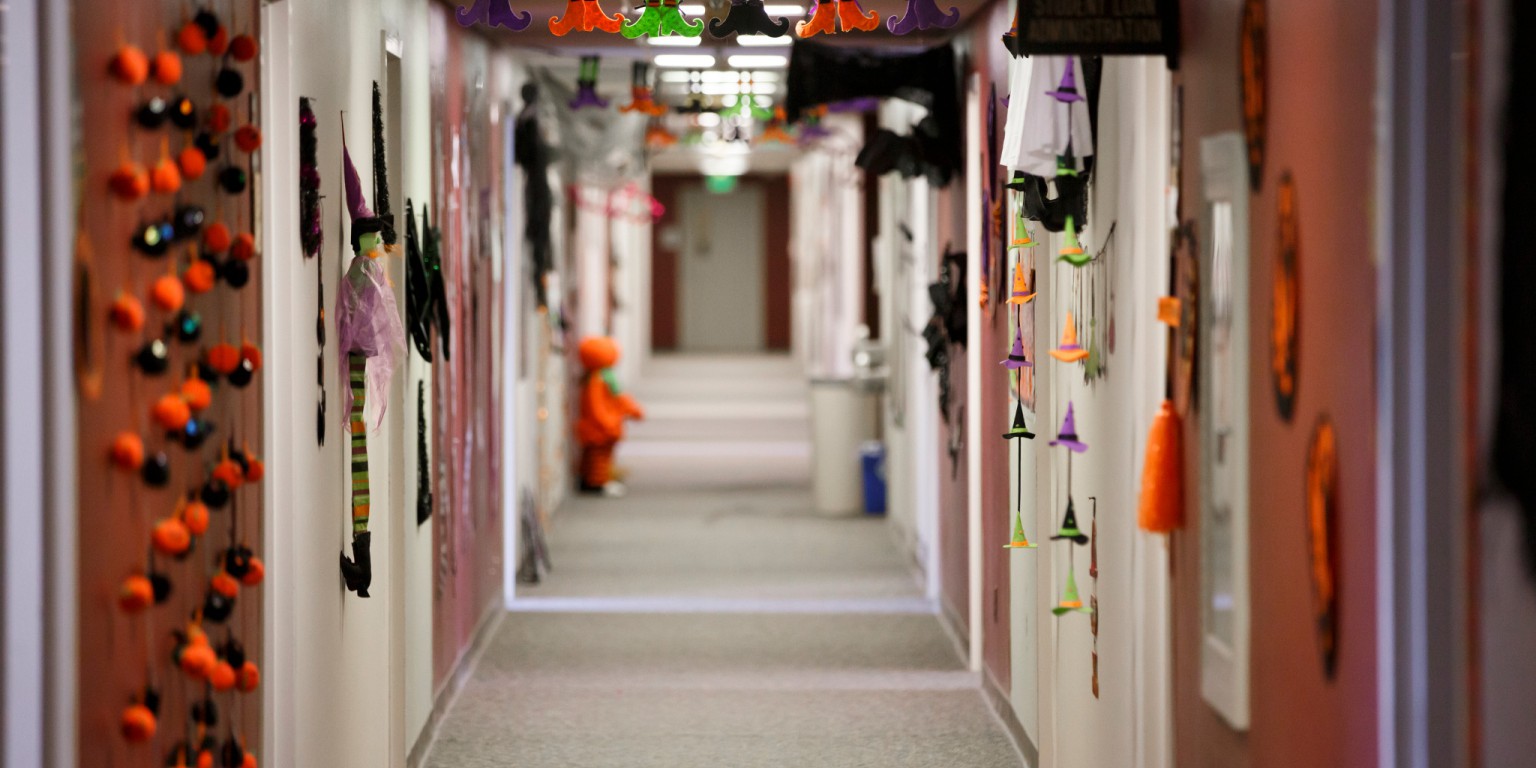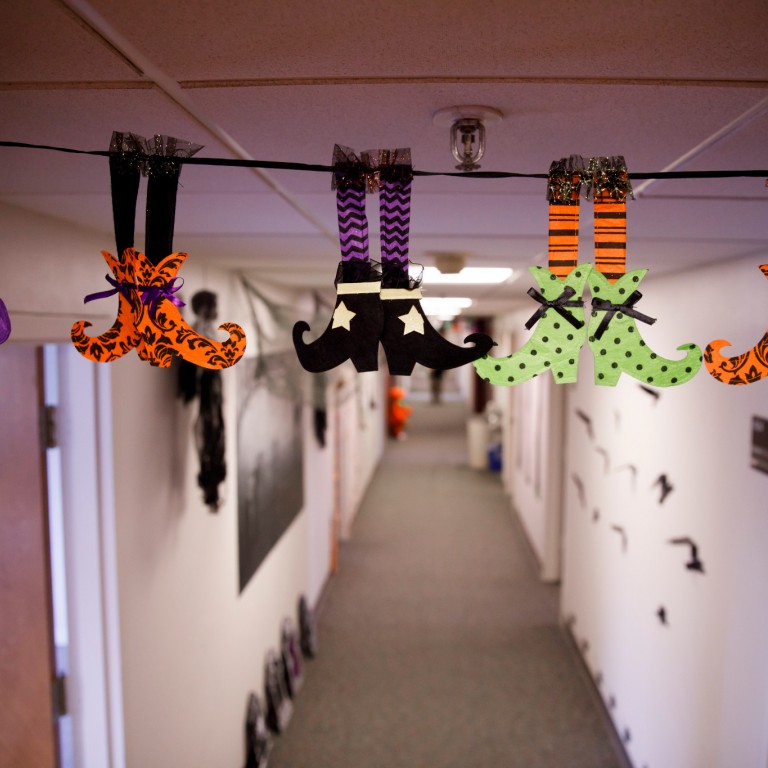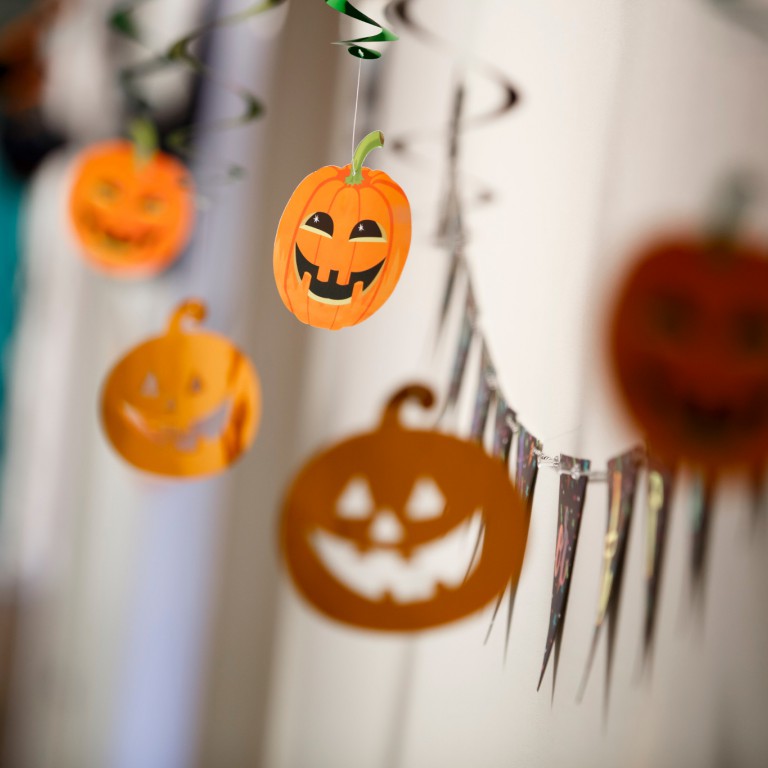 Photos by James Brosher, Indiana University
"It's the cemetery theme, with the creepy cloth draped with the hands in it and little ghouls off to the side," she said. "I like that little theme the best."
Leonard said she enjoys her three-dimensional bats flying above the water fountain outside her office.
Halloween festivities
Maddox and Cain are the fourth-floor decorators and scope out Leonard's fifth floor to see if they need to purchase more decorations.
"It kind of got crazy," Leonard said. "And we haven't been able to slow down."
Leonard has decorated her hallway for about 20 years, since the beginning of the staff family trick-or-treating tradition. She said the little ghosts she has displayed are 20 years old, too.
Maddox started about six years ago after her young daughter made a comment on how the fifth floor had more decorations than the fourth floor.
This innocent observation was enough to get Maddox interested in a friendly competition, she said. The next year, she bought more stuff to keep up with Leonard's floor.
Leonard said she purposely hangs decorations down low for the teeny children who will come through in search of candy. Staff hang orange trick-or-treat signs on their doors signifying they are participating in the festivities.
But the fun isn't only for the kids. Some staff members dress up to complete the Halloween spirit. Maddox was a witch last year in conjunction with her "Wizard of Oz" theme. Two other employees came as Thing 1 and Thing 2, while another couple dressed as soldiers with real walkie talkies to communicate between floors.
Now that the hallway decorating memories have piled up over the years, so have the boxes. Maddox said she keeps all of her decorations in a stuffed closet. Leonard's storage room in the basement is getting full, too. She has more decorations in the basement than the three boxes worth of art hanging in her fifth-floor hallway.
The two women said that even if their offices relocate someday, they will relocate the decorations too. It's a holiday tradition and competition that they truly enjoy.