If the Indiana Memorial Union is the "living room" of the Indiana University Bloomington campus, members of Union Board are the heads of the household.
The organization is the governing body for the union and the largest student programming body on campus. More than 120 current and former Union Board members gathered on campus Oct. 18 to 20 for a biennial reunion and the premiere of the documentary "The Indiana Memorial Union Story: The Heart of the Campus."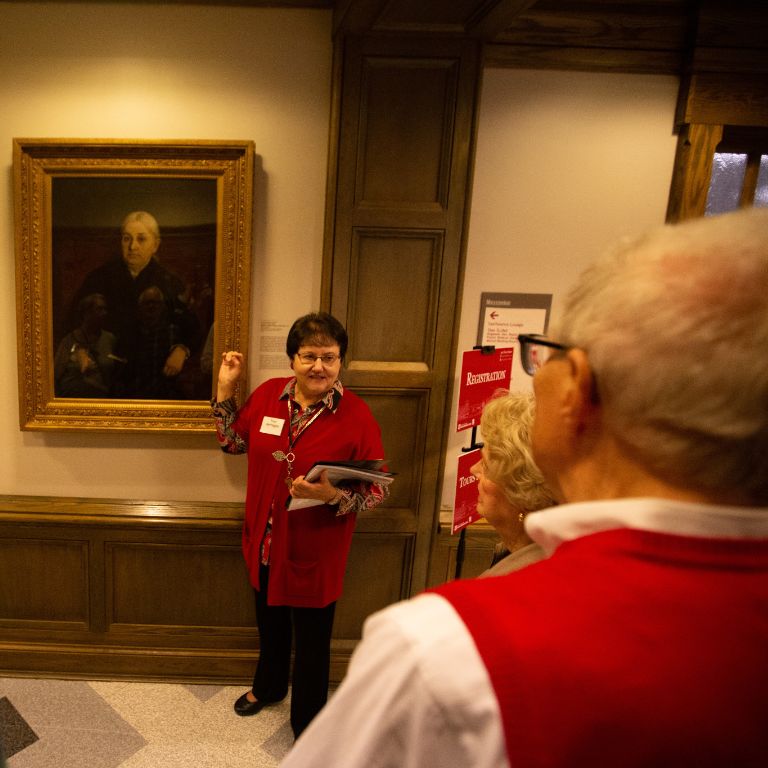 Photos by Chris Howell and Conner Franke, Indiana University
Over the course of three days, these past and present leaders shared meals, toured campus and the union, held business meetings and took part in a Career Panel and a Panel of the Decades.
"This is the weekend that Union Board alumni come back to campus to make sure we are taking good care of their baby," said Patricia Cornejo, current Union Board president. "We were excited to show them what we've been doing and share that the board is on an upward trajectory that everyone can be proud of."
In addition to getting up to speed on Union Board initiatives, the group enjoyed the premiere of an IMU-focused documentary directed by one of their own, Jerald Harkness, in the Whittenberger Auditorium. Harkness said the idea for a documentary about the IMU had been floated a little more than 10 years ago, but the ball officially got rolling when Harkness got more involved with the John Whittenberger Society, the Union Board alumni group, about a year ago. The Office of the Bicentennial provided a grant to produce the project, and both the IMU and John Whittenberger Society provided additional funds.
Production started in November 2018, and Harkness has been working with IMU executive director Hank Walter, assistant director of administrative services Bob Musumeci and the current Union Board directors to tell the story of the beloved building. The finished product features interviews with former director Ed Pinto, who was instrumental in changing the way directors are elected; Sue Kathryn Holliday Milliman, the first female Union Board director; and Ceci Jerry, the first African-American female president of Union Board.
"It's amazing to see the progression of Union Board from an all-white male group to being much more inclusive and so much more diverse," Harkness said.
Harkness got his start in filmmaking as a member of the Video Concepts Committee of Union Board. He taught himself how to use the camera and video editing equipment while producing a documentary with fellow Union Board member Mark Nisenbaum about black fraternity step shows. Harkness went on to make documentary filmmaking his career, and he turned "Steppin'" into his first film after graduation.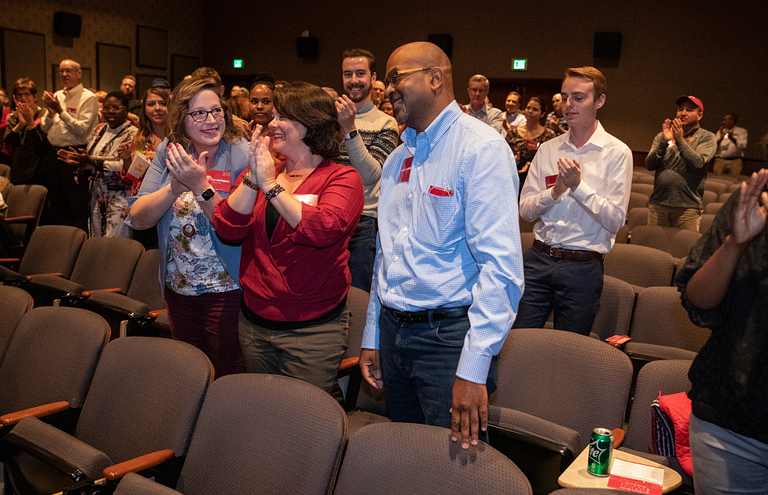 Beyond teaching him how to use a camera and cut video, Harkness said his experiences with Union Board prepared him for the business aspect of being a filmmaker. He had to pitch his creative ideas for approval and funding and learned how to work with crews and keep projects within budget constraints.
Cornejo said that experiences like Harkness' are common for Union Board members, including herself. The prelaw student said that becoming a lawyer once felt like more of a pipe dream than a realistic goal. But after two years in Union Board leadership, she's successfully led a team of people and sharpened her delegation and communications skills. Cornejo said Union Board has given her the confidence to do whatever she sets her mind to.
"A lot of the former leaders here this weekend have stories like me," Cornjeo said. "They weren't involved or didn't have a community at IU, and then they found Union Board and all of a sudden they have such a tight community. Plus, they're doing things that are really important and impactful and so they feel empowered."
According to Cornejo, Union Board doesn't just have an impact on members' college experiences, though. She said Union Board acts as a voice for students and works on important projects like ensuring the art in the IMU is representative, establishing gender-neutral bathrooms in the building and improving accessibility and sustainability.
Harkness said he hopes his film portrays the impact the Union Board has on the university and in the lives of students, whether they are members or not.
"I hope people walk away from the film understanding that if you were part of Union Board or the IMU in any capacity, you are part of an amazing story and an amazing legacy, and we all should be proud of that," he said.