BLOOMINGTON, Ind. – Indiana University alumnus and information technology pioneer Fred Luddy has given $60 million to establish a multidisciplinary initiative in artificial intelligence at IU based in the School of Informatics, Computing and Engineering, President Michael A. McRobbie has announced. This is the second-largest private gift in IU's history.
The initial focus of this initiative will be on AI approaches to digital health. Further projects in this area based on IU's extensive disciplinary strengths in related areas will be formed as additional support is obtained from other sources.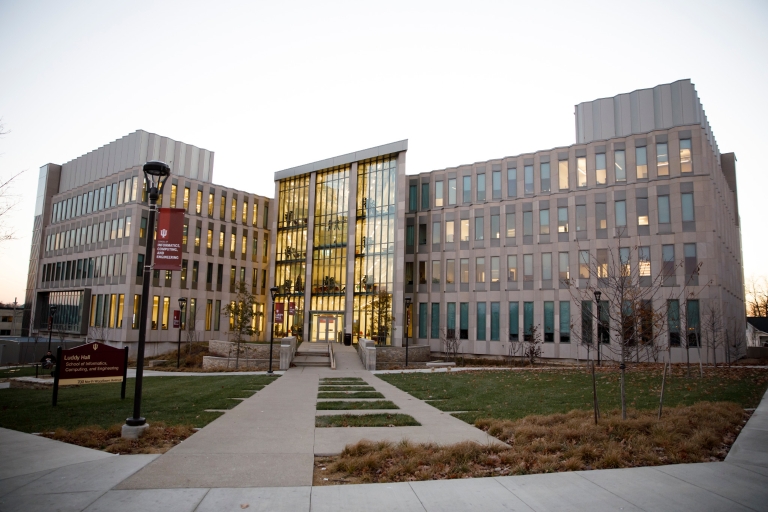 The gift will fund the construction of a building, which will be the center of this initiative. It will also enable the creation of six endowed chairs, six endowed professorships and six endowed faculty fellowships, as well as graduate and undergraduate scholarships, including scholarships for high-achieving Hoosier students, to support the initiative. The overall goal of the gift is to accelerate the progress of the school as one of the best of its kind in the world.
In recognition of this extraordinarily generous gift and in recognition of Luddy's continued leadership and landmark support of the school's mission, IU trustees have approved naming the school in his honor; it will now be known as the Luddy School of Informatics, Computing and Engineering. The naming and gift were announced Thursday at a meeting of the school's Dean's Advisory Council, of which Luddy is a member.
Luddy is the founder of ServiceNow, a Silicon Valley-based company that delivers cloud-based, automated IT help desk services and which Forbes recently named the world's most innovative company.
The building funded by the gift will house the new Luddy Center for Artificial Intelligence. The facility will feature state-of-the-art teaching and learning spaces dedicated to supporting IU faculty and students doing pioneering work in AI and machine learning, and to encouraging and enhancing interdisciplinary collaborations.
"On behalf of all of Indiana University, I want to express our most grateful thanks to Fred Luddy for this magnificent gift, which comes on top of a previous outstanding gift he made to IU that enabled the construction of the superb Luddy Hall," McRobbie said. "We are delighted that we could honor him by naming the school to which he has contributed so much after him.
"I was involved in establishing the school in 1999, and I have been delighted to see it grow, expand in its disciplines and improve in quality over the last two decades. And it is fitting that it will now be named after its greatest benefactor, who has given so much support to the school over many years and whose record of achievement on information technology brings such distinction to IU.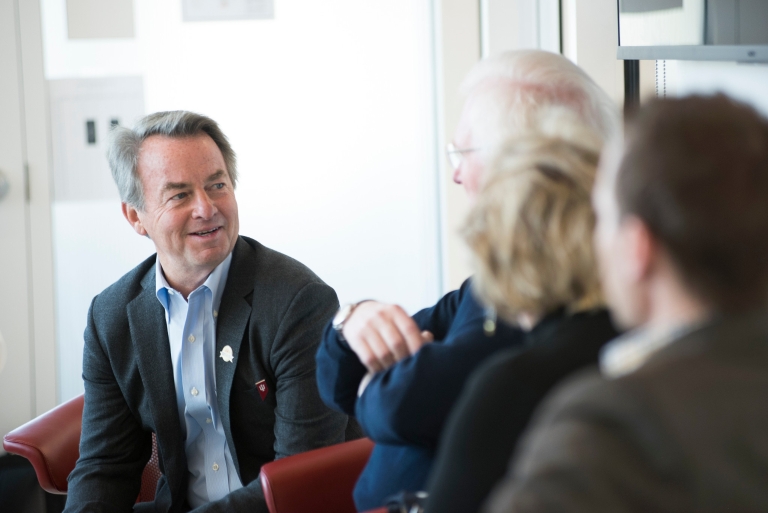 "Fred is an outstanding technology visionary and innovator who understands deeply the enormous impact that AI, machine learning and related areas are having and will have on society. We are also extremely grateful for his willingness to support a major initiative in this area at IU – one with a focus on digital health care, which will be of such importance in Indiana and around the world."
A native of New Castle, Indiana, Luddy came to IU as a student in 1973. He received an honorary IU Doctor of Humane Letters in 2017. He credits Edward Whalen, a professor of economics at IU who served as university director of budgeting, for offering him his first job in computer programming in the 1970s and paving the way for his successful career in IT.
As a pioneer in the field of programming, Luddy developed the concept of platform as a service in cloud computing, creating modular components that are easily customized. In 2004, Luddy founded ServiceNow, serving as the company's CEO until 2011 and as its chief product officer until 2016, when he stepped into an advisory role. The company now employs 3,500 people and has a market value of more than $15 billion.
"I believe in the importance of people," Luddy said. "It is the imagination and determination of people that drive technology that makes an impact in real lives. My path has been shaped by the people who inspire me, who guide me to pursue the next innovation with the potential to transform everything.
"This gift will allow the next generation of researchers and students to bring together their knowledge, wisdom and ideas to create things that we never thought possible. I'm thrilled to be able to play a role in helping IU professors and students reach for what comes next."
The announcement of Luddy's gift to establish IU's AI initiative is the second major announcement that IU has made in less than six months concerning its investment in this area. In June it was announced that IU would be acquiring a new AI supercomputer, Big Red 200. Named for the IU Bicentennial, it will be the fastest university-owned supercomputer in the nation and will support its advanced research in AI, machine learning, data analytics, and scientific and medical research. This system will become fully operational on IU's bicentennial anniversary on Jan. 20, 2020.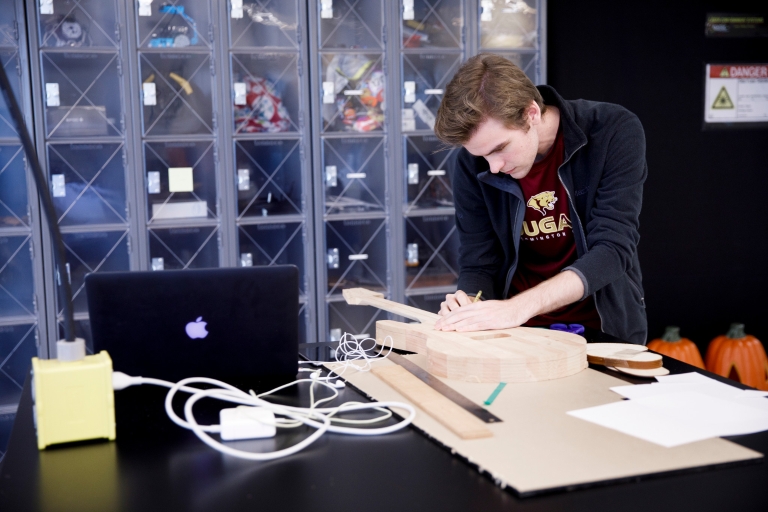 As the school strategically focuses on the study of AI and machine learning and their impact on digital health, its researchers will collaborate with IU's extensive health and life science schools, departments and programs, both in Bloomington and Indianapolis.
IU established the original School of Informatics in 1999, the first school of its kind in the U.S. and, at that time, the first new school at IU Bloomington in 25 years. In the 20 years since its inception, the school has added IU's highly ranked programs in computer science, library and information sciences, and statistics. Then in 2016, it added a new program in intelligent systems engineering, IU's first engineering program. The school is now a major source of information technology graduates for the economy of the state of Indiana.
The school's achievements have included pioneering advances in programming languages. It offered the first Ph.D. in informatics and one of the first master's degrees in cybersecurity, and it has produced influential research in human computer interaction and complex systems.
The school also continues to provide talented graduates and professional expertise to a wide range of computing and information technology businesses and occupations. It places special emphasis on partnering with information technology businesses and addressing needs in Indiana.
The school now includes about 21,000 alumni, many of whom work for Indiana's leading technology employers.
Luddy Hall, which was funded, in part, by a major gift from Luddy, serves as the home to most of the school's departments. The 124,000-square-foot, $39.8 million facility opened its doors last year with a weeklong celebration showcasing the school's development, economic and societal impact, and continued evolution to meet the demands of its students and the state.
Luddy's gift counts toward the $3 billion For All: The Indiana University Bicentennial Campaign.
What they're saying:
"This is a transformative moment in the history of the Luddy School of Informatics, Computing and Engineering. The generosity and dedication of Fred Luddy to the people of the school is inspiring, and his support will help us invest in tomorrow in ways that will truly allow the school to take the next step in so many areas. Words can't properly express our gratitude for the ways Fred and his family are championing our efforts, but our efforts to bring his vision to reality will be tireless." – Raj Acharya, dean of the Luddy School of Informatics, Computing and Engineering
"Fred Luddy's love for Indiana University, his vision and creativity in his own life and career, and his wonderful generosity have all combined through this life-changing gift to add rocket fuel to one of the most innovative schools in the country. Fred has always had the imagination to foresee the future and the personal commitment to excellence to bring that future into being. All of us are grateful that his name and ours are linked in this way through the Luddy School to which he has already given so much." – Lauren Robel, IU Bloomington provost and executive vice president 
Description of the following video:
[MUSIC]
[Video: Panning close up of sunrise on Luddy Hall]
[Fred Luddy speaks: The reason you look to the future is hopefully to help shape it.]
[Video: Right to left pan while looking up at West Portico of Luddy Hall]
[Words appear: "We Connect-Program-See-Secure-Analyze-Engineer Tomorrow"]
[Fred Luddy speaks: It was very prescient of both Myles Brand and then-young CIO Michael McRobbie to say "Technology, software is going to be a part of everything we do in the future." And that notion has been built into this structure, this school and it's a very, very special, very collaborative space with people here from all over the planet and I just think this is a wonderful environment for nurturing great new ideas that could change humanity for the better.]
[Video: Pan in on laboratory setting of woman soldering circuits to a circuit board.
[Video: Pan up of students reading code on a projected screen]
[Video: Shot of a woman's face being digitally mapped on the left with results of the mapping being shown on right]
[Video: Shot of gloved hands holding clear plastic circuit board]
[Video: Woman watching a 3D printer]
[Video: Laser etcher in action]
[Video: View of center passage in Luddy Hall's third floor]
[Video: Shot of man from Blueprint Stats speaking to students]
[Video: Shot of seated man asking question]
[Video: Shot of four male students at a picnic wearing "IU is Home" t-shirts.]
[Video: Two male students at picnic make positive hand gestures to camera]
[Video: Syringe of pink liquid being drawn]
[Video: Man placing vials in a centrifuge]
[Video: Close-up of vial being placed in centrifuge]
[Video: Green gloved hand presses start on machine]
[Video: Purple gloved hands use dropper to draw substance from petri dish]
[Fred Luddy speaks: When you get that convergence of young people with their passions, their energy, and their new ideas, converging with knowledge, wisdom, information - that's when things can really be transformed. And that's why you see so many things that come out of educational research because professors will spark an interest and students will do things that most people never thought were possible.]
[Video: Close-up of Professor Paul Macklin lecturing and pointing at a projected screen]
[Video: Group of four men and one woman chat at picnic outside Luddy Hall]
[Video: Close-up of man wearing t-shirt that says "Eat. Sleep. Robotics." The word sleep is crossed out.]
[Video: Professor Selma Sabanovic interacting with a mobile robot]
[Video: Woman in jean jacket wears headband measuring brain function while results are shown on a computer screen in the background]
[Video: Close-up of computer screen with brain function mapping.]
[Video: Pan in on man writing on a white board in blue marker]
[Video: Shot of students working on laptops in Luddy Hall fabrication lab]
[Video: Professor Maria Bondesson in lab coat and male approach bank of aquariums]
[Video: Close-up of Bondesson interacting with the aquariums]
[Video: Students studying on laptops while camera pans across them to clinical assistant professor of engineering Bryce Himebaugh mentoring a student]
[Video: Pan in on male student with beard holding and looking at a laptop computer]
[Fred Luddy speaks: My name is Fred Luddy, and I am a programmer. It's not what I do, it's what I am.]
[Video: Wide shot of Fred Luddy seated]
[Video: Close-up of Fred Luddy seated]
[Video: Fade into to IU graphic]
[Words appear: IU Luddy School of Informatics, Computing, and Engineering]
[END]
About the Luddy School of Informatics, Computing and Engineering
The Luddy School of Informatics, Computing and Engineering is home to more than 3,000 students from the United States and around the world. The forward-looking school's faculty are world-renowned experts in their respective fields and lead the way in critical areas such as artificial intelligence, bioinformatics, high-performance computing, programming languages, security, health care, human-computer interaction, computer engineering, complex systems, bioengineering and AI-driven-engineering.
About the IU Foundation
Founded in 1936, the Indiana University Foundation maximizes private support for Indiana University by fostering lifelong relationships with key stakeholders and providing advancement leadership and fundraising services for campuses and units across the university. Today, the IU Foundation oversees one of the largest public university endowments in the country, with a market value in excess of $2.25 billion. IU is consistently ranked among the top four of Big Ten universities in annual voluntary support.