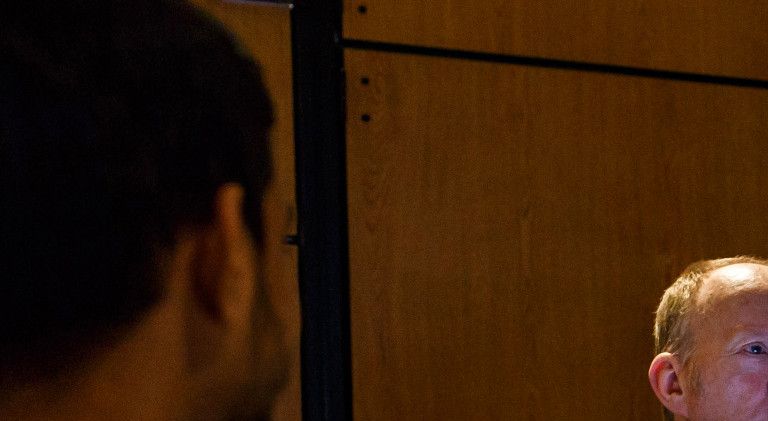 The IUPUI Arts and Humanities Institute is hosting Fata Morgana, three days of music, film, literature and conversation at the Eskenazi Fine Arts Center on the IUPUI campus Oct. 3 through 5.
"Fata Morgana" – the Italian term denotes a type of mirage – is the title of a 1971 film by German director Werner Herzog that features footage shot in the Sahara desert. It's one of 18 films that will be screened at its namesake three-day event. These films address our dreams, confront our hopes and fears, and deal with complex 21st-century issues such as immigration, racism, the surveillance state and LGBTQ+ life in America.
The films, full of dreamers and nonconformists, include several touchstone examples of experimental filmmaking and are essential viewing for audience members who want to see the world around them in new, original and artistic ways.
Fata Morgana will showcase equally experimental music and multimedia performances.
Scott Deal, a professor in the department of music and arts technology in the School of Engineering and Technology at IUPUI and director of the Donald Louis Tavel Arts and Technology Research Center, organized the immersive musical and mixed-media programming for Fata Morgana.
"I wanted to bring in people I've gotten to know who are working right on the edge of technology," Deal said. "We're doing interesting stuff that's not in the mainstream and looking to the future."
Deal, an accomplished percussionist, musical collaborator and expert in emerging digital technologies, will perform each night. On Oct. 5, he will play a piece by composer Christopher Biggs on vibraphone and interactive electronics. The piece, titled "Will All Fall," addresses the issue of climate change.
Onyx Ashanti, the only featured performer who describes himself as a "cyborg musician," is also a programmer and an open source proponent. Ashanti will transform the Eskenazi Fine Arts Center into a showcase for his "beatjazz" – an interactive melange of electronically derived jazz and rhythm, of sound and projected visualization. He will transform his body into a musical instrument, fusing cutting-edge technology with musical chops.
"When he comes out performing, he looks almost like a Transformer," Deal said. "He's all wired up. His hands look like robot hands."
Musical robots will also make an appearance during the collaboration of composer, dancer and pianist Aurie Hsu and composer Steven Kemper. Their cyborg fusion of sound and movement just might get you dancing.
Each evening, interdisciplinary artist CandyStations, who has collaborated with Sufjan Stevens and St. Vincent, will light up the gallery walls of the Eskenazi Fine Arts Center with her improvised live video compositions.
There will also be performances by Margaret Lancaster, Elainie Lillios and Forward Motion Ensemble. All performers will make appearances throughout the three-day festival.
On Oct. 3, the first day of Fata Morgana, a selection of groundbreaking LGBTQ+ films will be screened. "Blue" documents British film director Derek Jarman's experience with AIDS, against a static blue screen and a sonic backdrop consisting of a symphony of voices. "Tongues Untied," a 1989 documentary revolving around the lives of gay black men living in America, once aroused the ire of media figures and politicians.
On Oct. 4, the organizers will present a selection of films that deal with the topics of surveillance and immigration, including the 2016 film "El Mar La Mar," directed by Joshua Bonnetta and J.P. Sniadecki. The film captures a voyage in the Sonoran Desert with harrowing stories of the migrants passing through the borderlands and the communities found there.
Running on a continuous loop for three days, the four-hour-long Argentine revolutionary film "The Hour of the Furnaces" will be projected inside its own gallery. Making use of captions, title cards and headlines, with quotes from revolutionary leaders spanning the globe, from Che Guevara (Argentina/Cuba) to Frantz Fanon (Martinique/Algeria), "Hour of the Furnaces" is a key example of the Third Cinema movement.
"Glazed and Confused" is a breakfast program that starts out the morning of Oct. 5. Herzog's film "Fata Morgana" will be followed by a screening of two episodes of David Lynch's "Rabbits." Accompanying the films will be plenty of coffee and doughnuts, a must for devotees of Lynch's TV series "Twin Peaks."
This will be followed by a selection of short films from diverse directors, ending with Ciro Guerra's "Embrace of the Serpent," a dramatic film set in the Amazon rainforest. The film tells the story of an Amazonian shaman and two scientists working together to track down a medicinal plant.
All events will be held at the Eskenazi Fine Arts Center, 1410 Indiana Ave. Admission and parking are free.