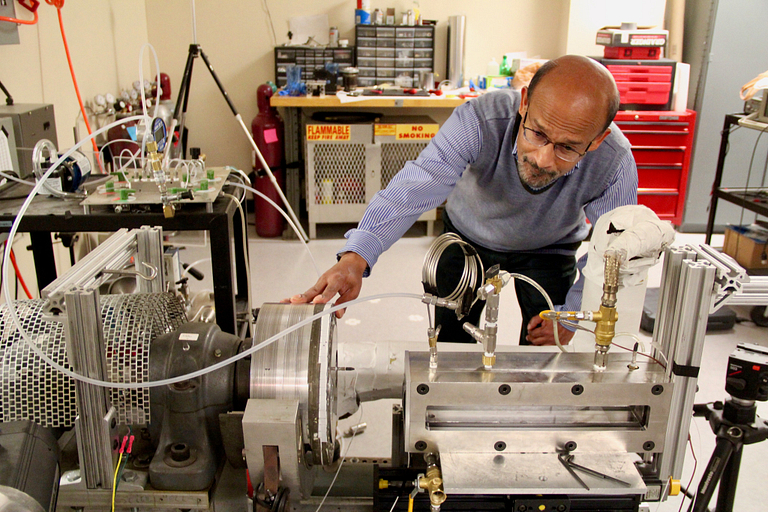 In the coming years, engineering students from a prominent university in India will join the student body at IUPUI as part of a unique international transfer program.
The Vellore Institute of Technology is one of India's most prestigious engineering schools, and a number of its students will begin coming here next year to earn engineering degrees through the School of Engineering and Technology at IUPUI and computer science degrees through the School of Science.
"It's a win-win for both institutions," said Razi Nalim, executive associate dean for research at the School of Engineering and Technology and a professor of mechanical engineering. "This is a way for VIT to enhance its image and reputation, and for IUPUI to get our name known in India."
Nalim spent a sabbatical semester at VIT on a Fulbright scholarship, mentoring VIT faculty and working with both administrations on the transfer agreement as well as traveling around India to give presentations that promoted higher education in America. He also helped organize two major research conferences, the second of which is at IUPUI Oct. 3-4.
Former Indianapolis Mayor Greg Ballard is speaking at the inaugural ceremony for the second World Summit on Advances in Science, Engineering and Technology, taking place 9:30 to 11 a.m. Oct. 3 at Hine Hall. The summit will also include Indian music and dance performances by VIT and IUPUI students at 5:15 p.m. Oct. 3 and 4 at Hine Hall.
"Mayor Ballard, when he was mayor, went to India to represent Indianapolis and did a lot of things, among them attracting Infosys to Indianapolis, a major Indian IT company that now is employing a lot of people in our area," Nalim said.
The first conference that Nalim organized with VIT was in India in March, with several IUPUI faculty in attendance. Yaobin Chen and Mangilal Agarwal, directors of the Transportation Active Safety Institute and the Integrated Nanosystems Development Institute, respectively, made keynote presentations and engaged with VIT faculty and students.
"Their students are of a very high caliber in engineering, and their program is huge, with well-equipped labs," Chen said. "This partnership will be very good for IUPUI – we'll be lucky to have students from there."