IUPUI Chancellor Nasser H. Paydar started his State of the Campus address on Oct. 1 with a math equation and a history lesson.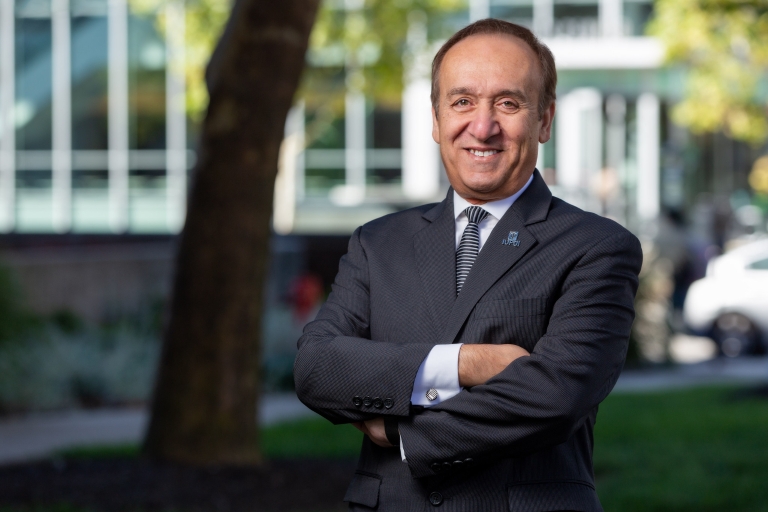 He began the annual speech with a look back into Indiana University's history to show how 200 years of IU and 50 years of IUPUI are connected.
"The roots of this campus go back to the 1800s, when IU started offering courses in Indianapolis," he said, adding that professional schools such as medicine, nursing and dentistry formed the foundation of the Indianapolis campus.
And IUPUI was officially established in 1969.
"And this brings us to today, our 50th anniversary this year, and at the same time, it's our 200th anniversary," he said.
Paydar's speech featured IUPUI's accomplishments and looked to the future as well. Here are the highlights:
1969 to today
Paydar compared key figures from a 1969 report by IUPUI's first chancellor, Maynard Hine, to today's numbers:
In 1969, there were 1,700 faculty members and 70 degree programs. Compare that to 2019, with 3,676 faculty members and 478 degree programs.
In 1969, the campus budget was just above $70 million. Today, it's $1.6 billion.
Fifty years ago, IUPUI had an enrollment of 13,888 students who were mostly part-time. In 2019, there are 29,357 students who are mostly full-time.
Incoming student success and enrollment
IUPUI has maintained enrollment while increasing academic quality, Paydar said. Average SAT scores went from 1079 in 2007 to 1119 in 2019.
This year's freshman class is the largest ever, with 4,295 students, and 68 percent of those who are from Indiana have Academic Honors high school diplomas.
The student body hails from all 50 states and all 92 Indiana counties as well as from 145 countries. IUPUI has tripled its number of international students since 2000; 1,850 international students are enrolled.
The enrollment of students of color has gone from 25 percent in 2015 to 34 percent in 2019. The past year also saw an 8.5 percent increase of Ph.D. students for 3,779 doctoral and Ph.D. students. International enrollment in doctoral programs is up 10 percent.
At IUPUC, the enrollment is 1,406 students, and there are 747 students at IU Fort Wayne.
Inclusive campus
IUPUI has multiple programs to create a welcoming campus, the chancellor said. Examples include on-campus speakers, a campus climate survey, bias training for those involved with executive-level searches and improvements to make it easier to report bias incidents. A new grant-funded program, Project EPIC, aims to put gender equity in the forefront, particularly for women of color in STEM fields.
Plus, the Welcoming Campus Initiative has 120 project leads for 46 collaborative projects and $2 million in funding.
Construction and facilities
Several projects are ongoing:
Innovation Hall construction is slated to finish in August 2020. The $44 million project will have space for science, informatics, and engineering and technology departments.
A phased renovation for Ball Residence Hall started this summer and is expected to be complete in summer 2021. The $16 million project includes bathroom renovations; HVAC upgrades; and lighting, paint and flooring upgrades.
In addition, plans are moving forward for a Jaguar statue on campus that will be located in the Hine Hall courtyard and serve as a destination for both students and alumni.
Community partners
As an urban campus, IUPUI stresses partnership with the community, Paydar said. One of the best examples, he added, is the partnership between the board of directors for the Madam Walker Legacy Center and IUPUI, along with support from the Lilly Endowment, to honor the history and legacy of Madam C.J. Walker. Renovations have started on the Madam Walker Legacy Center building, and work will largely be complete in early December. The facility will include the renovated theater as well as public space, a classroom and space for students as well as the center's staff and rentable space.