Last fall, Indianapolis-based artist Stuart Hyatt went to the Great Smoky Mountains as a chaperone for his son's fifth-grade class.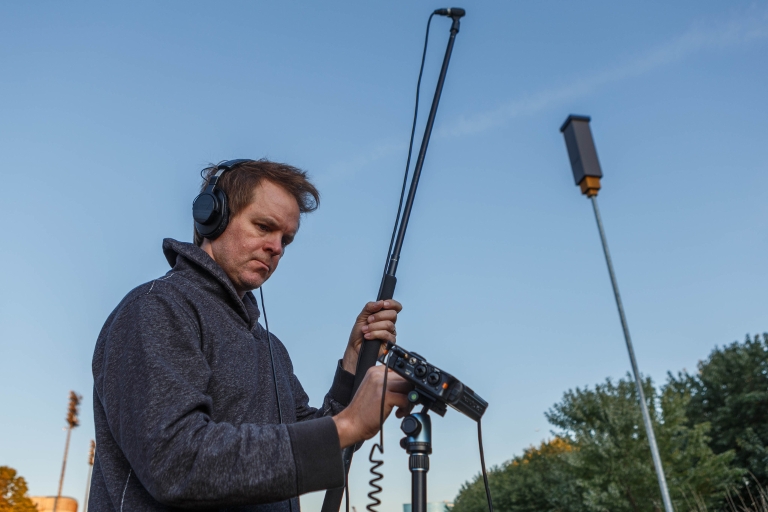 While in the mountains, a guide handed out items that looked like vintage walkie-talkies to Hyatt but were actually devices to listen to the chirps and clicks of bats, which make noises that are too high for humans to hear.
"We turned them on, and the sky exploded with sound," Hyatt said. "I couldn't believe there was this parallel universe. I was mesmerized."
About a week later, Hyatt heard from Jason Kelly, the director of the IUPUI Arts and Humanities Institute, about an opportunity for artists to be part of a Welcoming Campus grant-funded public art project that the institute received.
Hyatt pitched an art installation inspired by his trip: welcoming nonhumans to campus. He would build bat boxes, which provide shelter to wild bats, as well as record their echolocations to use as compositional source material on a music album.
"Focusing on nonhuman species and decentralizing the human is an important theme in current conversations in the arts and humanities," Kelly said. He added that Hyatt's work ties into the institute's broader interest in researching and commissioning new works of public art, and especially looking at the role it can play in the university's educational mission.
Public art is not about building a monument on campus, but about having something that engages with people, Kelly said.
Hyatt also received funding from the National Geographic Society to complete his collaborative album, "Ultrasonic," which will be out in the spring.
The three bat boxes were installed along White River, behind Carroll Stadium, in August.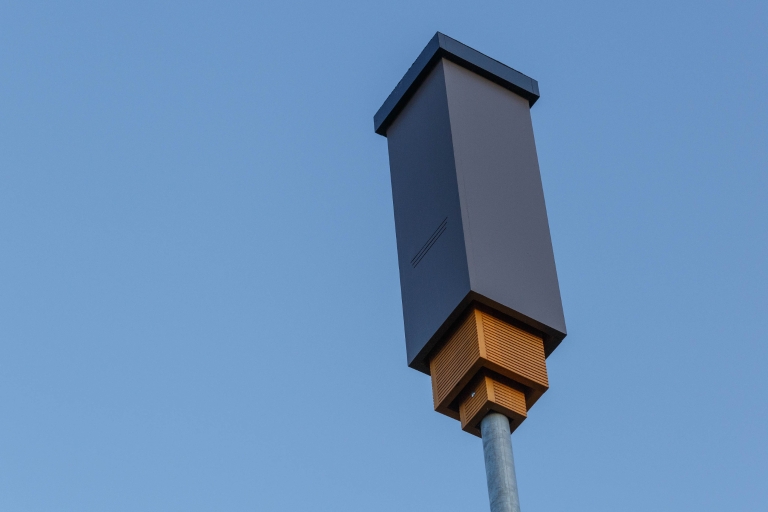 Hyatt is monitoring the boxes and said there is already evidence that the boxes are in use by big brown bats. The chances of bats moving in that quickly are low, so that means they most likely came from a building or location where people wouldn't want them to live.
Typically, bat boxes are flat and rectangular, but Hyatt used a different design that has 360-degree housing, offering the bats more options to roost and hang upside down.
Hyatt's funding from National Geographic centers on an endangered bat species, the Indiana bat, which lives outside the city limits. After the dedication of the bat structures, Hyatt took 50 people on a charter bus to Sodalis Nature Park in Hendricks County, a haven for the endangered bats.
He had spent the previous months in this area working with a team of scientists from the Indiana Department of Natural Resources as well as from Indiana State University to record with ultrasonic microphones and detectors similar to the ones from his Smoky Mountains trip.
But first, Hyatt said, he had to learn about bat behavior and practice his audio recording method.
"I perfected it in my driveway with the big brown bats that are nearby," he said, adding that he had to record in the early summer before the sound of cicadas and katydids drowned out the bats' noises.
The resulting album is experimental but cohesive, he said, noting that he gave the collaborating musicians freedom, but asked them to think of the bats as their bandmates.
"They sound a lot like birds – just birds that we can't hear," Hyatt said.
Kelly, who was on that fall bus trip to Sodalis, said Hyatt played a preview of the album on the bus that night, and it was a beautiful piece.
"It moved very quickly from the science to the art of it," Kelly said. "You could see these two poles – art and science – and how they spoke to and informed each other."