The tables had been pushed aside. The lights were off. In the middle of a conference room at Lockefield Village, six IUPUI employees sat in folding chairs.
Some had their shoes off. Others closed their eyes as they inhaled deeply.
"Inhale. Arms come all the way up. Exhale, lift up and forward fold," said Cara George, leading the class from her seat at the front of the room.
Offered to full-time IUPUI faculty and staff as a perk through Healthy IU, chair yoga is a weekly 40-minute class at Lockefield Village.
For the class, IUPUI brings in yoga instructors, like George, from the Jewish Community Center of Indianapolis. She's been teaching chair yoga on campus on and off for about three years.
While this semester's class registration is closed, registration for next semester opens in January on the Healthy IU website.
It's a good entry into yoga, George said, adding that people new to yoga can often be intimidated because they think they have to be super-flexible – not true. So the chair takes the potentially scary part out of yoga, she said.
"Yoga is for everyone," George added.
That's why chair yoga is a perennial Healthy IU program at IUPUI. "Chair yoga is a wonderful, accessible mind-body experience. We want employees to have the opportunity to move throughout the day – adding mindfulness to the movement is an added bonus," Healthy IU manager Samantha Schaefer said.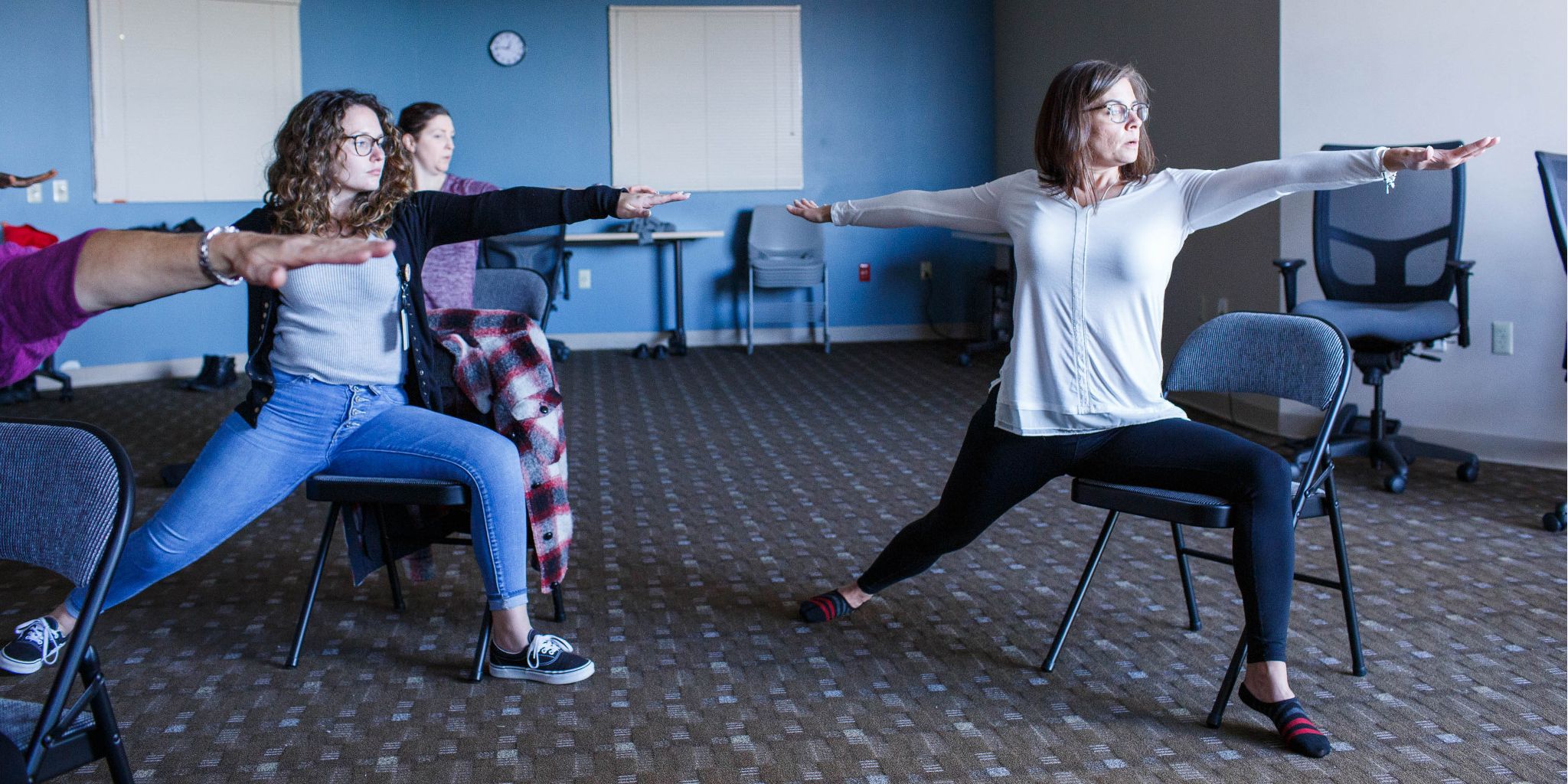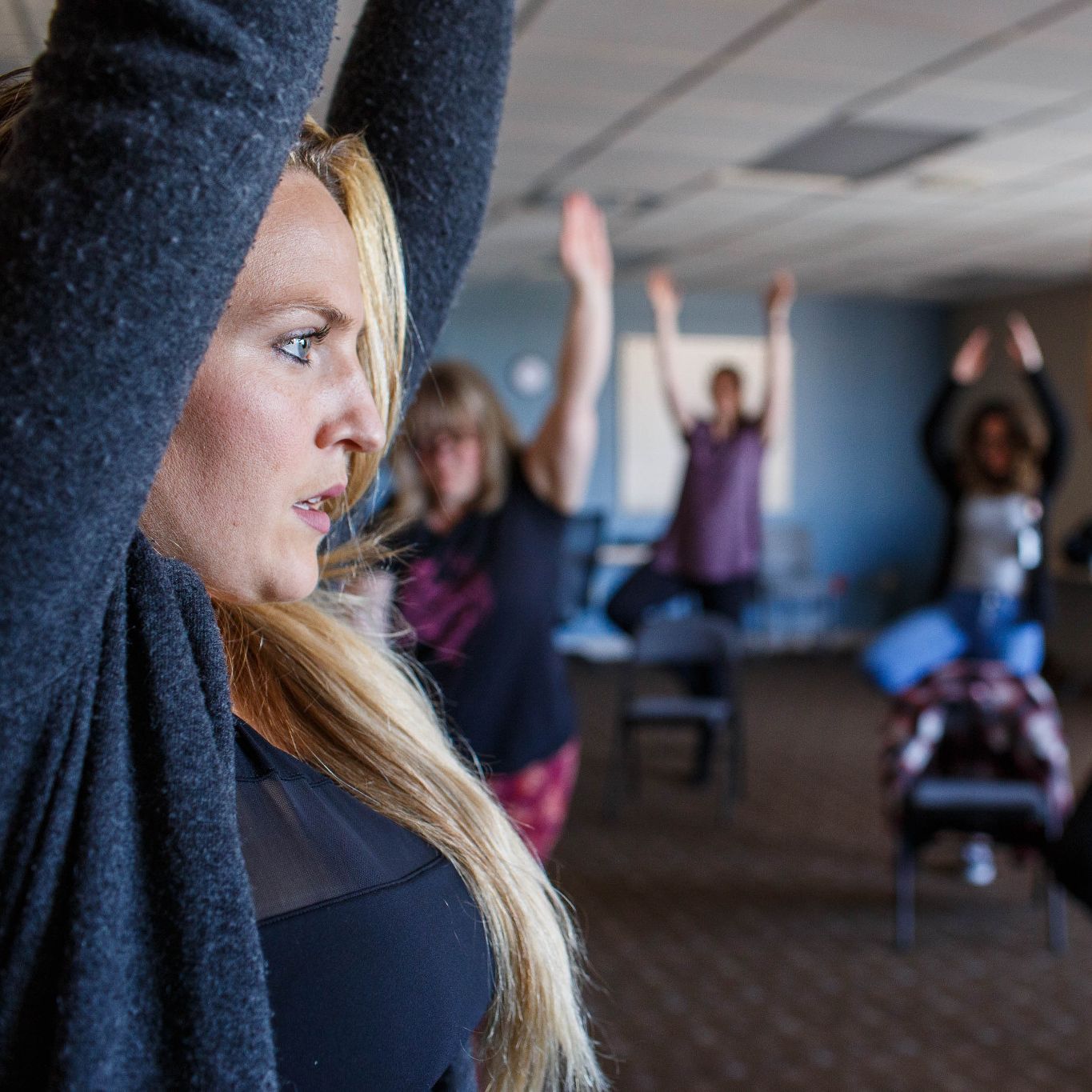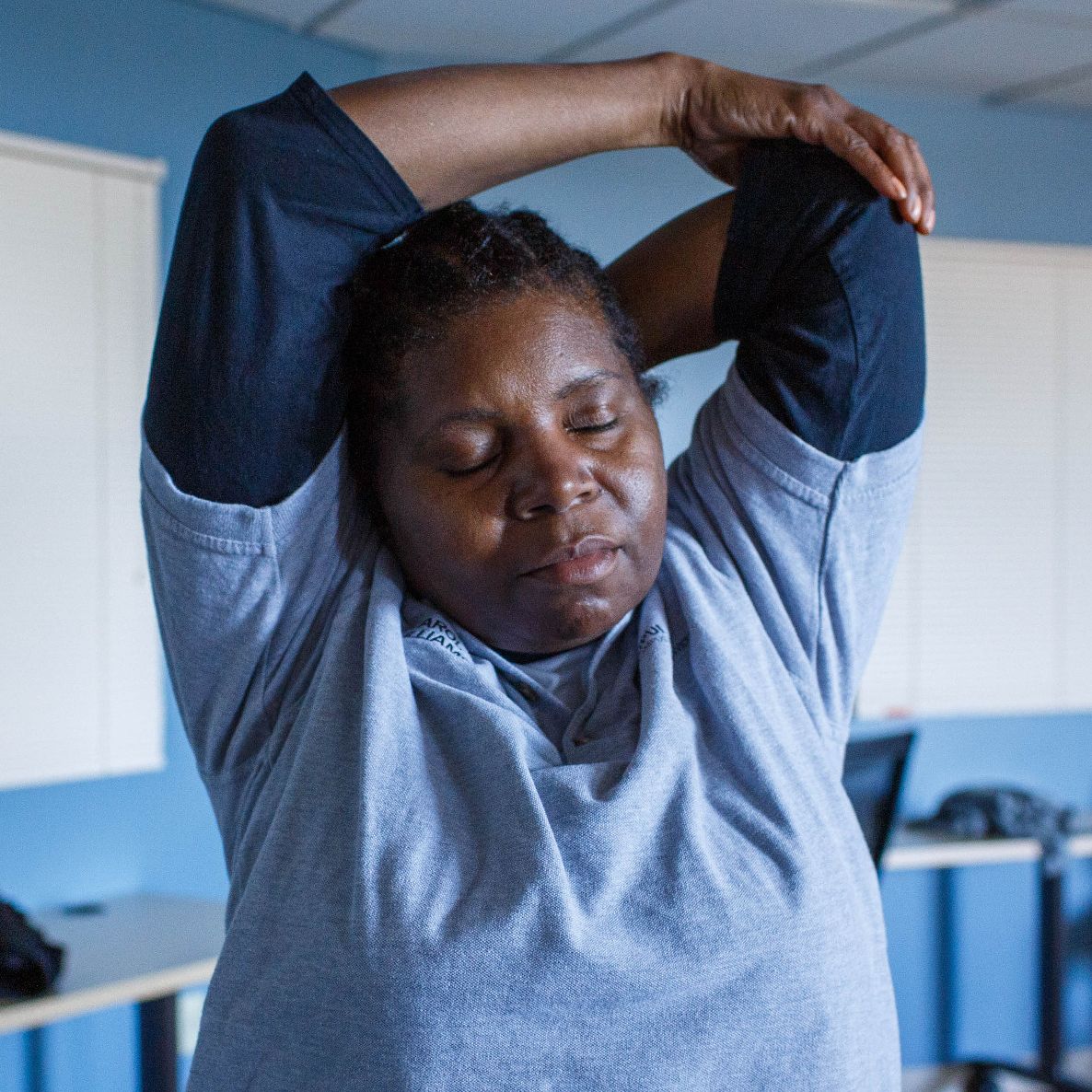 Photos by Liz Kaye, Indiana University
Speaking of chairs …
In chair yoga, the chair is there to sit in and to help with balance and support during poses like Warrior 1 and Warrior 2, George said. Plus, as people get more confident, they can do more out of the chair.
Chair yoga is also a way to sneak in activity in the middle of the workday without having to change clothes or get sweaty, she said – although clothes you can move in are recommended.
"It's a good way to break up the day and get that boost of energy without a 3 p.m. coffee," she said.
Unlike traditional yoga classes, George's chair yoga class also spends more time on the muscles that are strained from days of sitting at a desk and typing – hips, shoulders, neck, wrists and hands.
"It's easy to get in work mode, and then you're feeling stiff and tired from working all day," she said.
Plus, she said, attendees can incorporate a few moves into their everyday routine outside of class.
Regardless, the class offers a way to regroup and recharge. As the class drew to an end, George encouraged participants to breathe and relax before transitioning back to their workday: 
"Thank you for taking the time to invest in yourself and your peace."