Searching for a vacation spot? Need to spice up your decor? How about just something to nibble on before a late-afternoon meeting?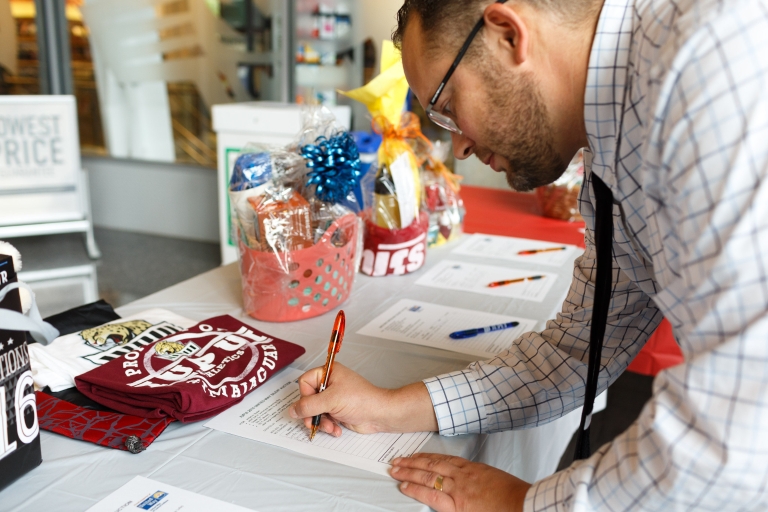 From 11 a.m. to 1 p.m. Oct. 30 in the Campus Center, the United Way Silent Auction and Fall Dessert Showcase offers the opportunity to give to a great cause while purchasing a great item or sweet treat.
"This fundraiser has been an excellent cap to our annual United Way campaigns, and we encourage faculty, staff and students to stop by to peruse – and, hopefully, bid," said Lisa Elko, IUPUI's United Way campaign project manager.
Items up for bidding include:
A one-week condo rental in Sanibel Island, Florida, donated by IUPUI employee Jeff Dean.
A one-week Camp Brosius vacation, courtesy of the School of Health and Human Sciences.
Two handmade quilts/wall hangings made by IUPUI employees Jill Lyon and Aline Danielson.
A Keurig coffee basket, donated by Printing Partners.
An Indiana Pacers/JW Marriott hotel package, donated by Indiana Members Credit Union and JW Marriott.
Herron School of Art and Design memorabilia and gallery tour.
An indoor smokeless grill, donated by Bailey & Wood Financial Group.
Other items were donated by NIFS, Orr Protection Services, and deans and leadership across campus.
At the Fall Dessert Showcase, you can purchase an item and a bottled water for $5. Items include a flambé doughnut station with an array of toppings and a pretzel bar with various dipping sauces.
Questions can be directed to Lisa Elko at lelko@iupui.edu.