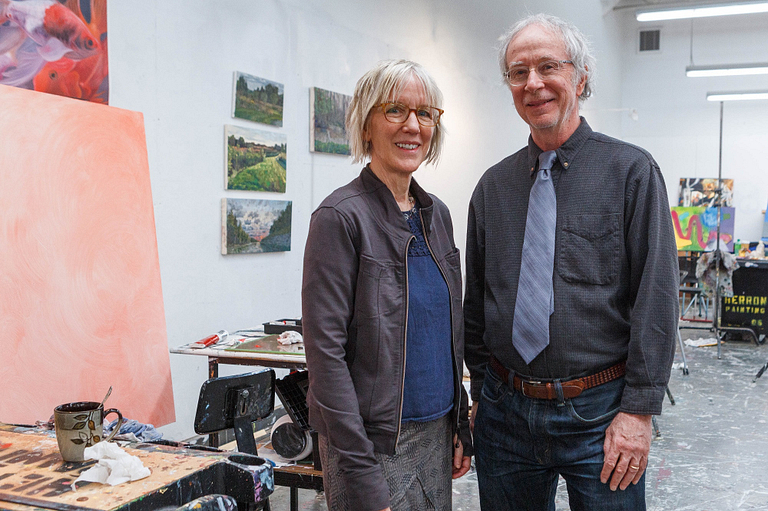 After a collective 40 years of service at IUPUI, Herron School of Art and Design professors Craig McDaniel and Jean Robertson are retiring in December. The married couple will deliver a final address to the IUPUI community on Friday, Nov. 1, through the university's "Last Lecture" series. They offered Inside IUPUI a sneak peek into that and their time at Herron.
Question: How do you summarize a lifetime of professional work into a "Last Lecture"?
Jean Robertson: We've been told to reflect on our life lessons; it's a mixture of personal anecdotes and reflections, as well as things that are more art-centric.
Craig McDaniel: We wanted to organize the talk so we had concise maxims to provide. Also, because we're in the visual arts, we wanted our lecture to be rich with imagery. So we looked for images we had available from our lives and from our professional careers that we could tap into.
Robertson: Just looking at those, we were remembering a lot more than we could ever cover in a half-hour lecture. And we had to look through so many because a lot of them are analog, they're either 35-millimeter slides or they were printed photos from the days before digital photography. We had to go through shoe boxes and boxes of old slides, trying to find the ones that covered the topic we wanted to cover.
Q: How did that kind of rapidly changing technology affect how you taught students?
McDaniel: It changes lectures and the way you show imagery to students. It used to be the old carousel slide trays; when Herron was on 16th Street, we had a giant slide projector setup that was almost like a guillotine. Herron's library had a few hundred thousand slides.
Robertson: I would lecture in the big auditorium, where you had to climb a little ladder to a ledge on the top with the two slide projectors, and inevitably some slide would be stuck and you'd have to clamber up with tweezers to fish out the slide to get it going again. It was part of the job, to learn how to do that.
McDaniel: Another big change with computer technology is the way artists' art has kept pace with those changes. I teach a lot of drawing classes, and we'll deal with drawings, but then we might take a picture of them and go into Photoshop and manipulate them and print them out again. That's a new kind of process that 25, 30 years ago wouldn't have existed for artists.
Robertson: But Herron is a great mixture of old and new technology. We're standing in this room in Eskenazi Hall, and you can smell paint. In a lot of art schools you go to nowadays, you just don't see materials anymore because people are so much into the digital world, whereas here it's a nice mixture of both.
Q: What's one of the life lessons you'll be covering?
McDaniel: The American explorer and naturalist John Burroughs said, "To learn something new, take the path that you took yesterday." Certainly at an art and design school, creativity flows often from taking the new road, or not even a road but the sort of weird path. That's something we promote at Herron, going to uncharted territory, but that quote emphasizes – in terms of our lives and our professional happiness – to appreciate the everyday and the ordinary.
Things that we'll miss dearly about Herron and the whole campus are just having coffee with the same colleague that we love talking to, sitting down with a student, getting to know them personally. You're kind of following that same path again and going deeper into it, and that's really meaningful. That's an unexpected life lesson that brings meaning and fulfillment to our lives and makes our lives richer, and we hope that will resonate.
Robertson: Like a musician will practice and practice and practice, then when they play it, it isn't just repeating exactly what they practiced; they're doing something really fresh, even with traveling down the same road. Or as an artist, you don't just wake up and have inspiration; you're doing the same kind of brushstrokes and mixing of paints over and over, but you have this vocabulary that you become familiar with, so you can do something new with it.
McDaniel: Sort of like someone doing calligraphy. The reason why it looks so fresh and poetic in that moment is because they've practiced this for years. There's certainly an element of that with our students, trying to gain mastery of an art form, so I like that quote.
Q: What has been the most satisfying part of teaching?
McDaniel: One thing that has been stunning to me is just how engaging the students are and how interested I am in all the students as people. I teach studio classes, so I get to know them individually in the course of a semester and get to talk to them many, many times. Just realizing how interesting they are as people, how they're on paths on their own and how that takes a lot of courage. Many of them are the first in their family to go to college, and that's not easy. So just that connection personally, as well as seeing them discover a level of mastery that they haven't achieved before.
Robertson: Because we do get to see students in different classes, you see the same student over a period of years. Graduation is one of the best days of the year because you've seen them go from almost tentative, away from home, and then they grow so much and become adults, coming into their own voice. And they're doing something so intimate to them, doing their art or design work, that's extremely rewarding.
Q: The obligatory question for married professors: You two have been under the same roof, personally and professionally for so long, do you still enjoy each other's company?
McDaniel: We were the founding directors of Southern Ohio Museum, a small art museum and cultural center in Portsmouth, Ohio, in our late 20s, so we've done a lot of things together, and we're used to being together. We've shared a lot of experiences.
Robertson: I started at Herron in 1995. Craig was at Indiana State University in Terre Haute, and it was eight years before he came to Herron. We had worked together in the past, and we missed it. I think people in the arts are so committed to it – when you go on vacation, you go to museums – so our life and our work aren't that separate anyway.