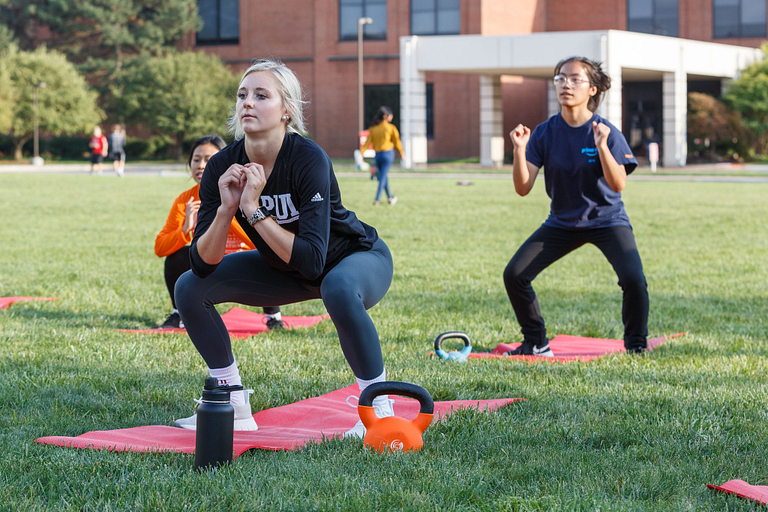 Jaguars take their health and well-being seriously and have enjoyed the expanded fitness and recreation opportunities created for them over the last few years.
To continue to prioritize the wellness of our campus and community, IUPUI and NIFS have expanded their partnership, thus expanding fitness, recreational and educational opportunities for IUPUI students.
Students will now be able to utilize the NIFS services, located in what is now called the IUPUI Athletic and Fitness Center, when they purchase a Campus Recreation membership. Part-time, full-time, graduate and professional students can take advantage of this opportunity.
At $50 per semester, students can access the IUPUI Athletic and Fitness Center as well as all of this:
All group fitness classes offered by Campus Recreation.
Intramural programs.
Open swim in the IU Natatorium.
Open recreation in the Main Gym.
The Jaguar Campus Recreation facility in the lower level of the Campus Center.
The Campus Recreation Outdoor Facility.
Students can purchase a Campus Recreation membership by adding the optional RecSports fee when registering for classes or by visiting the Jaguar Campus Recreation space in the Campus Center, where they can pay via their CrimsonCard or by charging their bursar account.
The IUPUI Athletic and Fitness Center is a 65,000-square-foot facility located at 250 University Blvd. It features state-of-the-art equipment; a full-service training and coaching option; access to the IU Natatorium; and other amenities, including a free kids' room and full locker rooms with towel service and sauna, steam room and whirlpool facilities.
The center is open 5 a.m. to 10 p.m. Monday through Thursday, 5 a.m. to 9 p.m. Fridays, and 7 a.m. to 7 p.m. Saturdays and Sundays.