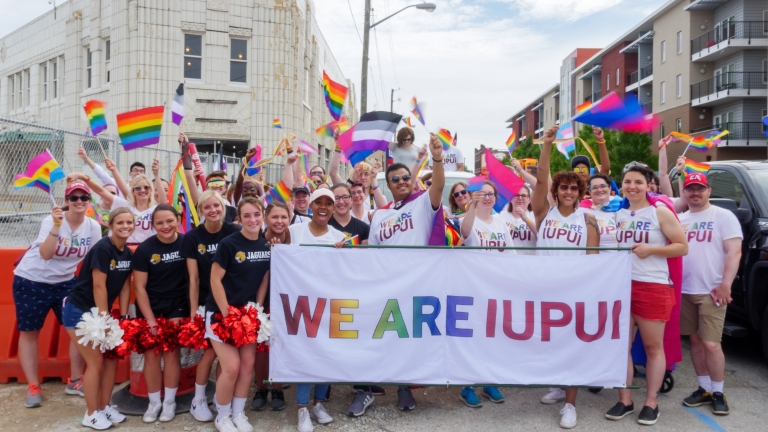 It's been 61 years since homosexuality was decriminalized in Illinois – the first state to do so.
Fifty years ago, police raided the Stonewall Inn in New York City, which led to four days of struggle between LGBTQ people and the police.
It was only 46 years ago that the American Psychiatric Association removed homosexuality from its official list of psychiatric disorders.
And it's been 25 years since a Missouri high school teacher advocated for the teaching and celebrating of gay and lesbian history, which led to various groups officially supporting October as LGBTQ History Month.
Although same-gender couples have existed throughout history, with a couple in 2450 BCE Egypt being considered one of the first, the societal and cultural acceptance of the LGBTQ+ community is an ongoing fight.
This year, the Multicultural Center and LGBTQ+ Center at IUPUI aim to shed light on the various struggles LGBTQ+ people have endured throughout history, empower our campus community to be good advocates and supporters, and provide open spaces for discussion.
"This is a great opportunity and good entry point for folks who don't know where to start learning," said AJ Young, director of the LGBTQ+ Center. "If you feel like you don't know enough, you can engage with our events this month."
LGBTQ History Month events will continue through the end of October:
Cultural Movie Series: "Coming Out: A 50-Year History": Oct. 10, 6 p.m., UC 101.
National Coming Out Day: Oct. 11.
10th annual Harvey Milk Dinner: Oct. 12, 6 p.m., J.W. Marriott.
I'm Proud to Be: Oct. 14, 6 p.m., UC 101.
Diversity Speaker Series: Wade Davis: Oct. 15, 6 p.m., UC 450.
We Are APIDA: "Call Her Ganda" film and discussion: Oct. 24, 3 p.m., UC 101.
"Screaming Queens: The Riot at Compton's Cafeteria" film and discussion: Oct. 29, 3 p.m., UC 101.
"Shape Up: Gay in the Black Barbershop" film and discussion: Oct. 30, 3 p.m., UC 101.
The month's centerpiece is the annual Harvey Milk Dinner, featuring Grammy- and Emmy-nominated stand-up comedian, actress and singer-songwriter Margaret Cho. This year's 10th annual dinner is recognized as one of Indiana University's celebrations of its Bicentennial Year. The event was coined as the Harvey Milk Dinner to honor American politician and gay-rights activist Harvey Milk, the first openly gay elected official in California.
But wait – didn't we just celebrate the LGBTQ+ community this summer?
Pride Month, celebrated in June, is different from LGBTQ History Month. Pride Month is celebrated to honor the 1969 Stonewall riots in Manhattan, which are considered some of the most important events of the gay liberation movement in the United States. LGBTQ History Month aims to educate and celebrate the history of the LGBTQ+ community.
For more information and resources about LGBTQ History Month, visit lgbthistorymonth.com and glsen.org.