Twenty-one IUPUI students gathered Oct. 11 in the mayor's conference room on the 25th floor of the City-County Building to present their solutions to a difficult social problem: How do you reconnect people to society who have become homeless or are unsure when they will eat next?
As Jeff Bennett, Indianapolis deputy mayor for community development, slipped into a seat next to the students, Steven Mannheimer, a media arts and science professor, and Lou Lenzi, a professor of practice in the School of Informatics and Computing, set the stage.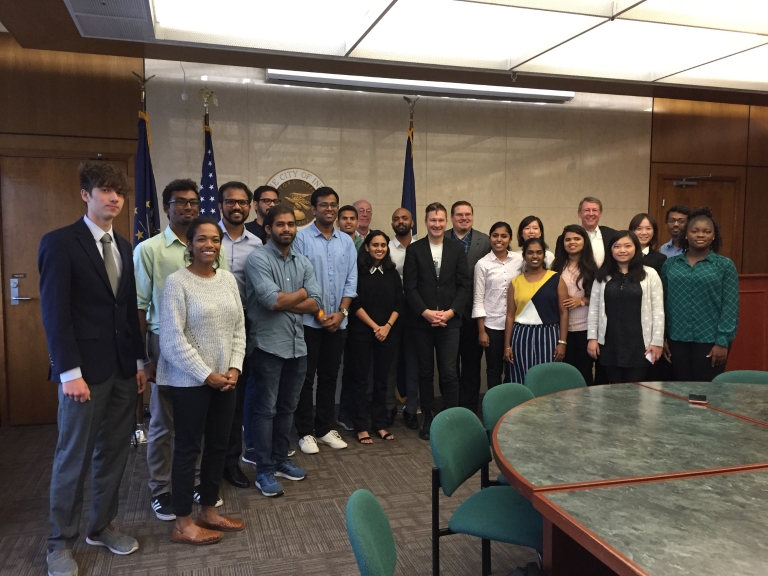 "The problem so many of these people have, whether it's food insecurity or homelessness, is that they've lost their connection to the fabric of society that sustains the rest of us without our even thinking about it," Mannheimer said.
Mannheimer and Lenzi were co-managers of a two-week design sprint workshop titled "Designing the Reconnected Community," which culminated in the students' presentations.
The following were among the students' innovative solutions to replace those lost connections:
Remodeling buses into mobile homeless shelters, each equipped with 20 beds. During the winter, when there aren't enough beds to meet demand, the buses would provide a safe, warm place to sleep at night and then transport homeless people to various locations during the day. The buses could be used as mobile food pantries in the spring, summer and fall.
Installing solar-powered cellphone charging stations in public spaces for use by the homeless. Many homeless people have a smartphone and need to keep it charged to check on waiting lists for housing, submit job applications, and keep in touch with family and friends.
Enabling gardeners who have extra produce to use the bus routes of local schools to centralize food collection for distribution to local pantries.
Enabling IUPUI students who live on campus and are required to have a meal plan to donate meals they skip, for various reasons, to students who are food insecure. Students donating the meals would receive points toward a coupon at an eatery on or near campus.
Providing homeless people with a storage locker and a one-on-on-one mentor, meeting two critical needs. Those who are homeless struggle to safely store their belongings, and they become homeless because they lose relationships. Mentors would be recruited from the business community.
Installing community refrigerators in areas in Marion County where there is a high demand for food. There would be donor refrigerators where food could be dropped off and a certified kitchen that would repurpose the food, and then food-insecure people could pick up that food at receiver refrigerators.
A conversation between Mannheimer, Lenzi and Bennett sparked the idea for the design sprint workshop. The 21 students who presented their concepts were selected from among a larger group of students who applied to participate in the design sprint.
The term "design sprint" stems from the use of design thinking – a solutions-based, creative process used to address challenges – and the speed at which the workshops proceed, in this case, just two weeks instead of months.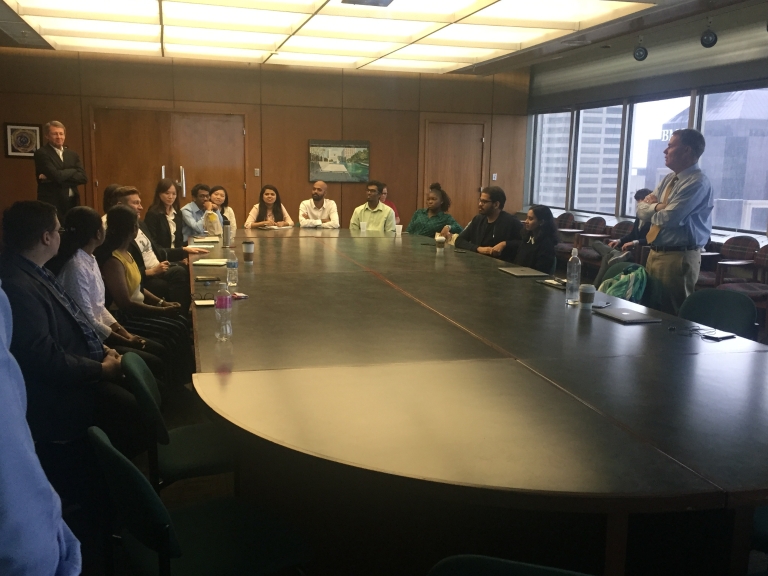 The students selected for the design sprint divided into six teams ranging from two to four people. They chose a particular reconnection to focus on, engaged in extensive research and brainstormed their solutions.
Following the presentations, a total of $3,000 was divided among the teams, provided by the Office of the Vice Chancellor for Research:
$800 each to the teams that proposed the IUPUI meal-sharing plan and the school bus produce-collection concept.
$500 each to the teams that proposed the solar phone-charger concept and the mobile shelter bus idea.
$200 each to the teams who proposed the community refrigerator and locker/mentor concepts.
Lenzi said the point of the exercise was to "sensitize students to the needs of the community, when it comes to the homeless and those who face food insecurity, and have them begin to think about ways to approach those needs.
"We didn't expect them to design a silver bullet to solve a particular problem in two weeks," he continued. "But their work may provide a trigger for the mayor's office or a community organization to pursue these concepts further."
And the students walked away with more than cash in their pockets. They took away a set of creative problem-solving skills to address other challenges as well.