At 29 years old, La'Ray Bush is the first sibling in his family to receive a bachelor's degree. He's the second-oldest and is taking responsibility for paving the way and setting the example.
He struggled to figure out what he wanted to do after high school, so he began working an assembly position in a warehouse. There, he met a mentor who inspired him to start classes at Ivy Tech Community College in the mechanical engineering technology program. He completed his associate degree in 2017 and worked his way up to be a mechanical engineering technician at the warehouse. While at Ivy Tech, a friend in a study group suggested he apply for the Bowen Scholars program, which provided life-changing support.
Bush transferred to IUPUI and received one of the few Bowen scholarships available to Ivy Tech transfer students.
"I didn't know anyone at IUPUI, which was nerve-wracking, but being a Bowen scholar allowed me to feel connected to campus from the get-go," said Bush, who will graduate this December. "I met people who had a similar journey to me, networked with my peers and became a part of another family."
Bush will graduate with minimal student loan debt due to the support of the Bowen Scholars program. He's proud to say that three of his younger siblings have made their way to college and are reaching their goals.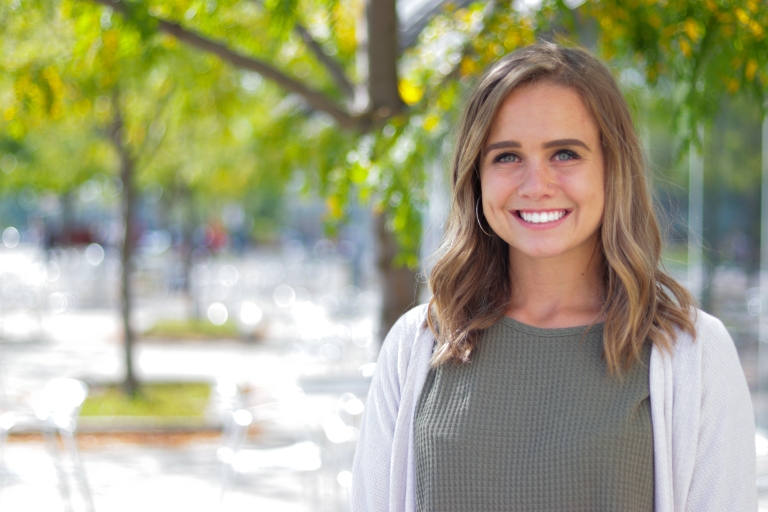 Kristen McDaniel chose to attend IUPUI for the elementary education program and its focus on diversity and teaching in urban settings.
"My teachers really cared about me and played a big role in my life, but they didn't ask me the right questions for my circumstances," McDaniel said. "I have a big heart for helping students figure out who they are, who they want to be and how to find a place in this world."
McDaniel was in foster care throughout high school, which is how she found out about the Nina Scholars program. She applied and was accepted, and the support has meant the world to her. She wouldn't have been able to afford to attend IUPUI without it.
Not only does she have a group of friends to rally behind her, but she's also found a true sense of belonging on campus.
"The Nina Scholars program has helped me grow mentally, socially and emotionally; helped me figure out who I am and what I want out of life; and given me the confidence to go after my dreams," McDaniel said.
The Nina Scholars and Bowen Scholars programs seek to support underserved students at IUPUI, with the Nina program focusing on providing need-based scholarships to students who are adults with dependents in their family unit, adults with physical disabilities, and adults aged 18 to 25 who have experienced foster care or have been disconnected from their parents or primary caregiver and are responsible for their own financial support. The Bowen program focuses on assisting African American students who are transitioning to IUPUI from Ivy Tech after receiving an associate degree. The Nina Scholars program is supported by the Nina Mason Pulliam Charitable Trust, and the Bowen Scholars program is funded by the Bowen Family Foundation.
Bush and McDaniel are among hundreds of students who have benefited from these programs.
"I am a lot more open-minded and culturally aware since being in the Bowen Scholars program," Bush said. "We attend monthly all-scholars meetings, where I interact with students from other programs who have diverse perspectives and backgrounds, and I learn from their stories."
"It's really important to lean into the people around you, and the Nina program has taught me that," McDaniel said. "The greatest part of life is human connection, and sharing that with people who have both different and similar experiences as you. Having this community of people behind me who understand me has been really important."
Charlie Johnson, director of scholar support programs at IUPUI, focuses the two programs on empowering students by developing their capacity to not only bounce back when things do not go as planned, but also to become more conscious of and more fully utilize active learning, personal growth and self-empowerment.
"Students are guided to embark on a journey of self-discovery, interdependence and commitment, which results in greater connection and engagement with the program itself and with the entire IUPUI community," Johnson said. "They learn and practice intrapersonal skills, and they are more likely to persist academically."
Students interested in learning more about the Nina Scholars program can visit nina.iupui.edu or email the staff at nina@iupui.edu. For more information about the Bowen Scholars program and other IUPUI student support programs, visit the Student Support Programs website.