Hoosier families are finding fewer and fewer options when they visit their local Christmas tree farms to choose the perfect tree for the holidays. That's because Indiana tree farms are declining – due in part to farmers aging out of their operations, as well as environmental change and the difficulty of growing short-needled varieties that are highly sought after.
A study led by James Farmer, an associate professor in the Indiana University O'Neill School of Public and Environmental Affairs, highlights a 40 percent decrease in Indiana Christmas tree farms since 2002. The study found that the decline is likely to continue.
Indiana is also outpacing the national decline of tree farm operations. According to the United States Department of Agriculture's census that reflects data collected from 2002 to 2017, across the United States there has been a 27 percent decrease in the number of farms harvesting Christmas trees.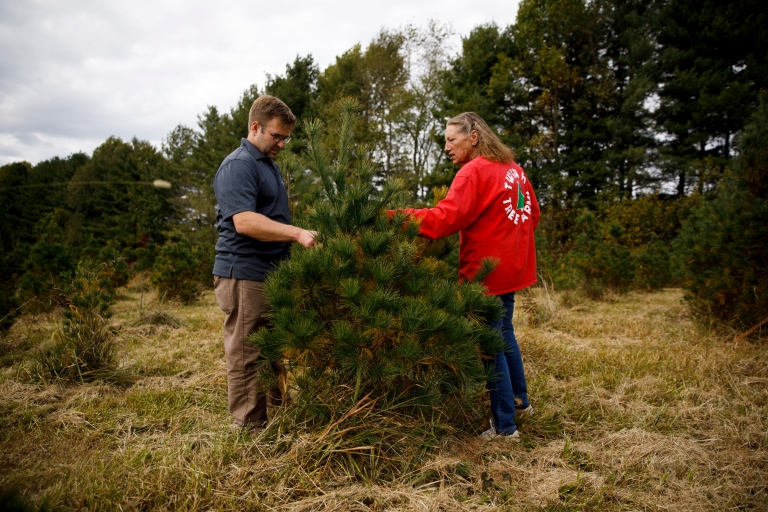 "It looks like in the next five years or so, about 17 to 18 percent of the growers that we surveyed in Indiana, which represents the majority of Christmas tree operations in the state, will stop planting trees," Farmer said.
While the research points to the steady decline in tree farms, consumer demand for real trees is stable. Because of that demand, farmers still in the business are finding it more difficult to provide the trees that consumers want, unless they sell cut trees bought from wholesale growers.
Consumers want short-needle varieties like firs and spruces, but those trees are tougher to grow in Indiana, Farmer said.
"With the climate and the soils, a lot of these trees need to be shipped in from places like Michigan, Pennsylvania and the Carolinas – though it is a little far – in order to meet consumer demand," Farmer said.
Media Kit: Access additional photos, video interviews and b-roll footage
It also typically takes at least six years for new trees to mature to a size that families want to cut and keep in their home during the holiday season, and environmental changes like drought, extreme high temperatures and flooding can destroy a crop of trees.
"It's going to become much more difficult for the producers in this part of the state or other similar latitudes to be successful in producing the trees that historically we have and definitely the ones that are more trendy," Farmer said.
Bloomington tree farmer Jean Hopwood, president of Twin H Tree Farms, has experienced many of the same challenges as other growers in the state. But Twin H has been able to stay in business while fellow farmers have shut down their operations.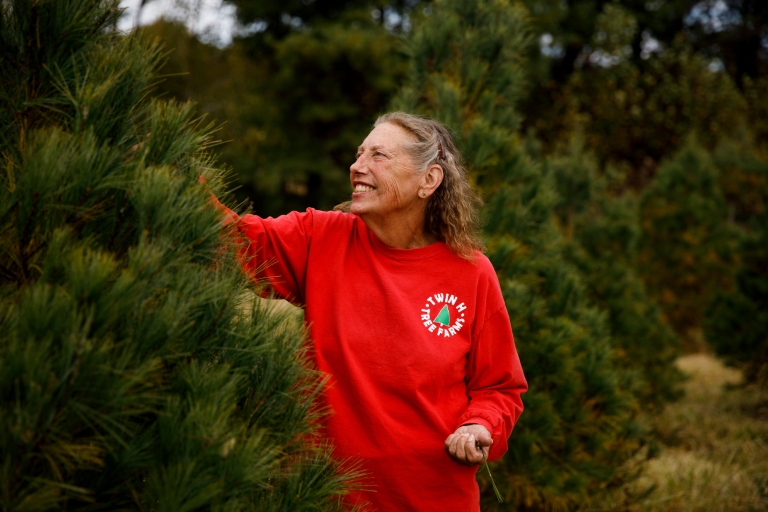 "As a family business, we're just very fortunate that we got to hold out long enough when everybody else had to close down," she said. "At this point, we have all our eggs in one basket. If we don't make it at Christmas, we're not gonna make it."
Wetter and milder winters that are ideal for insects and fungus have forced Hopwood to cut down and burn trees that she had invested eight to 10 years in growing.
"I have to be a lot more cautious in what varieties I decide I can grow, not just what the public wants," Hopwood said. "I have 200 acres. I used to have 150 (of those) acres in trees. I used to wholesale 8,000 to 10,000 trees a year. I, at that time, never would have dreamed that I'd be shipping trees in instead of shipping trees out. You change with the times. I probably now have 50 acres in trees."
The survey also gathered information about consumer behavior. The study's findings show that once consumers have a fixed pattern in their Christmas tree purchasing behaviors – choosing artificial or real trees – they are unlikely to change from year-to-year.
It also determined that younger consumers are more likely to seek out the experience of creating a tradition around visiting tree farm, whereas older adults are more likely to switch to artificial trees or no tree at all. In addition, joining the movement to support local agriculture also resonated with younger tree buyers.
For those remaining in business, Farmer suggests there may be an opportunity to help younger consumers set their traditions in purchasing real trees locally.
"Don't neglect older individuals as part of your marketing strategy, but do focus on getting those younger people out to the farm and helping them set their behaviors on a fun, fulfilling experience," he said. "It's not just about the tree. It's about that experience of bonding and grabbing a cup of hot chocolate and a candy cane and having that whole experience of choosing a tree."
Indiana consumer data was solicited from 1,500 randomly selected in-state residents and nearly 100 Christmas tree growers in the state. This study was conducted in collaboration with the Indiana Christmas Tree Growers Association and was funded by a Specialty Crop Block Grant from the Indiana State Department of Agriculture and the United States Department of Agriculture.