The Sidney and Lois Eskenazi Museum of Art at Indiana University Bloomington reopens to the public Nov. 7 after a $30 million renovation. The project was made possible in large part thanks to a landmark gift of $15 million from Indianapolis-based philanthropists Sidney and Lois Eskenazi, the largest cash gift in the museum's history. The gift was supported by an additional $15 million from the university as part of For All: The Indiana University Bicentennial Campaign match program.
The funding supported major renovations to the 1982 I.M. Pei-designed building, including expanded gallery space, new teaching facilities and new visitor amenities.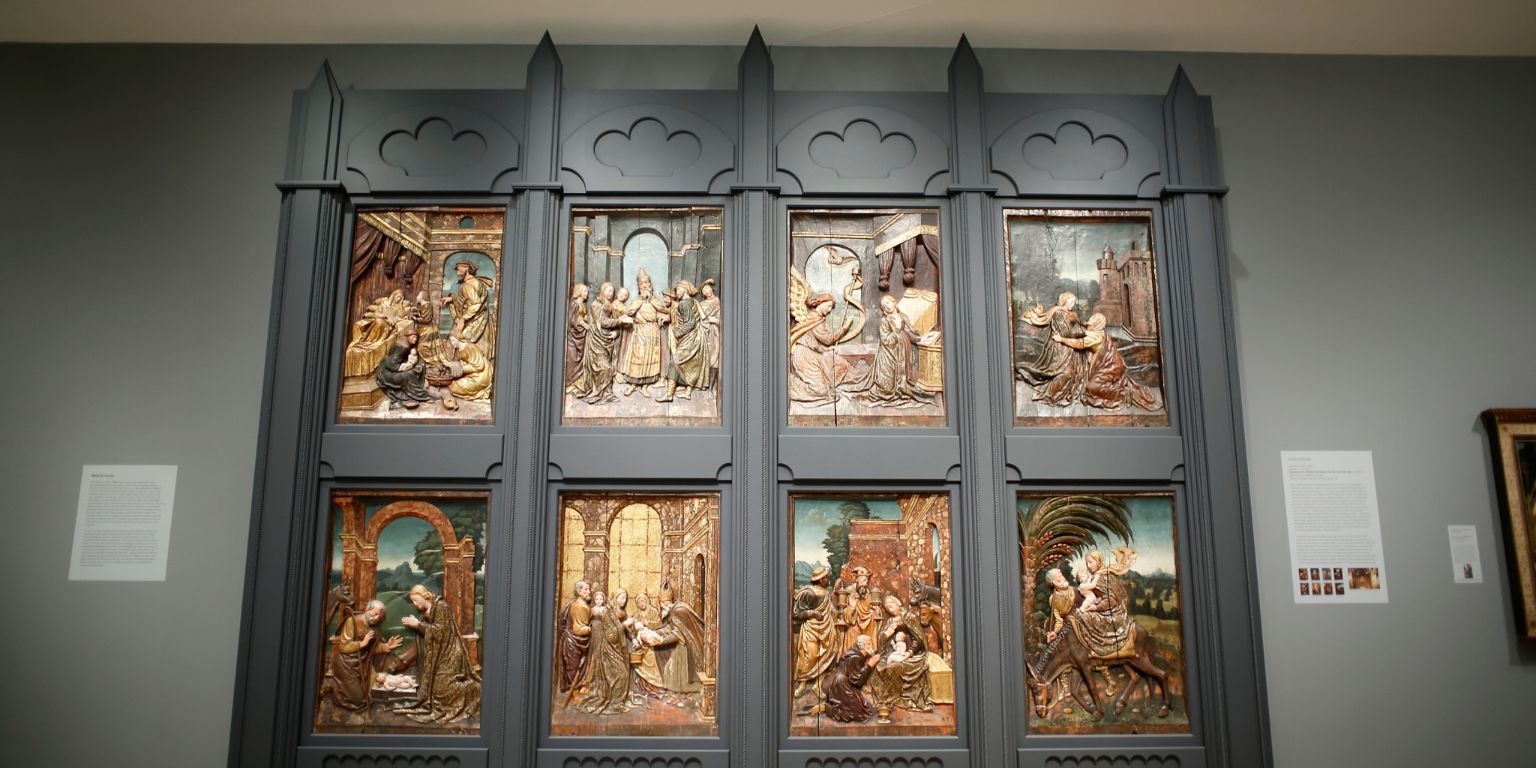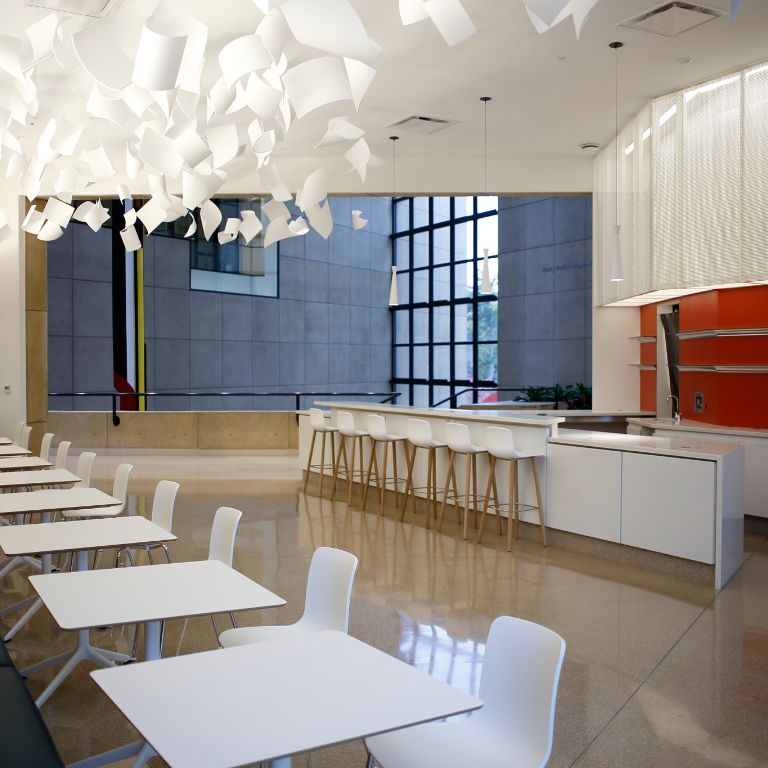 Photos by Eric Rudd, Indiana University
Here are five things to check out when the museum reopens Nov. 7.
Museum Fest
The museum will celebrate its grand reopening with Museum Fest, Nov. 7 to 10. The festivities start at 4 p.m. Nov. 7 at the museum's main entrance.
Once the museum doors open, visitors can participate in a scavenger hunt, explore four new centers for learning and enjoy live music in the atrium. Guided tours and special programming will continue through the weekend.
New, updated entrances
The atrium through the main entryway of the museum features a new pedestrian bridge that links the two wings on the building's third floor. Museum visitors will also now be able to enter the building through its terrace, which overlooks the IU Arboretum. The new entrance connects the museum to the north side of campus, making it more accessible.
'A Gust of Wind'
The new Luzetta and Del Newkirk Café and Gift Shop includes a contemporary art installation on its ceiling from London-based designer Paul Cocksedge. The piece, "A Gust of Wind," features satin-finished acrylic cast into sheets that resemble paper. The sheets float across the ceiling, tracing the movement of visitors from the new arboretum entrance, through the café and into the atrium.

The café and gift shop features soup, sandwiches, sweet treats and Brown County coffee.
Time-based media gallery
A new gallery devoted to time-based media and video art provides opportunities to exhibit emerging and experimental digital art with a rapid turnaround between exhibitions. State-of-the art projection and audio will offer artists the ideal conditions to show their work. The gallery's panoramic view will be open at night to share its glow with the entire museum.
New wellness programming and art-making studio
The renovated museum includes a new addition to the Center for Education. The art-making studio will host art therapy groups, wellness activities, family day drop-in art-making, tour group sensory activities, teacher professional development and children's programs throughout the year.
The museum has also hired Lauren Daugherty as an art therapist and arts-based wellness experiences manager. She will offer special programming at the museum and around campus, including IU student wellness pop-ups.
Description of the following video:
[Video: Aerial view of Eskenazi Museum of Art site before it was built]
[Words appear: In 1941, the Indiana University Museum of Art began as an idea in the mind of I'U's legendary president, Herman B Wells.]
[Video: Four men, including I.M. Pei, are at the museum under construction. One man in a hardhat is pointing up.]
[Words appear: In 1973, museum director Thomas Solley and the university contracted world-renowned architect I.M. Pei to design the museum.]
[Video: Zooming in from the top of a model of the museum.]
[Words appear: Pei's design, which was completed in 1982, gave the university not just a great museum, but also a major example of modern architecture.]
[Video: 2 men look down at the museum model.]
[Video: Five individuals standing outside with a bouquet of flowers and shovels in front of them for the groundbreaking.]
[Video: Construction site for the museum.]
[Video: Construction site for the museum. Buildings are beginning to form.]
[Video: Two walls of the museum are constructed, with a large crane overhead.]
[Video: Screen is split. Left side shows the museum in its final stages of construction. The right side shows a construction worker sitting up high in a metal window frame.]
[Video: Progress of the museum construction]
[Video: Two walls of the museum are standing with scaffolding on the outside of the wall and a crane overhead.]
[Video: View from the outside of the building as a crane lowers the frame for the glass atrium roof.]
[Words appear: Pei was known for his signature triangles and created a light-filled atrium.]
[Video: Staircase inside of the art museum under construction.]
[Video: Triangular glass roof of the museum.]
[Words appear: The 112,000-square-foot building has no 90-degree angles except where necessary.]
[Video: IU President Michael A. McRobbie speaks to Sidney and Lois Eskenazi.]
[Words appear: In May 2016, IU announced a major gift from Sidney and Lois Eskenazi that helped fund a full renovation of the museum.]
[Video: The Eskenazi family stand in front of the new sign with their name on it in front of the museum.]
[Words appear: In honor of their gift, the museum was renamed the Sidney and Lois Eskenazi Museum of Art.]
[Video: Finished lobby of the art museum.]
[Video: Outside view of the museum.]
[Words appear: The Eskenazi Museum has completed a $30 million renovation and will reopen its doors on Nov. 7, 2019]
[Video: FADES TO BLACK]
[VIDEO: TRIDENT APPEARS]
[WORDS APPEAR: INDIANA UNIVERSITY]
[WORDS APPEAR: IUB.EDU]
[VIDEO: FADES TO BLACK]