This year's Campus Health and Benefits Fair will showcase a variety of benefits and health and wellness opportunities available to staff, faculty and students at Indiana University Bloomington.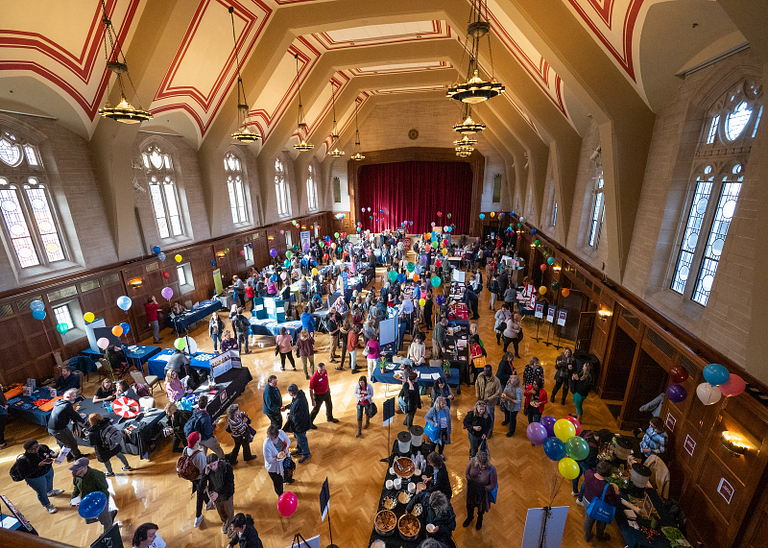 The fair will take place from 10 a.m. to 2 p.m. Nov. 11 in Alumni Hall and the Georgian Room of the Indiana Memorial Union.
"The IU Health Center is excited to be nearing our 50-year mark with continued growth at the health and benefits fair," said Cathy Wyatt, interim director of outreach education programming with the IU Health Center. "Each year new opportunities are generated through great feedback from participants and student focus groups. Let us know what you would like to see going forward."
More than 40 campus and community resources promoting health and wellness will be present, including exhibits focused on healthy lifestyle components such as nutrition and stress management. Activities include free five-minute chair massages, exercise demonstrations, coloring and giveaways. Attendees can also create an aromatherapy sachet and make a fruit- or herb-infused water bottle.
In addition, attendees can receive free eye and hearing exams as well as free, confidential HIV testing. Flu shots will also be given. Chefs with Residential Programs and Services will conduct live cooking demonstrations throughout the day, using produce from the IU Campus Farm.
To help prepare for the university's annual open enrollment for health insurance and other benefits, employees can talk with representatives from IU Human Resources as well as Anthem, IU Health Plans, Nyhart, Cigna, Weight Watchers and more.
Two information sessions about open enrollment will take place, at 9:30 a.m. and 1 p.m. in the Whittenberger Auditorium. The first half of each session will be presented by IU Human Resources staff and will cover benefit options for 2020. The second half of the session will be presented by IU Human Resources staff and Fidelity, and will provide details on the changes and enhancements coming to the IU retirement plans and what steps employees need to take, if any. Each session will include a presentation and time for questions. No RSVP is required.
IU Bloomington's annual Campus Health and Benefits Fair is sponsored by the IU Health Center and IU Human Resources.