In honor of Veterans Day, Inside IU Bloomington caught up with Sarah Bassett, a U.S. Army veteran and alumna who is serving as Indiana University Bloomington's first outreach coordinator for female veterans.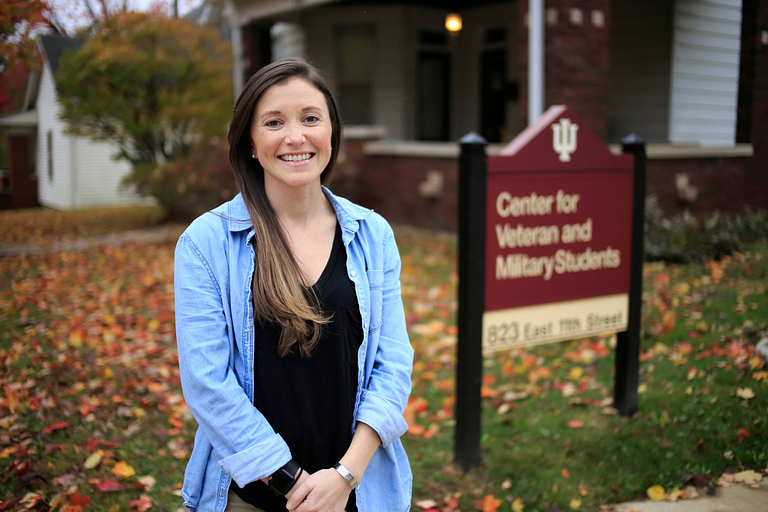 Bassett's role is funded by a one-year, $10,000 grant from the IU Women's Philanthropy Leadership Council. The new position is an important one for women on campus, said Center for Veteran and Military Students director John Summerlot.
"Women who have served and their experiences often lack visibility in the veterans community," he said. "Sarah is both their resource and advocate. Her combination of skills and experiences as both a student and a soldier, as well as her 'can do' attitude, make her a great fit for the position."
Bassett took on her new role in September. She graduated in May with a bachelor's degree in neuroscience and plans to attend medical school in the spring. She served in the U. Army from 2006 to 2013 as a human intelligence collector, which involved running source operations and interrogations. She was stationed in Korea for a year, then deployed with the 82nd Airborne Division to Iraq. After she reenlisted, she deployed from Hawaii to eastern Afghanistan with the 25th Infantry Division.
Question: Discuss your role with the Center for Veteran and Military Students, and how you're working to connect with female veterans?
Answer: As an undergraduate, I used to take advantage of the Center for Veteran and Military Students as a community space where I could talk with other people with similar experiences to mine. There was another woman I would run into regularly in the center who has since graduated, and it helped me realize the importance of sharing experiences that tended to be gender specific coming from a service background. When I learned of the opportunity to have a grant-funded program to bring in more female service members for a fellowship program, I was ecstatic.
To date, my role has been trying to reach out to students who are either female veterans or active-duty service members. This has proved more challenging than expected, because this particular demographic tends to have a lot of other life obligations. So far, we've had a call-out dinner, and I've had some individual coffee meetings to try to get to know this population better and attempt to understand each unique experience.
Q: Discuss what it means to you, as a female veteran and IU alumna, to connect with other women on this campus.
A: Serving in this role means a lot to me. Being a woman in the service can be isolating due to being a minority compared to men. Serving also removes you from friendships back home for extended periods of time and, while some may stand that test, many do not. This can leave female service members feeling particularly cut off when they exit the service and are truly on their own.
Many thrive because they learned to be extremely self-sufficient in the service for fear of looking weak if they had to ask for help. Unfortunately, this can also program some women to avoid seeking help to their detriment. I hope to bridge that gap by building a community of women who have served that works to lift one another up and provide a network of understanding people to call upon when times are tough.
Q: If a female veteran on campus wants to get in touch, what's the best way to reach you?
A: If a female veteran or active-duty service member – whether staff, faculty or student, either undergraduate or graduate – reads this, they can contact me by email at samabass@iu.edu. It can be difficult reaching these women, and I want everyone to know I'm here to help and to strengthen our connections as women who've served or are serving.