Whether hosting office cook-offs or assembling baby supplies for new moms, staff from across the Indiana University Bloomington campus have long found ways to personalize their annual contributions to United Way of Monroe County.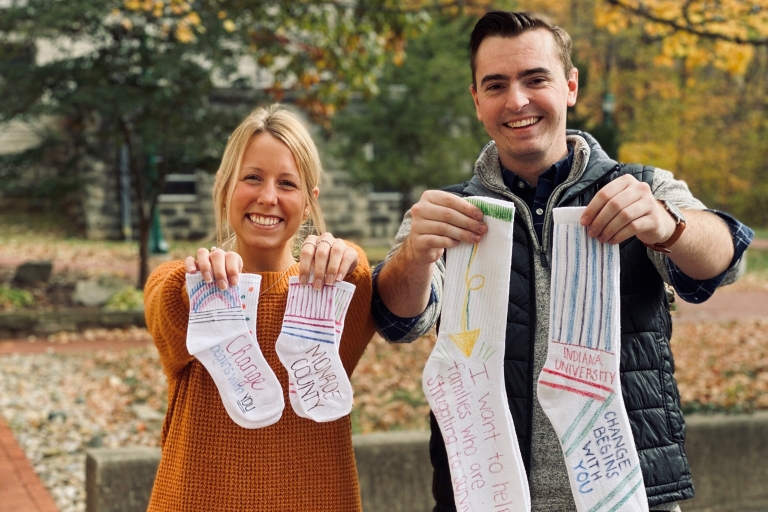 The theme of the 2019-20 United Way fundraiser is "Change Begins With You." The campaign supports a thriving network of 24 member-agencies, United Way's own Community Action Fund, and other initiative partners throughout Monroe, Owen and Greene counties. Because of its broad community impact, United Way is the only nonprofit with which IU officially partners.
This year's campaign is also raising awareness of ALICE households – those that are Asset-Limited, Income Constrained but Employed – a category of individuals who could too easily slip into poverty following an unanticipated car repair or medical expense.
Beyond making donations through payroll deduction or pledge card donation, IU employees and students support the community through activities that also bring them together as a group. The following are just a few of the ways IU's 28 teams and dozens of units are supporting United Way agencies.
Division of Student Affairs: Baby baskets
Each month, about a dozen employees from the Division of Student Affairs' Dean of Students Office get together over the lunch hour to do a team-building, non-work-related activity. For the team's October activity, the group assembled baby baskets for new moms through the IU Health Nurse-Family Partnership.
"The Dean of Students Office is the hub of student care for this campus," said Hannah Laughlin, director of operations and strategic initiatives and IU-United Way captain of IU Team 7. "Putting together baby baskets was a nice way for our staff to give back and do something for the broader Bloomington community."
IU Alumni Association: Punny you asked …
On behalf of United Way, Lisa Howell has organized s'mores parties and recipe submissions, and coordinated themes such as superheroes in last year's campaign – complete with a dress-up day – and puns for 2019 ("Where there's a whale, there's a way!").
"Our goal is 100 percent participation," said Howell, executive assistant at the IU Alumni Association and United Way team captain of Team 2 since 2011. "That doesn't necessarily mean a monetary donation. If someone brings in a can of food for the Hoosier Hills Food Bank, that counts as participation."
O'Neill School: The Great Chili Cook-off
The O'Neill School of Public and Environmental Affairs will host its second-annual Great Chili Cook-off from 11 a.m. to 1 p.m. Dec. 13 in the O'Neill Atrium to benefit United Way of Monroe County. Organizing the event are Laura Littlepage, clinical associate professor and director of the Nonprofit Leadership Alliance, and Jill Nicholson-Crotty, associate professor, who share duties as captains of Team 12.
O'Neill faculty, staff and students will compete for the title of best chili chef, with both meat and vegetarian entries, and everyone on campus is welcome to attend. The $10 entry fee covers all-you-can-eat chili, and visitors are encouraged to vote for their three favorite recipes. The 2018 cook-off raised over $450 for United Way.
Student United Way: Toe-vember
Led by its president, Madeline Garcia, Student United Way is celebrating "Toe-vember" by collecting new socks for member agencies at tabling events throughout the month. At the Nov. 7 First Thursdays event, United Way staff and members of Student United Way hosted an information booth where visitors could play Plinko to win prizes and also decorate socks with fabric markers for donation.
"This was a neat opportunity to connect with the community – to both build relationships between the club and the community, and to advertise our capstone project for the semester," Garcia said. "Even though we're a small club, we're looking forward to Toe-vember as a way to make a big difference."
The socks will be donated to Shalom Community Center and Salvation Army.
Have an idea for a departmental United Way activity at IU? Contact your team captain. If you don't know who your IU-United Way team captain is, contact Hannah Hirsch at hannah@monroeunitedway.org or Amy Kendall at aekendal@iu.edu.
Jennifer Piurek is director of communications and special projects in the Office of the Provost.