Indiana governor to deliver 2019 winter commencement address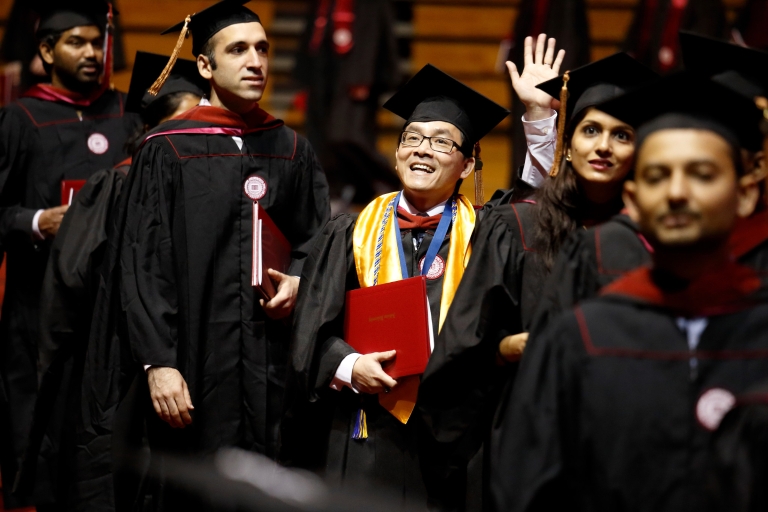 Indiana Gov. Eric Holcomb will deliver the 2019 winter commencement address to IU Bloomington graduates. The Bicentennial Year ceremony takes place at 10 a.m. Dec. 21 at Simon Skjodt Assembly Hall.
During the ceremony, IU will also confer honorary degrees, the highest academic honor IU can bestow, to two alumni: Dan Coats, former director of national intelligence and former U.S. senator; and Kumble Subbaswamy, chancellor of the University of Massachusetts Amherst and former dean of the IU Bloomington College of Arts and Sciences.
Holcomb, a U.S. Navy veteran, was elected Indiana's 51st governor in 2016. Coats represented Indiana in the U.S. House of Representatives from 1981 to 1989, and in the U.S. Senate from 1989 to 1999 and 2011 to 2017. Coats worked in President Trump's administration as director of national intelligence from 2017 to 2019. Coats also is a graduate of the IU Robert H. McKinney School of Law, where he was an associate editor of the Indiana Law Review. Subbaswamy earned a doctorate in physics from IU in 1976 and has received the College of Arts and Sciences Distinguished Alumni Award, IU Bloomington Provost's Medal and IU Foundation President's Medallion.
American Folklore Society honors Department of Folklore and Ethnomusicology faculty
Five faculty members in the Department of Folklore and Ethnomusicology earned honors at the American Folklore Society meeting Oct. 16 to 19 in Baltimore.
Professor of folklore Ray Cashman and professor of folklore and anthropology Jason Jackson were inducted into the American Folklore Society Fellows, whose members are distinguished folklorists with outstanding contributions to the field.
John Holmes McDowell, professor of folklore, received the Children's Folklore Lifetime Achievement Medal. Moira Marsh, folklore subject librarian, received the Judith McCulloh Award for Lifetime Service to the field. Alison Martin, a Ph.D. candidate in ethnomusicology, received the Zora Neale Hurston prize.
New fossil pushes back physical evidence of insect pollination to 99 million years ago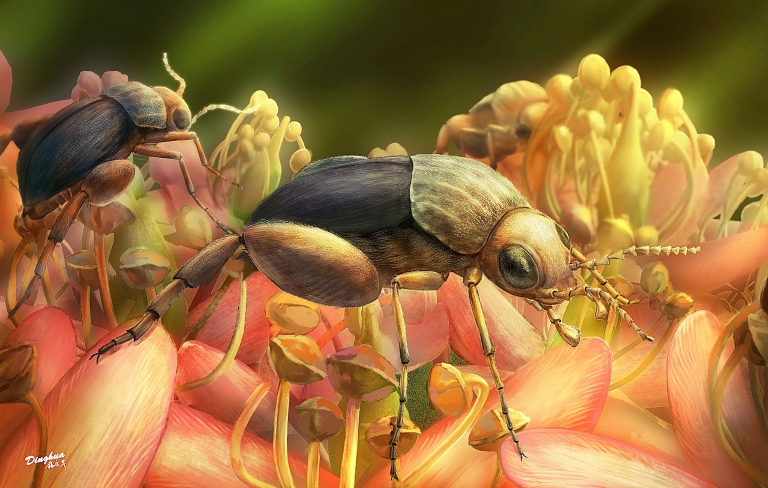 A new study co-led by researchers in the U.S. and China has pushed back the first-known physical evidence of insect flower pollination to 99 million years ago, during the mid-Cretaceous period.
The revelation is based upon a tumbling flower beetle with pollen on its legs discovered preserved in amber deep inside a mine in northern Myanmar. The fossil comes from the same amber deposit as the first ammonite discovered in amber, which was reported by the same research group earlier this year.
The newly reported fossil is described Nov. 11 in the journal of the Proceedings of the National Academy of Sciences. The fossil, which contains both the beetle and pollen grains, pushes back the earliest documented instance of insect pollination to a time when pterodactyls still roamed the skies – or about 50 million years earlier than previously thought.
Undergraduate Education units set to relocate
Seven units within the Office of the Vice Provost for Undergraduate Education will relocate to Wells Library.
University Division, the Health Professions and Prelaw Center, the Office of Engaged Learning, the Center for Students in Transition and the Office of the Vice Provost for Undergraduate Education Records Office, all currently in Maxwell Hall, will move mid-December. The Career Development Center, currently at 625 N. Jordan Ave., will move into the library at the semester's end.
"Our plan is to provide a one-stop shop for students to go to and receive all of the resources, coaching and advising they need," Vice Provost for Undergraduate Education Dennis Groth said.
The Office of the Vice Provost for Undergraduate Education serves students and faculty at IU Bloomington through a variety of services, with an end goal of facilitating student success and enriched collegiate experiences.
Heads up, faculty, in case you get questions: University Division students who are currently assigned an advisor in one of the residence halls on campus will continue to visit them in that location. Students whose academic advisor was located in Maxwell Hall should go to the lower level of Wells Library for advising appointments after Jan. 1. Students should continue to schedule advising appointments through the Student Appointment Scheduler in One.IU.