Parking Operations testing new enforcement technology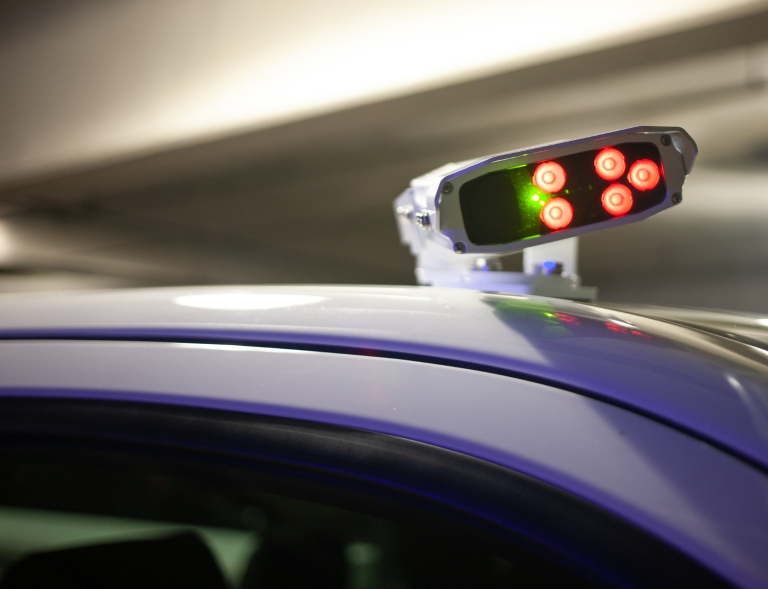 This month, IU Bloomington Parking Operations will begin piloting license plate recognition enforcement technology. The goal of the pilot will be to evaluate potential efficiencies for enforcement of parking regulations in campus parking zones and to assess occupancy in garage facilities, according to IU Bloomington parking operations director Amanda Turnipseed.
During the pilot, which will last up to 12 months, parking enforcement will use a truck equipped with cameras to ensure that valid permits are being used in the parking facilities. Cameras in the Poplars garage and the lower level of the Jordan Avenue garage will also be used to assess occupancy. All hardware and software that will be used has been reviewed and meets university security standards.
The license plate information collected in this process will only be referenced against the parking database to verify IU parking permits, meters and pay stations on the Bloomington campus. This information will be routed to secure servers and will not be shared with other departments or outside agencies.
No changes to current parking regulations will be required by users of the campus parking system.
Learn more about license plate recognition on the Office of Parking Operations website.
IU launches Queer Philanthropy Circle
In its ongoing commitment to diversity and inclusion, Indiana University has launched the Queer Philanthropy Circle.
This is the second affinity-giving circle established in the Office of the Vice President for Diversity, Equity and Multicultural Affairs. It will use programs, resources and other services to improve the recruitment, retention and degree attainment for LGBTQ+ students as well as improve the quality of professional life for LGBTQ+ faculty and staff on all IU campuses.
Formed by dedicated IU alumni and friends of the university, the Queer Philanthropy Circle underscores the belief that a group of committed individuals can invoke positive change to influence the future. The Queer Philanthropy Circle will strategize with the IU Foundation, the LGBTQ+ Alumni Association and other IU LGBTQ+ organizations in promoting diversity.
To further its mission, the Queer Philanthropy Circle is seeking new members. Learn more at supportdiversity.iu.edu.
WTIU airing documentary on Indiana's horse industry
A new documentary from WTIU Public Television explores Indiana's history with horses and horse racing. "Horsepower: Indiana's Equine Industry" will premiere at 8 p.m. Dec. 2 on WTIU and Facebook Live.
Standardbred racing dates back to the mid-1800s in Indiana, with events occurring at many county fairs statewide. The documentary also covers thoroughbred and quarter-horse races, which have retained popularity at venues such as Indiana Grand and Hoosier Park, and explores the broader economic and cultural impact of the equine industry on the Hoosier state.