Dave Fischer had an exciting career in supply chain management for technology companies and steel manufacturers that took him across the country and even gave his family the opportunity to live in Munich, Germany, for two years.
Description of the following video:
[Video: An aerial shot of rolling hills on a farm in Southern Indiana.]
[Video: An aerial shot of cows grazing on green grass.]
[Dave Fischer speaks: IU has been buying beef and pork from us for over 10 years, and it's been a long, really good relationship where we started with the union using our beef products. And then over the last few years, they've used our products across all the residence halls.]
[Video: Fischer walking down a gravel road with his cattle.]
[Video: A cow and calf graze in a field.]
[Video: A closeup of cows running in a field.]
[Video: A small calf moos at the camera.]
[Fischer speaks: At Fischer Farms, we raise the calves. At the end of their life, we then take them to the processing plant that's only 10 miles away, a family-run plant. My wife coordinates all the delivery to the customers.]
[Video: Cows eat out of troughs.]
[Video: Boxes of Fischer Farms meat are stacked on top of each other.]
[Video: A woman sorts vacuum-sealed meat.]
[Video: Cuts of beef are chopped and sorted.]
[Fischer speaks: So when IU places an order for 3,000 pounds of burger, we then start producing that, and we ship it to them fresh based off of that order.]
[Video: Fischer stands in front of meat ready to be processed.]
[Video: Beef is cut on a slicer.]
[Video: Packaged turkey breasts sit in a bin.]
[Video: A pallet of boxes has a note on top that reads "This skid + 2 boxes in freezer for Saturday pick up".]
[Video: An aerial shot of a water tower with "Celestine" written on it and rolling hills in the background.]
[Fischer speaks: About once a week I come to IU.]
[Video: Fischer talks on screen with crops on his farm behind him.]
[Words appear: Dave Fischer, Owner, Fischer Farms.]
[Fischer speaks: I really enjoy talking to the chefs and finding out from them what their current issues are.]
[Video: Fischer talks to a group of IU representatives during a visit to his farm.]
[Fischer speaks: But then we also talk about other products that they're interested in replacing.]
[Amy Blaisdell speaks: At Wright Food Eateries, we've incorporated Fischer Farms into everything we can there, because we believe in what they do and the way they grow their meat, the way they are innovative farmers, it makes us very proud to serve their meat.]
[Video: Cows graze on radishes in a field at Fischer Farms.]
[Video: Students are served food at a counter in a campus dining hall.]
[Video: Burgers cook on a grill.]
[Video: Blaisdell appears on screen in front of cows grazing in a pasture at Fischer Farms.]
[Words appear: Amy Blaisdell. IU Dining sous chef.]
[Video: IU students wear Fischer Farms hats.]
[Fischer speaks: I think Indiana University and Fischer Farms is really working through the details of how a university can work with a local farmer.]
[Video: Fischer gives a presentation to IU students and staff about the farm's processes during a recent visit to the farm.]
[Fischer speaks: And we're carrying that to other universities, but also to other farmers.]
[Video: IU students listen to Fischer talk about ryegrass on his farm.]
[Blaisdell speaks: Other universities should start sourcing locally because it is the right thing to do.]
[Video: An aerial shot of large silos.]
[Video: An aerial shot cows grazing on radishes at Fischer Farms.]
[Blaisdell speaks: Not only for our generation, but for the next generation, and just for the world in general.]
[Video: An aerial shot above cows running down a gravel road.]
[Video: An aerial shot fields at Fischer Farms.]
[Fischer speaks: I think universities like Indiana University are on the leading edge of trying to understand the global issues that we're facing.]
[Video: Fischer talks on camera, standing in one of his fields.]
[Video: IU students tour Sanders Processing plant wearing Fischer Farms hats.]
[Fischer speaks: And I think partnering with local farms like us, we can work together to tackle some of these bigger issues.]
[Video: IU students faculty and staff explore a radish crop field at Fischer Farms.]
[Video: Leaves fall to the ground on the rolling hills of Fischer Farms.]
[Words appear: Indiana University]
[Words appear: iu.edu.]
[END OF TRANSCRIPT]
But years of travel and missing formative years of his children's lives started to wear on him, and in the early 2000s, Fischer decided it was time for a change. He was ready to get back to the family business: farming.
"I was home one Friday night, after a week of being away, and we were asking my youngest son what he wanted to do for the weekend," Fischer said. "His response was, 'I know! Daddy can sleep at our house!' He didn't even think I lived there anymore."
Fischer grew up on a farm just outside Jasper, Indiana, and when he jumped back into the business, he was eager to raise high-quality cows that would produce high-quality, natural beef. But after attending a few cattle auctions, it became clear that many people involved in the cattle production process weren't concerned with quality at all.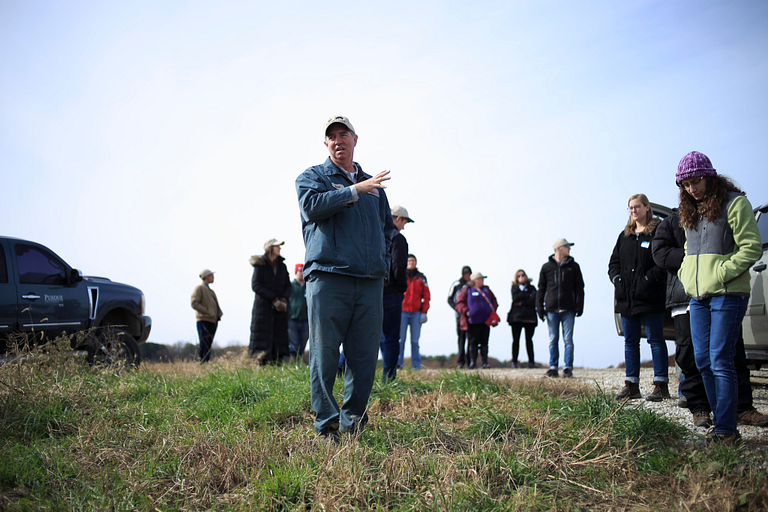 "I approached one of the biggest buyers at this auction to tell ask him what he was looking for in quality, and he got right up in my face and said, 'You don't worry about quality. Just worry about quantity,'" Fischer said.
That was not the type of business Fischer wanted to run, so he resorted to plan B: he and his family would raise, process and distribute the product themselves. He started working with the newly opened Sanders Processing in nearby Celestine, Indiana, and ventured out to find local restaurants and businesses interested in buying his product.
Some of Fischer Farms' earliest customers included Bloomingfoods and Sahara Mart in Bloomington, but Fischer wanted to expand his business to local restaurants. He spent a full day knocking on the doors of 17 businesses in Bloomington and one chef said yes: David Tallent.
From farm to food court
In the early days of his business, Fischer delivered meat to his customers himself, so each week he'd visit Restaurant Tallent to tell the chef about new products and receive a gift of delicious corned beef in return.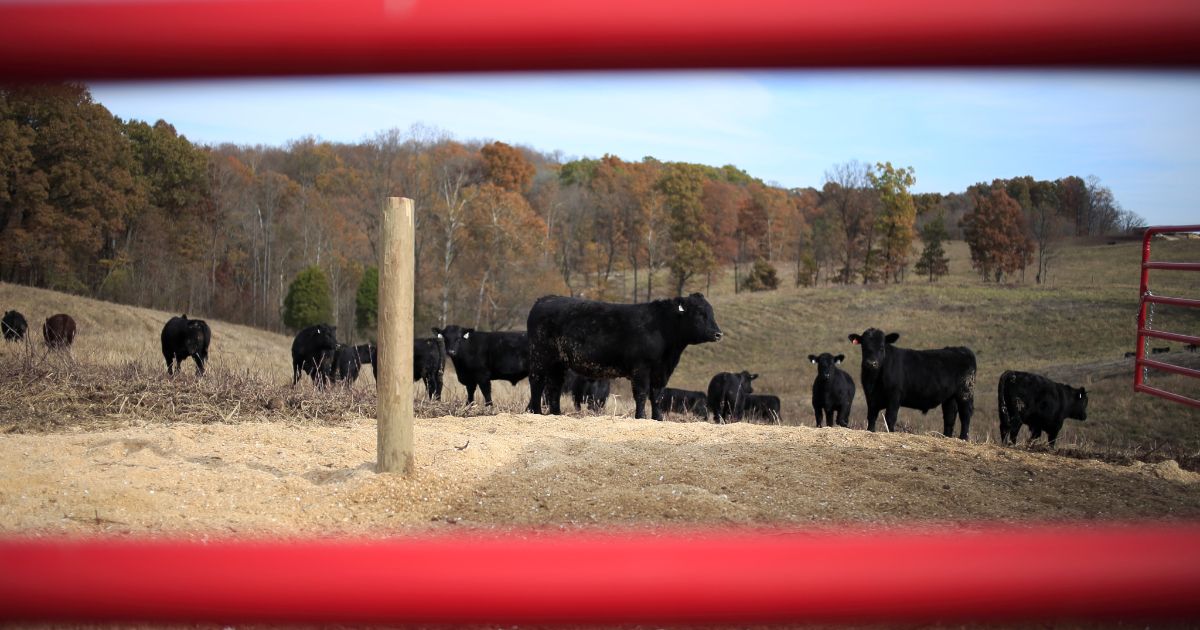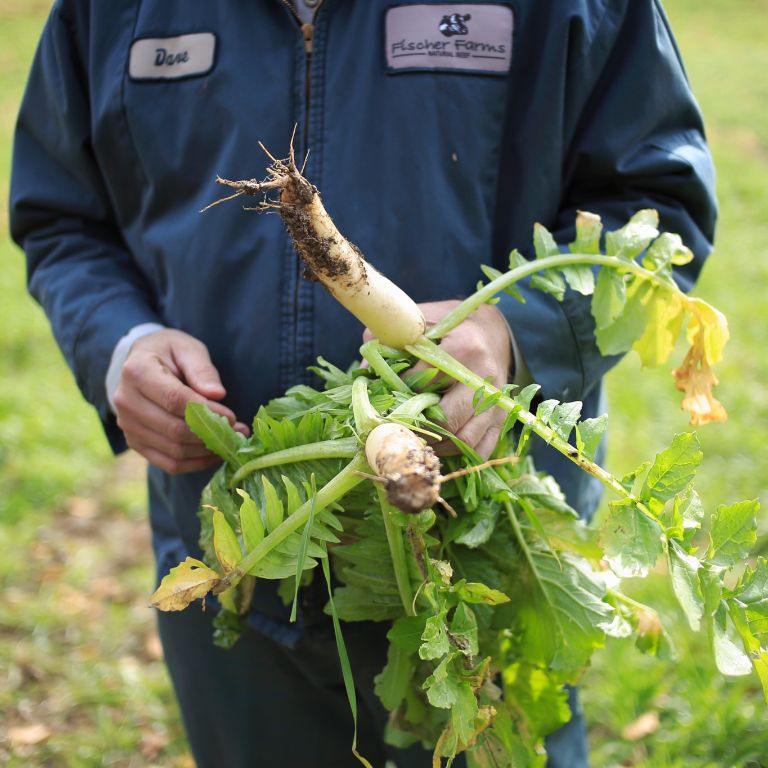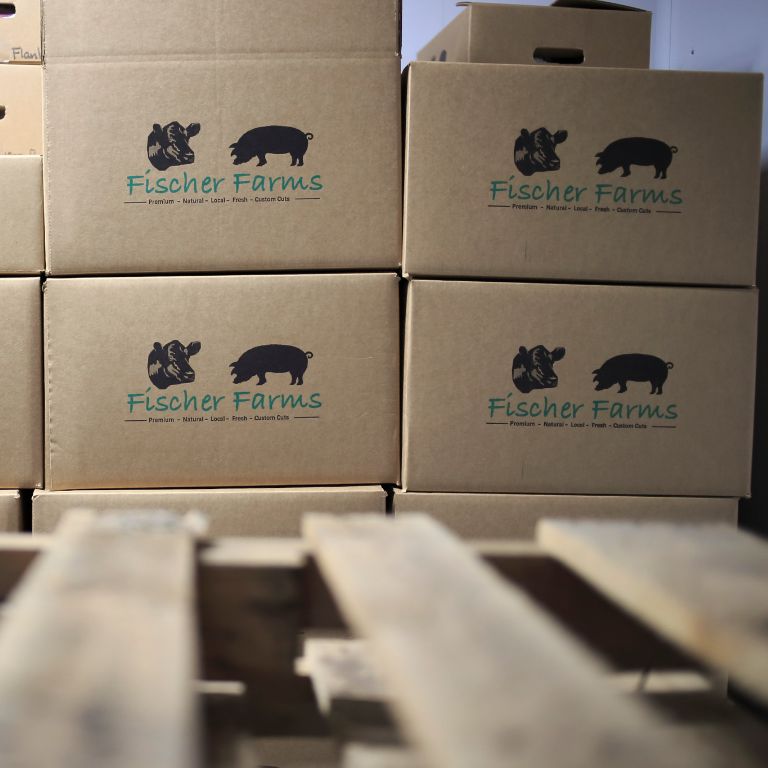 Photos by Eric Rudd, Indiana University
When Tallent transitioned to executive chef at Indiana University's Indiana Memorial Union, his relationship with Fischer came with him. In summer 2018, Residential Programs and Services Dining and culinary experts at the Indiana Memorial Union joined forces to create IU Dining, with a renewed focus on bringing local, fresh and sustainable food options to campus.
In line with that change, IU Dining executive director Rahul Shrivastav expanded the use of Fischer Farms products from the union to residential dining halls. Fischer Farms now provides all of the ground beef for IU Dining burgers, as well as bacon, sausage, pork chops and flank steak used in select eateries.
The partnership between Fischer Farms, a small farm of just about 750 acres, and IU Bloomington, a campus of more than 40,000 students, has required both parties to be flexible. IU Dining chefs were used to receiving food orders from large distributors daily, but Fischer Farms asks for orders on Monday and fulfills deliveries on Wednesdays and Fridays. Fischer and his wife, Diana, who manages order fulfillment as chief operating officer of their business, have had to adjust to filling large volume orders from IU without creating waste.
For example, IU orders 200 pounds of flank steak each week to serve at A Cut Above in the Restaurants at the Woodlands, but each steer produces only about 5 pounds of flank steak. It's then up to the Fischers to figure out how to use the remaining meat from those 40 cows. One solution is to suggest alternative cuts that are easier to process, like flap steak, which has a similar quality and flavor to flank steak but requires different preparation.
Fischer has weekly meetings at IU Bloomington to ask chefs what they are looking for in products, suggest alternative products and explain the benefits of different cuts of meat and how to prepare them.
Though the partnership requires more effort and ingenuity than serving frozen products from large, wholesale distributors, both parties agree that providing natural, fresh meat to the IU campus community is worth the work.
Ryegrass and research
Figuring out how a small farm can supply a large university is not the only problem Fischer is trying to solve with innovative business practices.
With the negative attention the beef industry has received regarding climate change, Fischer has focused on reducing his farm's carbon footprint and promoting regenerative agriculture. By slaughtering and processing his cows at a plant just 10 miles from his farm and delivering that meat to local customers, Fischer cuts out carbon emissions created by shipping.
Fischer also said that by feeding his cows silage made from entire stalks of corn, including husks, he is pulling more carbon dioxide out of the air than his cows give off through their gas and burps. The 230 acres of corn on his farm sequester carbon into the soil before being processed into silage and fed to cows. Fischer estimates that for every pound of meat his farm produces, it also captures 5 pounds of carbon from the air.
A network of seven ponds and waterways at Fischer Farms naturally filters water before it leaves the farm, providing a habitat for native plants and animals and limiting the amount of city water used for cattle.
Fischer has also been experimenting with ryegrass on his farm as a way to break up fragipan, a layer in the topsoil that restricts waterflow and root penetration. Ryegrass is one of the few crops that can break up this layer and it also releases salts that cause further breakage. Researchers from the University of Kentucky estimate that by planting ryegrass on his farm for the past 10 years, Fischer has effectively added 14 inches of subsoil to the land.
Fischer has been eager to partner with university researchers and students, and he has hosted IU visitors from several disciplines, including business law, environmental and sustainability studies, and environmental health and safety. He's also eager to educate IU students about the farming process and get them interested in where the food they consume comes from.
"For a lot of IU students I work with, I'm the first farmer they've ever met," Fischer said. "I love when I'm able to share with these students how much care and attention go into the product we are serving them."
Impact across Indiana
The partnership between IU and Fischer Farms goes beyond the food served in the dining halls and visits to the farm. Fischer and his son Joseph are working with IU's Jodee Ellett to build bridges between local food suppliers and local food retailers.
Ellett, who leads community engagement efforts for IU's Sustainable Food Systems Science research initiative, has been working with the Center for Rural Engagement to hold community interest meetings in counties across the Indiana Uplands and learn from community members about their food systems to identify the needs and ideas for improvement. Joseph has been working as a link between small Indiana farms and restaurants in Indianapolis and Chicago.
The hope is that IU and Fischer Farms are breaking ground on a new, innovative, sustainable way for food retailers like restaurants, universities, hospitals and K-12 schools to source their food locally from small, family-owned farms.
"Indiana University and Fischer Farms are really working through the details of how a university can work with a local farmer. We're carrying that not only to other universities but also to other farmers," Fischer said. "Universities like Indiana University are on the leading edge of trying to understand the global issues that we're facing, and I think by partnering with local farms like us, we can work together to tackle some of these bigger issues."