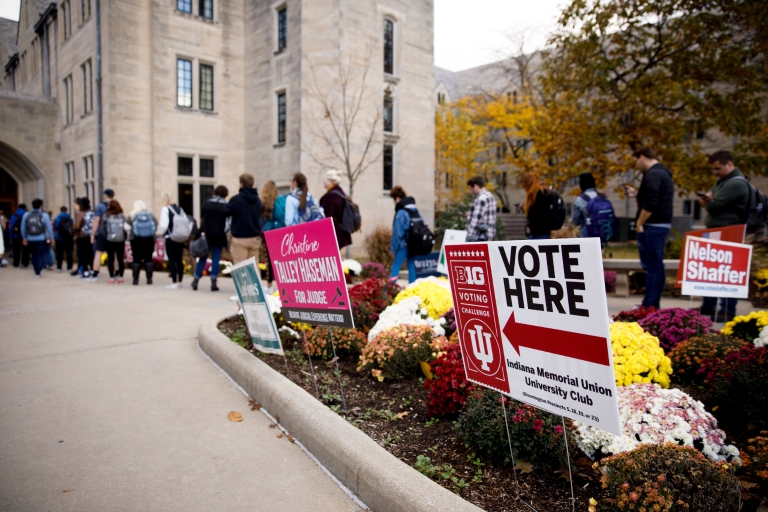 BLOOMINGTON, Ind. – The voting rate of Indiana University Bloomington students increased by 302 percent from the 2014 to the 2018 midterm elections. The increase followed IU Bloomington's participation in national and Big Ten Conference efforts to encourage students to register and vote.
A little more than 35 percent of eligible IU Bloomington students voted in the November 2018 midterm election. That's up from 8.7 percent in the 2014 midterm, an increase of 26.3 percentage points. Nationwide, student voting at all colleges and universities increased by 19.7 percentage points between 2014 and 2018.
PACE, the Political and Civic Engagement Program, led IU Bloomington's involvement in the fall 2018 All In Campus Democracy Challenge, a nationwide effort to boost student voting. The initiative included voter registration drives and social media messaging. This fall, IU Bloomington received a Silver Campus Award for excellence in student voter engagement from the All In Challenge.
The campus also participated in the inaugural Big Ten Voting Challenge, a nonpartisan initiative created to spur civic engagement and encourage more students across the Big Ten to head to the polls on Election Day. IU Bloomington trailed the leader for most-improved voting rate, Rutgers University, by only 5 percentage points, and had a higher voting rate than in-state competitor Purdue University.
"We are super happy with our electoral engagement results, and we congratulate the other universities for their hard work and the overall impressive results," said Lisa-Marie Napoli, director of PACE. "It's been an honor to harness inspiration as we continue expanding democratic engagement efforts more broadly on campus, and we are energized and motivated to continue to empower IU students and make our mark in the 2020 elections."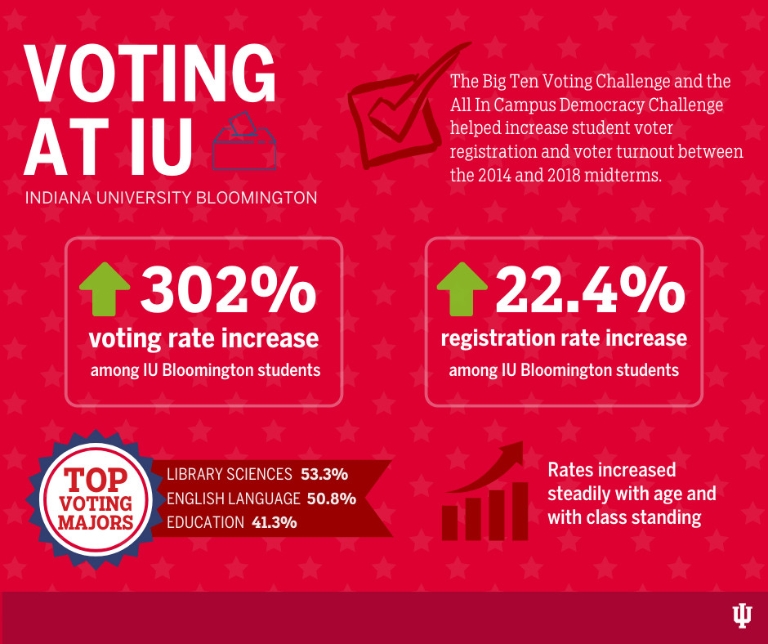 As a result of the increased voter turnout, the 14 presidents across the Big Ten Conference have agreed to continue the challenge for the 2020 presidential election and have again pledged $10,000 each to be used on their respective campuses to promote student public engagement. After the 2020 election, trophies will go to two universities: the one with the highest eligible voter turnout and the one with the most improved turnout compared to 2016.
The results of both challenges are based on student voting data calculated by the National Study of Learning, Voting and Engagement at Tufts University. The figures are based on enrollment records submitted to the National Student Clearinghouse and publicly available voting files collected by Catalist, a voter information and analysis firm.
According to this data, between 2014 and 2018, IU Bloomington:
Increased the number of students who voted by 9,757.
Increased the registration rate from 63.4 percent to 77.6 percent.
Increased the voting rate among registered students from 13.8 percent to 45.2 percent.
Most students who voted did so absentee, probably reflecting a rise in the number of students who voted in their hometowns rather than in Bloomington. While the voting rate increase at IU Bloomington was higher than the national average, the campus's overall voting rate remained slightly lower than the average rate for all colleges and universities, which was 39.1 percent.
Older students at IU Bloomington were more likely to vote than younger students, graduate students were more likely to vote than undergraduates, and female students were more likely to vote than male students. The highest voting rates were among those studying library sciences, English language and education.