More than 20 IUPUI doctoral students traveled to Atlanta last month for the Institute on Teaching and Mentoring hosted by the Southern Regional Education Board.
The nation's largest gathering of minority doctoral students, the annual institute provides professional-development opportunities for nearly 1,200 students who are pursuing Ph.D.s and are interested in careers in higher education. Institute scholars gain a variety of practical and job-seeking skills, including financial planning, insights on postdoctoral training, mentorship and networking.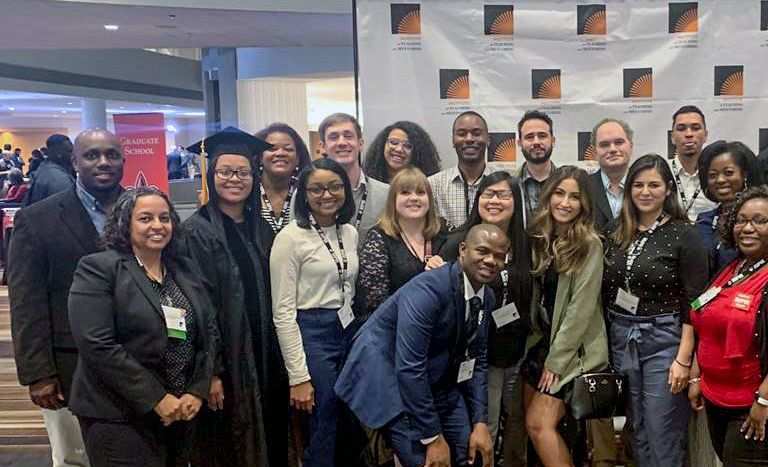 "It's a great resource for minority students to connect with peers who are like-minded, have the same background and are on the same rigorous journey to earn their Ph.D. and join the professoriate," said Tabitha Hardy, assistant dean for student development and academic affairs. In addition to attending the yearly event in a faculty recruitment capacity for IUPUI, Hardy also has firsthand experience as a participant. She was a doctoral student in one of the first groups IUPUI sent to the institute, nearly 10 years ago.
"Being an underrepresented minority in academia can be isolating, and the institute offers an opportunity for our scholars to discuss issues of race and culture in a safe, supportive environment," she said.
Several IUPUI schools provide financial support for the program, with deans or fellowship committees selecting the students who attend.
Following is what some of the students attending this year's institute had to say about their experience.
Joey Feldman
Joey Feldman, a President's Diversity Initiative fellow, is a doctoral student in the Urban Education Studies program in the School of Education. He has attended the Institute for Teaching and Mentoring for the past three years as part of the fellowship program.
"This year, I learned more about the process of publishing my work. One of the institute workshops was particularly helpful, as I'm currently working on a manuscript that I want to submit to a journal. The institute is set up so there are sessions available for beginning scholars as well as for those who are getting ready to graduate. Each year, I've tried to attend sessions that are relevant to my current goals and aspirations. The institute has helped me hone a variety of different skills."
Pinkie Evans
Pinkie Evans, a recent program graduate and faculty in the School of Social Work, recently earned her Ph.D. She was one of four IUPUI doctoral students who returned to the institute to participate in a special graduation ceremony recognizing the completion of their degrees.
"The institute provides a chance to meet other scholars and interact with faculty from other universities, and there is a job fair every year. The first year I attended, I was presented with three different academic positions. After consulting with mentors and faculty, I decided not to accept a position until I completed my degree. I'm pleased that I made that decision."
Alan Tyson
Alan Tyson is a fourth-year Ph.D. student in the School of Engineering and Technology's Music Technology program and a President's Diversity Initiative fellow.
"Every year, the institute holds a graduation for scholars who have successfully defended their research. I've watched people with circumstances that I can't fathom walk across the stage. Listening to them tell their stories motivates me in a way that I believe I can truly overcome any obstacle. I'm reminded that if they were able to do it, I can too."
Anyone interested in finding out more about the Institute for Teaching and Mentoring should contact Hardy at tamhardy@iupui.edu.