U.S. surgeon general discusses global health with IU leaders, students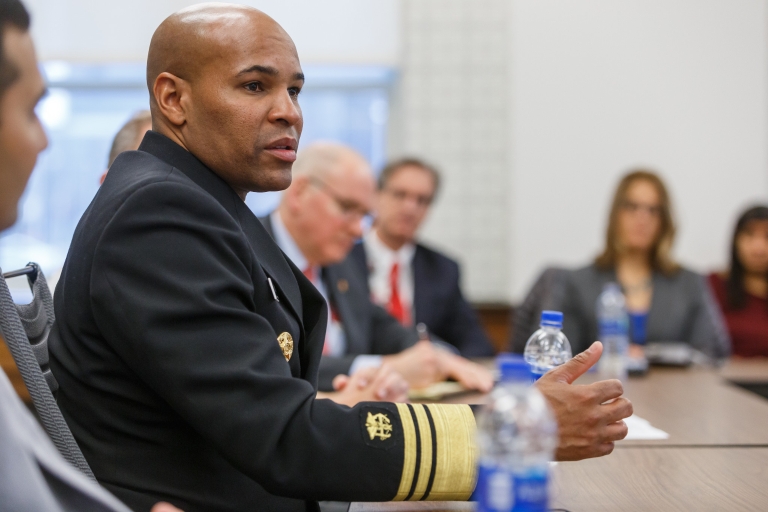 Vice Admiral and U.S. Surgeon General Dr. Jerome M. Adams joined deans, students and leaders from throughout Indiana University on Nov. 18 in Indianapolis to discuss a wide range of health topics and the ways that their work in global health can improve U.S. health.
Adams received his medical degree in 2002 from the IU School of Medicine and previously served as Indiana State Health Commissioner.
He began the discussion, hosted by the IU Center for Global Health, by talking about the impact of social determinants of health such as transportation, housing and a safe environment.
"Health is more than health care," Adams said. "The statistics suggest that only about 15 percent of health is impacted by your access to traditional health care," he said.
For the third year in a row, life expectancy in the U.S. is going down despite the country spending more than any other on health care, he said.
Adams noted that there are lessons to be learned from many countries that spend less and have better health outcomes because they are investing in other parts of health that the U.S. health care system does not.
"There is a lot we can learn by comparing and contrasting global health and investments between the U.S. and other countries," he said.
Speaker series features 2 professors
Professors from the University of Notre Dame and Duke University are the next two speakers featured in the IU School of Medicine's Indiana Center for Regenerative Medicine and Engineering Speaker Series.
Hsueh-Chia Chang will speak on "Isolation of exosomes from other nanocarriers and quantification of their molecular cargo" from noon to 1 p.m. Nov. 22 in Room 401 at the Ruth Lilly Medical Library, 975 W. Walnut St., Indianapolis.
He is the Bayer Professor of Engineering and director for the Center for Microfluidics and Medical Diagnostics at Notre Dame.
Matthew L. Becker will speak on "New resorbable materials and inks are needed if additive manufacturing will really change medicine" from noon 1 p.m. Dec. 18 in Room 317 at the Ruth Lilly Medical Library.
He is a professor of chemistry, mechanical engineering and material science; biomedical engineering; and orthopedic surgery at Duke.
Day of Remembrance on Dec. 2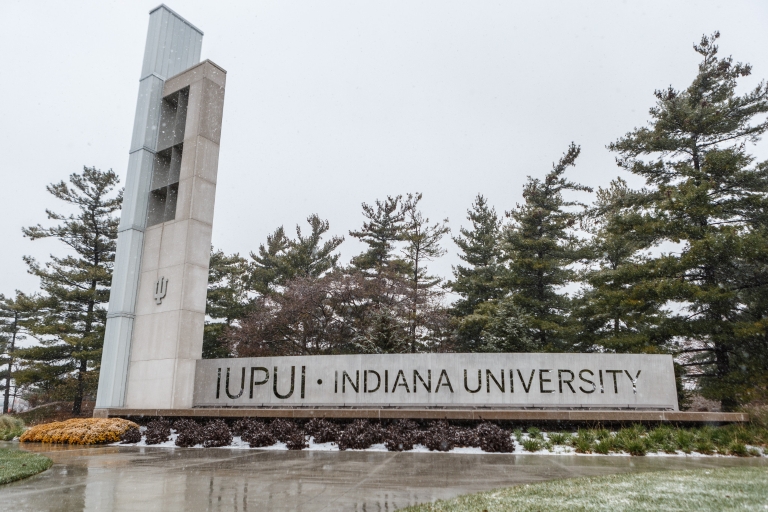 The Day of Remembrance will be observed from 11 a.m. to 2 p.m. Dec. 2 in Room 305 of the Campus Center.
The event, held twice a year, is a time for the IUPUI family to remember students, faculty, staff and alumni who have passed away.
During the ceremony, people may share a memory of a friend or loved one who is being honored.
Grant helps professor study Alzheimer's
Jingwen Yan, an assistant professor of bioinformatics in the School of Informatics and Computing, has received a $428,244 National Institutes of Health R21 grant to explore the genetic basis of Alzheimer's-altered brain connectivity.
Yan's grant is titled "Gene Co-Expression Underlying the Connectomic Alterations in Alzheimer's Disease."
Researchers know there is a close relationship between gene co-expression and the brain's structural and functional networks, but it isn't yet clear which genes are responsible.
Using her NIH exploratory/developmental research grant, Yan is developing novel integrative approaches and is eager to identify functional and structural brain networks altered in Alzheimer's disease as well as genes whose co-expression network is associated with the networks altered in Alzheimer's.