Students often listen to distinguished speakers. But this time, the tables were reversed.
Bianca Chavis, an IUPUI student, was onstage, speaking to the leadership teams of the National Science Foundation and the American Association for the Advancement of Science as well as more than 600 other members of science organizations, university officials and students.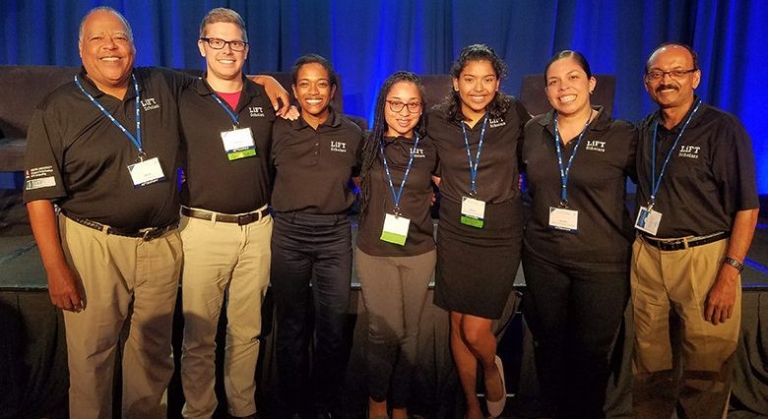 Chavis had been selected to address that audience as one of five members of the Student Voices panel at the 2019 National Science Foundation Scholarships in Science, Technology, Engineering and Mathematics program symposium in Washington, D.C.
Officials of the two science organizations, which hosted the symposium, wanted to hear firsthand from lower-income students pursuing degrees in a STEM field who had been helped by an S-STEM scholarship.
Chavis is a Leading Informatics for Tomorrow scholar, an S-STEM-funded scholarship program. It offers renewable, unmet-need scholarships to study informatics at the School of Informatics and Computing at IUPUI or at Ivy Tech Community College of Central Indiana. Twenty students at IUPUI and 20 at Ivy Tech are chosen each year for the program.
"I was so excited when I learned that I had been selected for the panel," Chavis said. "I couldn't believe it. I had heard there would be lot of applicants. It was an honor to be picked."
As she took her seat on the stage, Chavis' nerves kicked in. "I didn't realize how many people were going to be there," she said. "That kind of threw me for a loop. But once I got up there, I felt more comfortable as time went on."
She addressed a series of questions, including what was the biggest challenge she faced in college, identifying a moment when the S-STEM scholarship program impacted her, what she was proudest of and what resources were most important for supporting her success in college.
Chavis said the biggest challenges she faced in college were dealing with feelings of inadequacy when she compared herself to classmates who had been into tech their whole lives and balancing school, work and life.
But the LiFT scholarship program helped her overcome those and other challenges, she said, including easing her initial concerns that she would feel a little bit left out as an older student transferring from Ivy Tech to a four-year college.
"The program accepted people from all different walks of life," she said. "I've been able to find a community of people like myself. It helped me be more confident in my transfer process, which is really nice.
"Whether you're having issues with a class or with a non-school problem, it's a great community to bounce things off of. It's helpful to have that group of people with me."
Asked what advice she would give herself if she could turn back the clock 10 years, Chavis said she would tell her 16-year-old self to stop worrying so much: "Everything will turn out fine."
Then she was asked to project herself 10 years into the future and imagine what she will be doing. "I will have my master's degree in information assurance and be working in a job that I enjoy in Indianapolis – either as a cybersecurity analyst or as a software engineer."