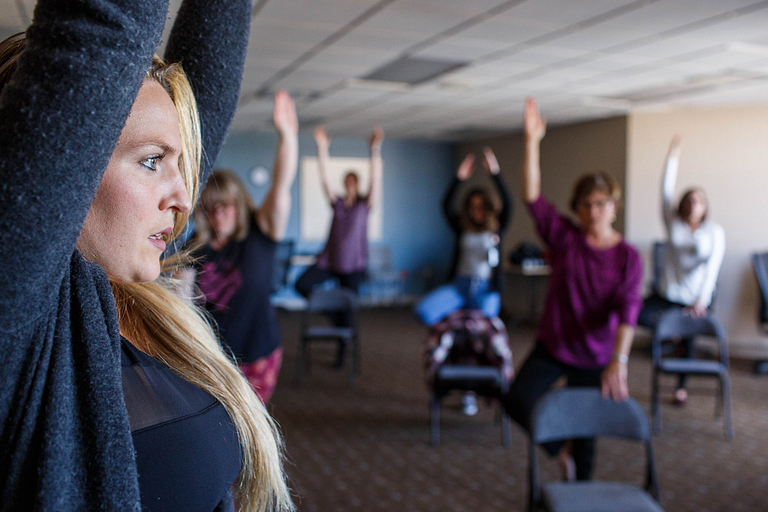 Being smarter about how IUPUI "does wellness" on campus is one of the main goals of the reinvigorated IUPUI Wellness Coalition.
We sat down with Eric Teske, director of Health and Wellness Promotion and one of the co-chairs of the Wellness Coalition, to learn more about what it is and how students, faculty and staff can get involved.
Q: What is the IUPUI Wellness Coalition?
A: The coalition encourages collaboration across campus to help the community achieve and maintain all eight dimensions of wellness.
Q: Why is the group being relaunched?
A: Students and employees are stressed and stretched, and coming together as a coalition will help us identify our blind spots and self-impose some accountability for making wellness initiatives actionable. IUPUI is a healthy place to learn, work and grow for students and employees alike, and we want to continue to improve that. To do so, we need the right people at the table who can advocate for big-picture changes that will make an impact.
Q: What are the goals of this new group?
A: I view this group as creating the campus's strategic approach to health and wellness. We have high-quality survey data from students and employees, and we have quite a few programs, resources and services in place. But we need to come together to ensure everything is accessible and actually moving the needle on health and well-being. This group will be working to set some strategic goals and priorities and determine how we measure success and progress on our campus.
Q: How will this benefit IUPUI?
A: When people think of wellness, they often think of eating healthy foods and going to yoga. While both of those things are important to holistic health, a truly comprehensive approach to health and wellness involves the eight dimensions of wellness: physical, emotional, social, intellectual, financial, occupational, environmental and spiritual. We want people to thrive – to feel like they are free to fully immerse themselves in their academic or work life and feel like their experience on campus is empowering. We want IUPUI to be a place that lifts people up to become the best versions of themselves. Self-care looks different for everyone, and we need to trust that people are naturally resourceful and then create an environment that makes options easy to find and access.
Q: Why should someone get involved in the IUPUI Wellness Coalition?
A: If you are passionate about our campus's health and wellness, we want you on our team. We need diversity in ideas and approaches that come from all individuals regardless of title or position at IUPUI. Students can leave their mark by being involved in higher-level campus discussions, and employees can find satisfaction through taking action to address barriers to workplace wellness.
Q: I'm in. How do I sign up?
A: You can attend our campus callout meeting from 3 to 4 p.m. Nov. 21 in Cavanaugh Hall 008H to learn more. All interested students, faculty and staff should RSVP for this meeting so we know how many to expect.
The coalition is being led by Teske along with Steven Lalevich, registered dietitian for Healthy IU, and Nancy Barton, senior lecturer in the Department of Kinesiology in the School of Health and Human Sciences.