IUPUI is using a new learning outcomes framework: Profiles of Learning for Undergraduate Success. It is designed to equip all undergraduate students with key skills and abilities they need to succeed in the workplace and become significant contributors to their communities.
The skills and abilities are grouped under four characteristics: communicator, problem solver, innovator and community contributor.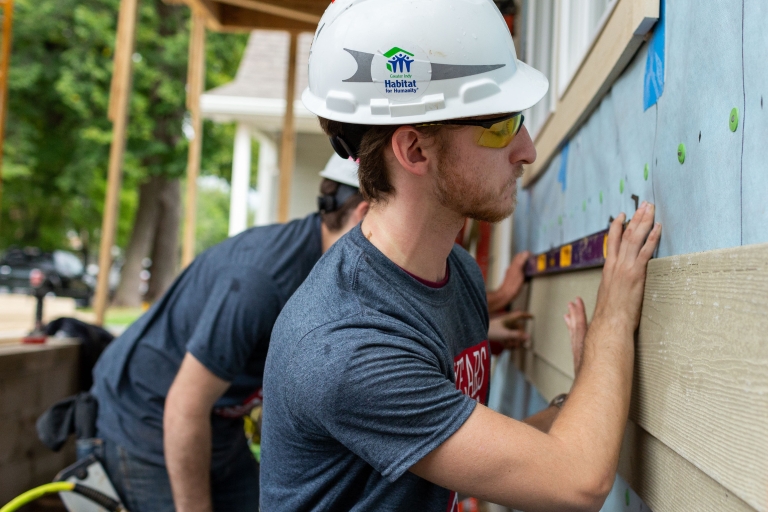 Jay Gladden, associate vice chancellor of undergraduate education, dean of University College and acting dean of the Honors College, discussed the profiles in a recent interview.
Question: What are the profiles?
Jay Gladden: The profiles are four characteristics – or four qualities – of an individual that we hope students will grow and develop during their time at IUPUI. They contain a number of skills and abilities that employers say they want but find lacking in many college graduates.
What IUPUI is attempting to do is be very clear about our work here with our students and what we're trying to achieve. We want students to be able to communicate, problem-solve, innovate and be significant contributors to their community when they graduate.
Q: How were the profiles developed?
JG: We developed the profiles with students and employers in mind and very intentionally tried to use language that students, parents and employers would understand rather than words that folks in higher education understand.
We landed on these four profiles that apply to all undergraduate students at IUPUI – it doesn't matter which program you're in. During their time at IUPUI, students will develop these profiles in a variety of ways. Every experience a student has will contribute to their profiles.
Q: Are the profiles new?
JG: The profiles officially became the institutional learning outcomes at IUPUI this fall. Previously, IUPUI had the Principles of Undergraduate Learning that were first developed in 1997. They were revised and renamed in 2018 as the Profiles of Learning for Undergraduate Success
The move to profiles from principles came about for multiple reasons. One was that the Principles of Undergraduate Learning focused on what was happening in the classroom. Our students do a ton of amazing work across campus, both in and outside of classrooms. I'm regularly in awe when I go, for example, to the Regatta or the Jagathon and see students using their talents and abilities to bring people together and create community. The Regatta and Jagathon – and student government, per se – weren't captured by the Principles of Undergraduate Learning. One of the great things about the profiles is they apply to both curricular and cocurricular experiences.
Q: How do the profiles benefit students?
JG: One of the reasons you go to college is to develop life skills that help you be successful across life. You develop skills, knowledge and abilities that are going to benefit you, not just in that first job, but in your fifth job. Very few careers have a specific pathway.
Sometimes it's more important to have these global skills – being able to communicate, solve problems, innovate and contribute to your community – than it is to have knowledge about something.
Fundamentally, if you can communicate and solve problems, if you can come up with new ways of looking at things, you probably have a pretty good chance of being successful in the workplace, no matter what you do.
Today, more than ever, it is important that we are thinking about our own role in our community, whether it's our work community or the community where we live or a community we are just interested in.
And it isn't just IUPUI saying this. The process to develop the profiles was based on a lot of work done by national organizations, including research by career-focused organizations that were talking to employers and surveying employers on what they said were the most important skills they needed.
It's hard to argue that being able to effectively communicate, which includes effectively listening to others, to problem-solve and to innovate are really important skills to any organization – and, for that matter, to any community.
Q: What else should students know about the profiles?
JG: One of the things we hope the profiles will do is provide some glue for students when they are in a class that they don't think is relevant to what they want to do. They can look at the profiles and see how that class is helping them develop a profile – which, by the way, is important to employers.
General education is a wonderful example. The goal of general education is to get students outside of the traditional area they want to study. Some students see it as something to be endured, something they have to do. But the profiles can help the student see that the class – for example, in cultural understanding – is helping them become a better contributor to their community, or that the class in writing helps them become a better communicator.