INDIANAPOLIS – Indiana University faculty and staff have launched a new online training tool that aims to share best practices in pain management and care with health professionals statewide.
Faculty and staff at the IU Richard M. Fairbanks School of Public Health ECHO Center at IUPUI have started the state's first Integrated Pain Management ECHO program – making this the seventh ECHO program offered through the center.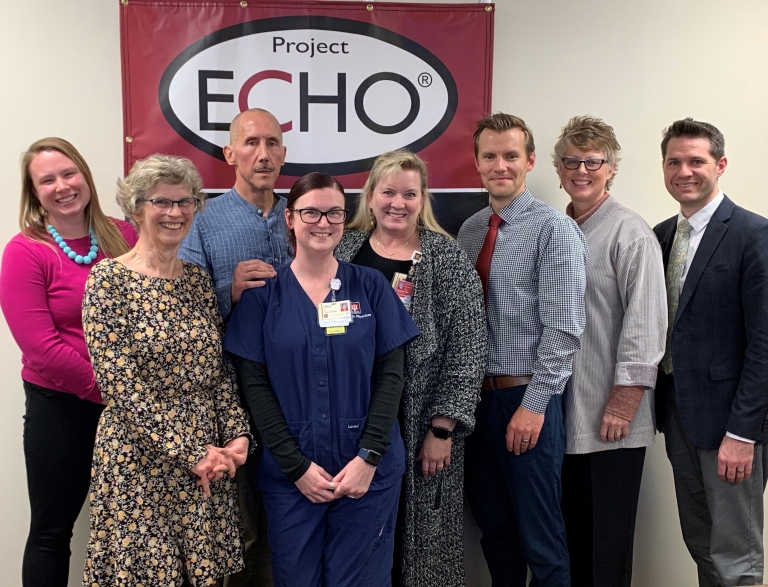 Project ECHO is a case-based learning system and guided practice model that increases medical education and workforce capacity to provide best-practice specialty care and reduce health disparities. Health care providers from multiple locations will connect with a specialist – or team of specialists – through videoconferencing at regularly scheduled times.
Dr. Joan Duwve, director of the ECHO Center, said the center is expanding rapidly to meet the needs of Hoosier health care providers and their patients.
"We are thrilled to provide this opportunity to share best practices for the compassionate care of patients with chronic pain to primary care providers across the state," Duwve said.
The Integrated Pain Management ECHO includes an interprofessional team of pain-management experts and a cohort of health care providers from across Indiana – including physicians, pharmacists, advance practice nurses, physical therapists and social workers – who work together using brief presentations and case-based discussions to enhance the care of people with chronic pain.
According to the U.S. Centers for Disease Control and Prevention, in 2012, Indiana health care providers prescribed more opioids than those in 41 other states, writing 109 opioid prescriptions for every 100 Hoosiers.
Dr. Deanna Willis, a professor of family medicine at the IU School of Medicine, said that since the opioid crisis was declared a national public health emergency in 2017, important and meaningful work to combat the crisis has continued.
"Understanding how to care for patients with chronic pain is essential to changing the way opioids are used," Willis said.
Curriculum for this program includes brief didactics on the physiology and psychology of pain, nonmedication modalities for pain management, assessing patients for substance use disorder, pharmacotherapeutics, and the impact of pain on interpersonal relationships and community.
The ECHO provides access to up-to-date integrated pain-management education and evidence-based strategies to support health care professionals across Indiana by encouraging interprofessional collaboration to increase patient access to the full spectrum of interventions for the management of their chronic pain.
Who should participate?
Health care providers who are currently caring for patients with chronic pain. All members of the medical staff are encouraged to join, including physicians, mental health providers, physician assistants, advanced practice nurses, nurses, social workers, case managers, and others.
Providers with an interest in the opportunity to tap into the collaborative power of health care teams and public health expertise.
Anyone with an interest in expanding their medical knowledge.
Integrated Pain Management ECHO sessions are held on the first and third Fridays of each month from 8 to 9:30 a.m. To register for an upcoming ECHO, visit the ECHO Center's website.
This program reflects IU's extensive expertise and research regarding addictions. To build on this area of strength, IU President Michael A. McRobbie, along with Indiana Gov. Eric Holcomb and IU Health President and CEO Dennis Murphy, announced the Responding to the Addictions Crisis Grand Challenge in October 2017.