BLOOMINGTON, Ind. – Poets & Quants, a leading news site about business education, has announced Indiana University Kelley School of Business Dean Idalene "Idie" Kesner as its Dean of the Year.
Kesner, an alumna who earned her MBA and doctorate at Kelley, became dean in May 2013 after holding several leadership roles at the school.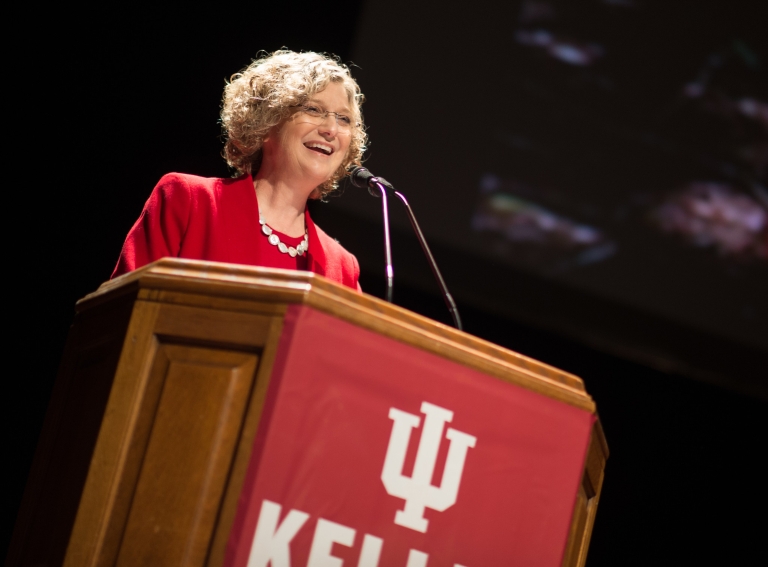 The first woman to lead Kelley, she has directed the school through a prodigious period in its history that has included growth in undergraduate and online MBA enrollments without diluting admissions standards, greater student diversity and international expansion. Today, Kelley has a total enrollment of more than 12,250 students at IU Bloomington and IUPUI and online worldwide.
"Through more than seven years as dean, she has made smart bets on the future of business education by leveraging the school's early leadership in online learning," Poets & Quants editor John Byrne said in an article announcing Kesner's selection. "For an academic, she has made bold and innovative investments to serve the needs of her students.
"She has embraced and mentored young talent in a way that is rare for a dean of any school. She has thoroughly distinguished herself as one of the most accomplished deans of this generation."
"Idie is a stellar and visionary leader, and this recognition is well deserved," IU Bloomington Provost and Executive Vice President Lauren Robel said.
The article highlighted many points of pride for the Kelley School, including the doubling of its undergraduate population to more than 8,000 students and its Kelley Direct online MBA and MS program enrollment to almost 1,000 students, as well as its expanded portfolio of other master's degree programs.
Also praised were Kelley's efforts to maintain the quality and integrity of its Full-Time MBA program at a time when applications to all such programs have declined nationally.
Poets & Quants also recognized Kelley's efforts to increase the enrollment of women and those from underrepresented groups and to achieve a more diversity faculty. Undergraduate female enrollment has grown by 94 percent during Kesner's tenure. Undergraduate underrepresented minority enrollment has risen by 144 percent. Women make up a third of most program enrollments.
Today, more than 110 women teach at the IU Kelley School of Business, including nearly 45 in tenured positions. Staff members dedicated to programming and support for underrepresented minorities and women also have increased in number.
"I am humbled and tremendously appreciative to be named the P&Q Dean of the Year, especially this year as the Kelley School celebrates its centennial anniversary," said Kesner, who also holds the Frank P. Popoff Chair of Strategic Management. "Being a business school dean today is a challenging role, but in my case, it's worth it for the privilege of serving our amazing students, faculty and staff, and our loyal and generous alumni and donors.
"Everyone works together to keep the Kelley School at the forefront of innovative business education, research and service. Being the dean of Kelley is a true honor."
Kesner is the ninth person to receive this honor. Deans previously honored include those at Dartmouth's Tuck School of Business, the Harvard Business School, the Yale School of Management, the Kellogg School of Management at Northwestern University, the University of Virginia's Darden School of Business and the Rotman School of Management at the University of Toronto.
She is the second woman to be named Poets & Quants' Dean of the Year.
Before returning to teach at Kelley, Kesner had a titled professorship at the Kenan-Flagler Business School at the University of North Carolina, where she taught for 12 years.
Prior to her appointment as dean, she chaired Kelley's Full-Time MBA Program from 2003 to 2006 and the Department of Management and Entrepreneurship from 2006 to 2009, and she co-directed the school's Consulting Academy from 1996 to 2003. From 2009 until her appointment as interim dean in October 2011, she was associate dean of faculty and research.
Kesner's research is in the areas of corporate boards of directors, chief executive succession, corporate governance, and mergers and acquisitions, and she has published articles in numerous journals including Academy of Management, Strategic Management Journal, Journal of Management and Harvard Business Review. She has taught in more than 100 executive programs and served as a consultant for many national and international firms working on strategic and board-related issues.
She currently sits on the boards of four companies and the Association to Advance Collegiate Schools of Business, the main accrediting body for business schools. This is the second important honor this year for Kesner. In October, she was recognized by the Indianapolis Business Journal as one of its "Women of Influence."