The Indiana Memorial Union dining renovation project – to meet current trends, offer fresh and healthy options, and provide better community space – will begin in earnest in January.
Work is expected to take a year but will move the IMU's dining options beyond 1990s-style food courts to something current with student expectations and desires, IMU executive director Hank Walter said.
"I'm just really excited about what we'll have in January 2021 compared to now. We'll have better concepts that faculty, students and staff want to see, and a warmer environment that people want to be in," he said.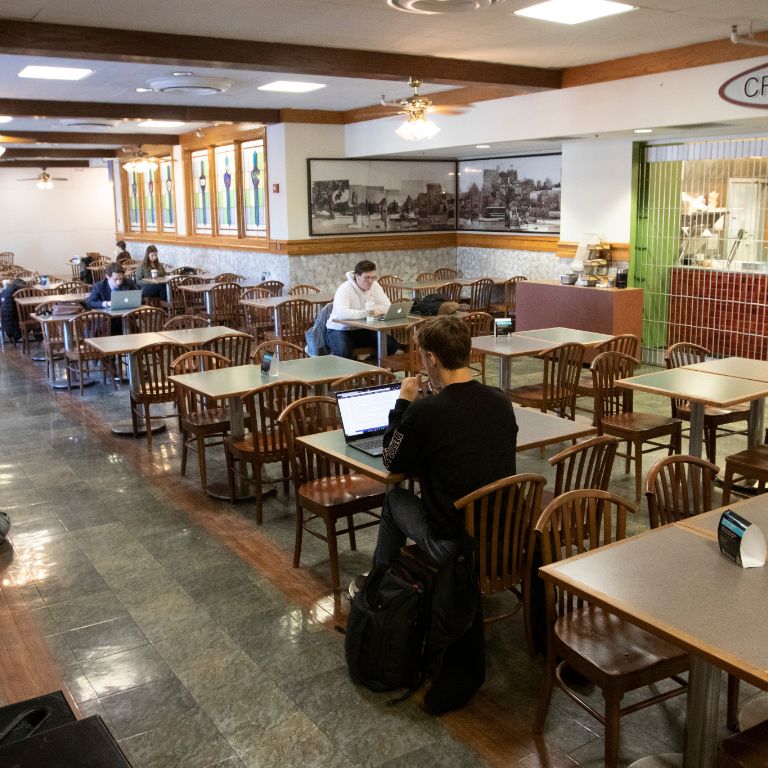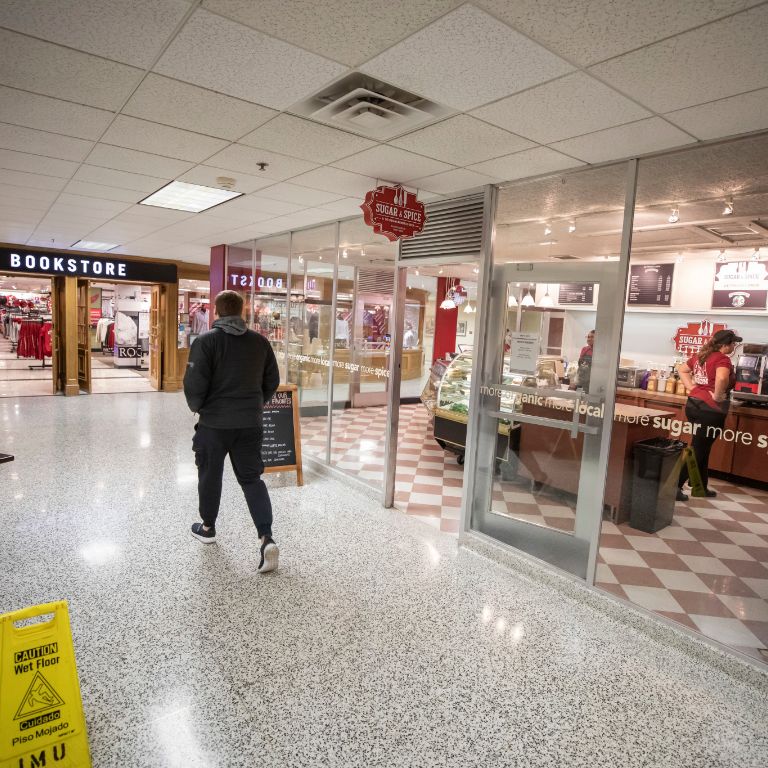 Photos by Savanna Latto and Chris Howell, IU Office of Student Affairs
The environment will be more like a coffee house – open and connected spaces, and a place where people want to go and be, Walter said.
When the renovation is complete, it will offer Asian, Italian, grill and grab-and-go food concepts, Walter said, and The Globe's rotating offering of authentic ethnic cuisine from five local restaurants will continue. National brands will be replaced by freshly prepared foods and high-quality grab-and-go options, he added.
Most of the food will be sourced locally, IU Dining executive director Rahul Shrivastav said.
IU's board of trustees approved the $10.2 million renovation project in June 2018, said Beth Feickert, capital planning project specialist.
Some renovation work has already begun. Construction of the Dunn Meadow Café space started in October. The Commons, the Food Court, Chocolate Moose and Sugar and Spice will close in January for construction. However, bowling and billiards will remain open during construction, said James McHaley, director of marketing for the Division of Student Affairs.
When Sugar and Spice and the Chocolate Moose reopen in the summer, they will be in a combined space. Walter and McHaley said the longtime IU favorites complement each other, and sharing space will maximize their peak popularity during the day and seasonally, and help them collaborate creatively.
Other options available
Despite the closures, other dining options will be available in and around the IMU starting in January. They include:
Tudor Room: Serving a buffet-style breakfast from 7 to 10 a.m. daily. Also, lunch and Sunday brunch will continue to be served.

Circle Café: Offering sandwiches and salads, and a Coca-Cola Freestyle machine from 7 a.m. to 7 p.m. It also will serve as a GrubHub pick-up location.

Starbucks: Open and also serving as a GrubHub pick-up location.

Union Market: Offering expanded grab-and-go options, including sushi, sandwiches, snacks, Chocolate Moose pints and Sugar and Spice treats. Open from 10 a.m. to 10 p.m.

Food trucks: Two trucks will be open from 11 a.m. to 2 p.m. January through spring break, to the south of the IMU. After spring break, hours could be extended as weather gets nicer. One IU Dining food truck will be at the IMU frequently, and the other truck will be from a rotation of local restaurants, Shrivastav said.
"We'll do all we can to make sure there's food around," Shrivastav said.
IU has contracted with GrubHub to provide online ordering and pick-up service across campus, said Pamela Sprong, director of Auxiliary Business Services marketing. In addition to Circle Café and Starbucks, other nearby locations offering GrubHub pick-up will be Bookmark[et] Eatery in the Wells Library, Collins Eatery on Woodlawn Avenue and Goodbody Eatery at Wells Quad, she added.
Student feedback considered
The project uses feedback from students about their desires for the dining space and options.
"Students wanted what's trendy," Shrivastav said, but he also noted that they wanted homestyle comfort foods in addition to vegan and culturally diverse foods.
Some students went with key project leaders to visit memorial unions at other universities – Purdue, Ohio State and Wisconsin, for example – to learn what they offered, Shrivastav said.
Indiana Memorial Union serves as the living room of IU, so it's important that the renovation is done right, Shrivastav said.
"The renovation will make the place look fantastic and bring it up to trend and make the flow better and make the community building better," he said. "People can sit down and interact with each other."