A well-known cafeteria worker recently learned just how loved and appreciated she is at the Indiana University Paul H. O'Neill School of Public and Environmental Affairs.
As Kathy Rogers entered the school's second-floor atrium on Thursday afternoon, she was surprised to be greeted by dozens of people. Rogers, who has worked as a cashier in the school's café for 12 years, was then presented with flowers and money as a show of support for her battle with breast cancer.
About 100 people – students, staff, faculty, alumni and strangers – donated to the effort to help Rogers, raising $2,165 over roughly two weeks.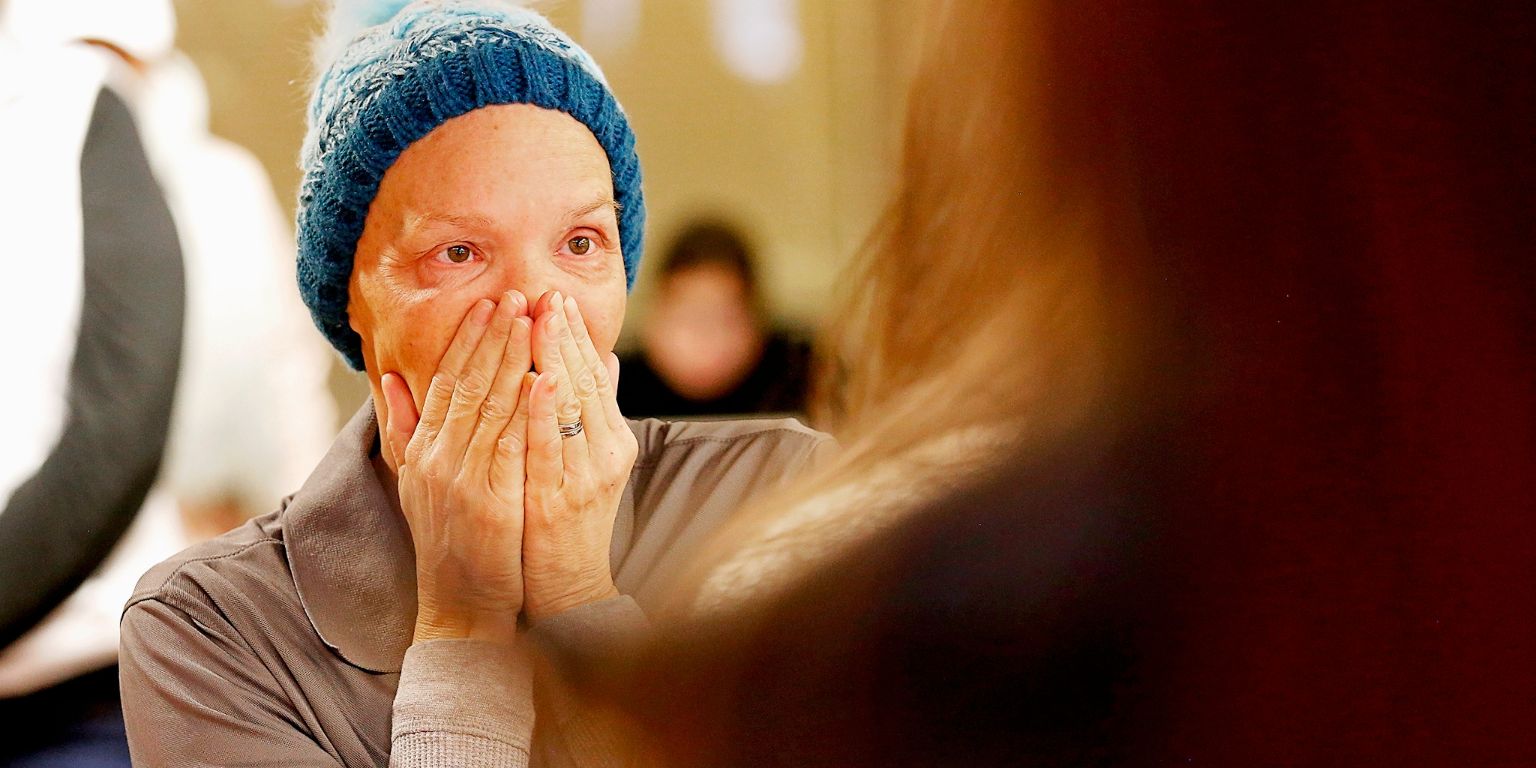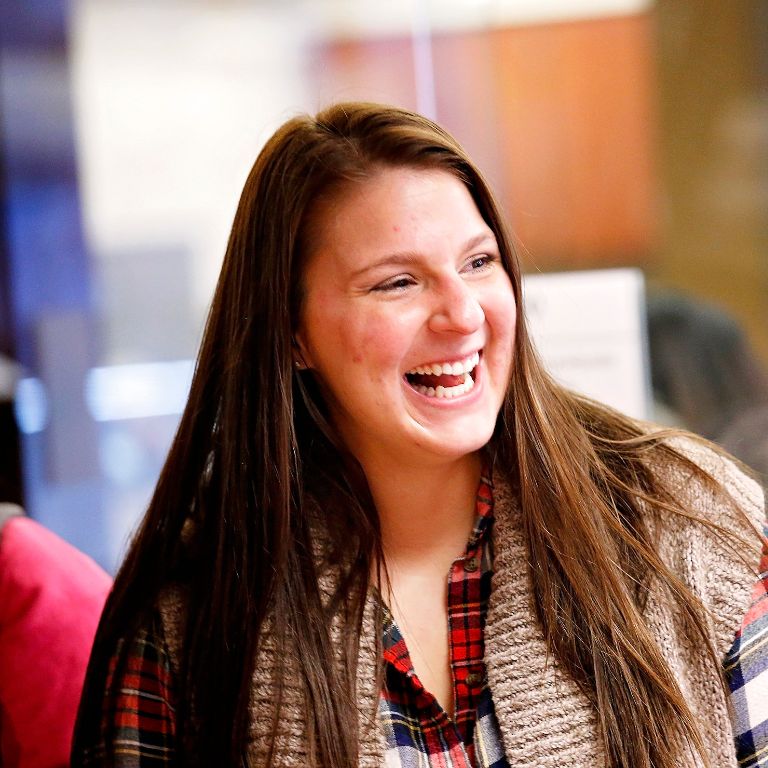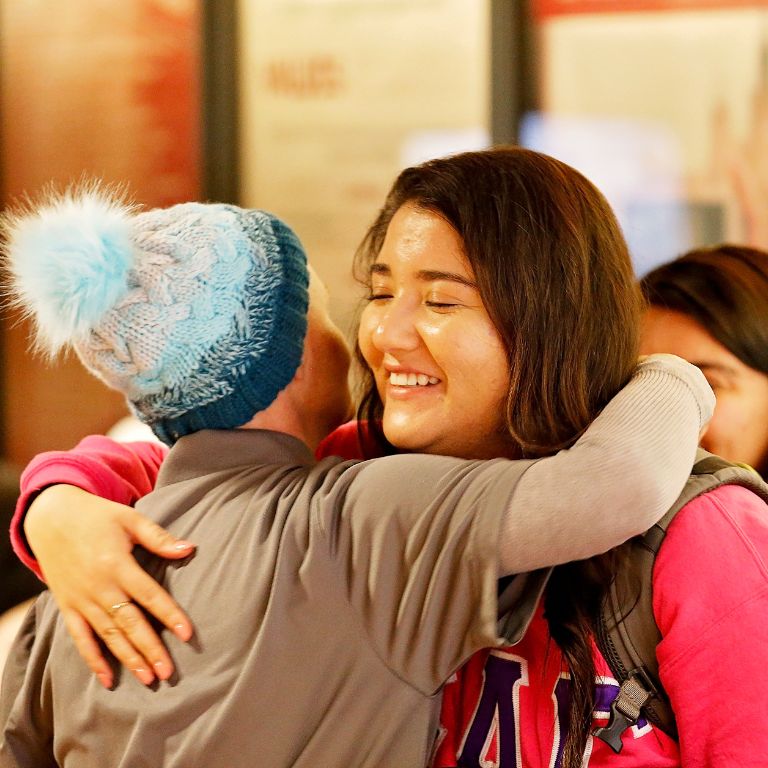 Photo by James Boyd, Paul H. O'Neill School of Public and Environmental Affairs
"I've never had such an amazing group of friends," said Rogers, who was overcome with emotion at the gathering.
Rogers, 50, was diagnosed with breast cancer in August and has been receiving chemotherapy treatments. She said the assistance has made a huge difference in her life and will help keep her moving forward.
"It's an amazing feeling, and I can't thank everyone enough for this," Rogers said.
The money will allow her to take some days off work while receiving treatments and after she has a double mastectomy, without worrying about missing hours and pay. Rogers has been working 10-hour shifts Monday through Thursday during her battle, while receiving treatments on Fridays.
"There's a huge weight off my shoulders," she said.
The idea for assisting Rogers started with senior Nicole Wenger, who will graduate Dec. 21 with a degree in human resources management. Wenger said she's come to know Rogers from all the hours she spends at the O'Neill School, grabbing coffee early in the morning and chatting with her whenever she is in the café.
"She always asks how I am doing," Wenger said. "She always smiles back when I ask simple questions, asking how her day is."
Wenger said Rogers is like a mother to students. So she became a little concerned when she noticed Rogers getting thinner and wearing caps and head scarves, even though she didn't know then what Rogers was dealing with.
It was later through O'Neill School senior lecturer Cheryl Hughes that Wenger learned Rogers was battling breast cancer.
Wenger approached Hughes about getting Rogers some hats to wear. Eventually, that idea expanded into seeking monetary donations.
Wenger created a pamphlet that explained what she wanted to do and how people could help, and she distributed it to students through GroupMe, a mobile group messaging app, on Nov. 20. Hughes shared the document with O'Neill School faculty.
Hughes was eager to help. She said Rogers always has a kind word for people. And, when Hughes battled breast cancer herself in 2012, Rogers was a great help to her.
"When I went through (chemotherapy) treatments, she made me laugh so hard. When you go through treatments, people treat you like a China doll. We just laughed. That makes you forget about the cancer," Hughes said.
The recipients of Wenger's pamphlet in turn shared it with others, and the effort spread quickly.
"We got an overwhelming response of support. That was very cool," Wenger said.
Many people donated through a Venmo account Wenger created. Others gave cash or checks directly to Wenger and Hughes.
Wenger even received a $20 donation from her grandmother and dying grandfather, who expressed his wish to help before passing away Nov. 27 from heart failure.
She had hoped to raise about $1,000, but was short of that before the Thanksgiving break. In just the few short days after the break, though, the total quickly exceeded $2,000.
"It's just so cool. It makes my heart happy," Wenger said.
Those who wish to provide additional assistance to Rogers can do so through Venmo by contacting Wenger at NicoleWenger_, and by entering "SPEA" in the comment section, she said.