A dozen IU Libraries staff members recently finished an eight-hour shift dirty and sore after working in a swampy area – and they were thankful for the experience and opportunity.
The group of volunteers took advantage of Indiana University's nearly year-old volunteer paid leave policy to help the Sycamore Land Trust with a construction project at the Beanblossom Bottoms Nature Preserve, a restored wetland in northern Monroe County.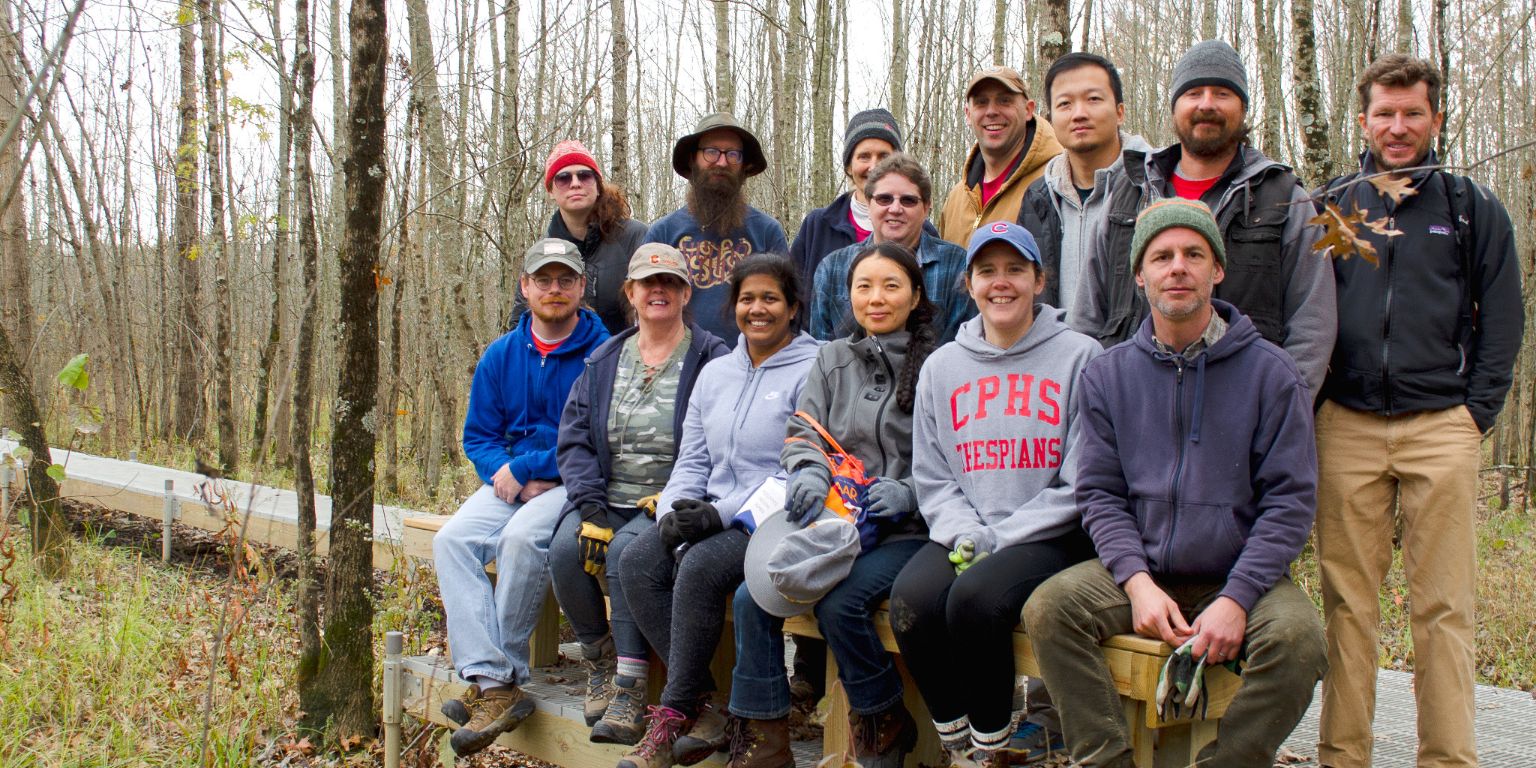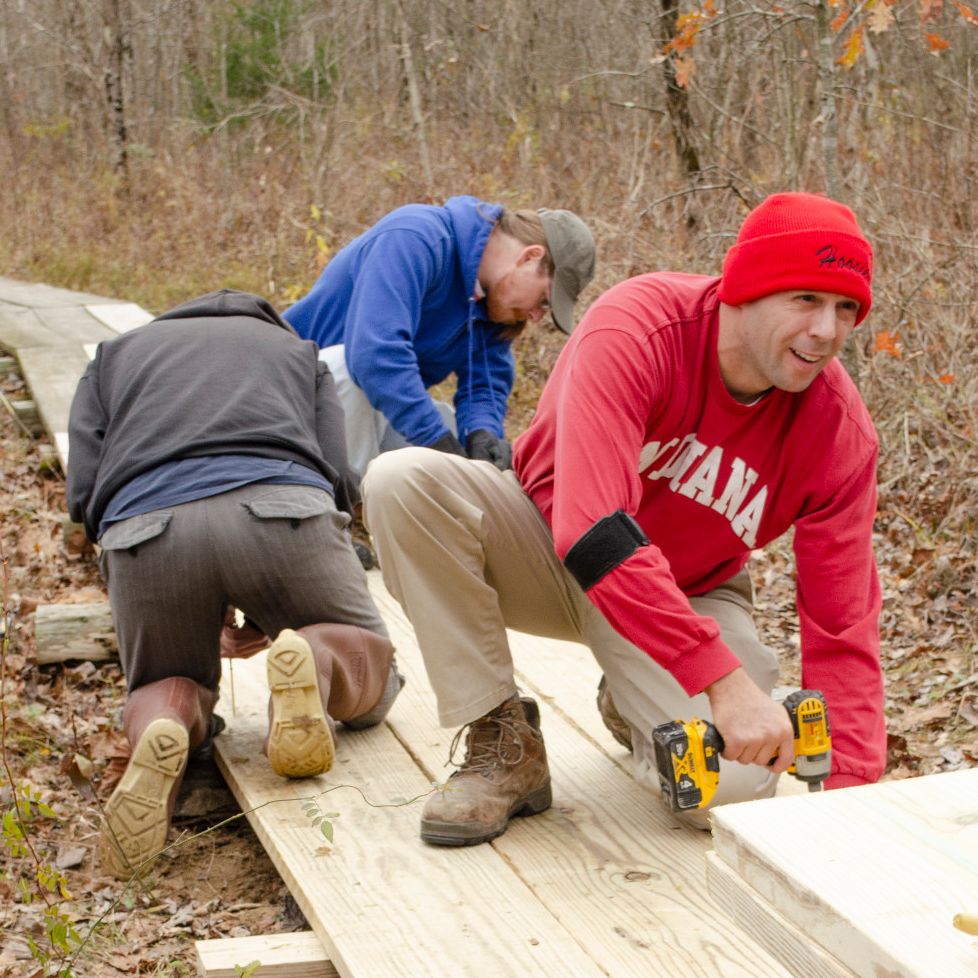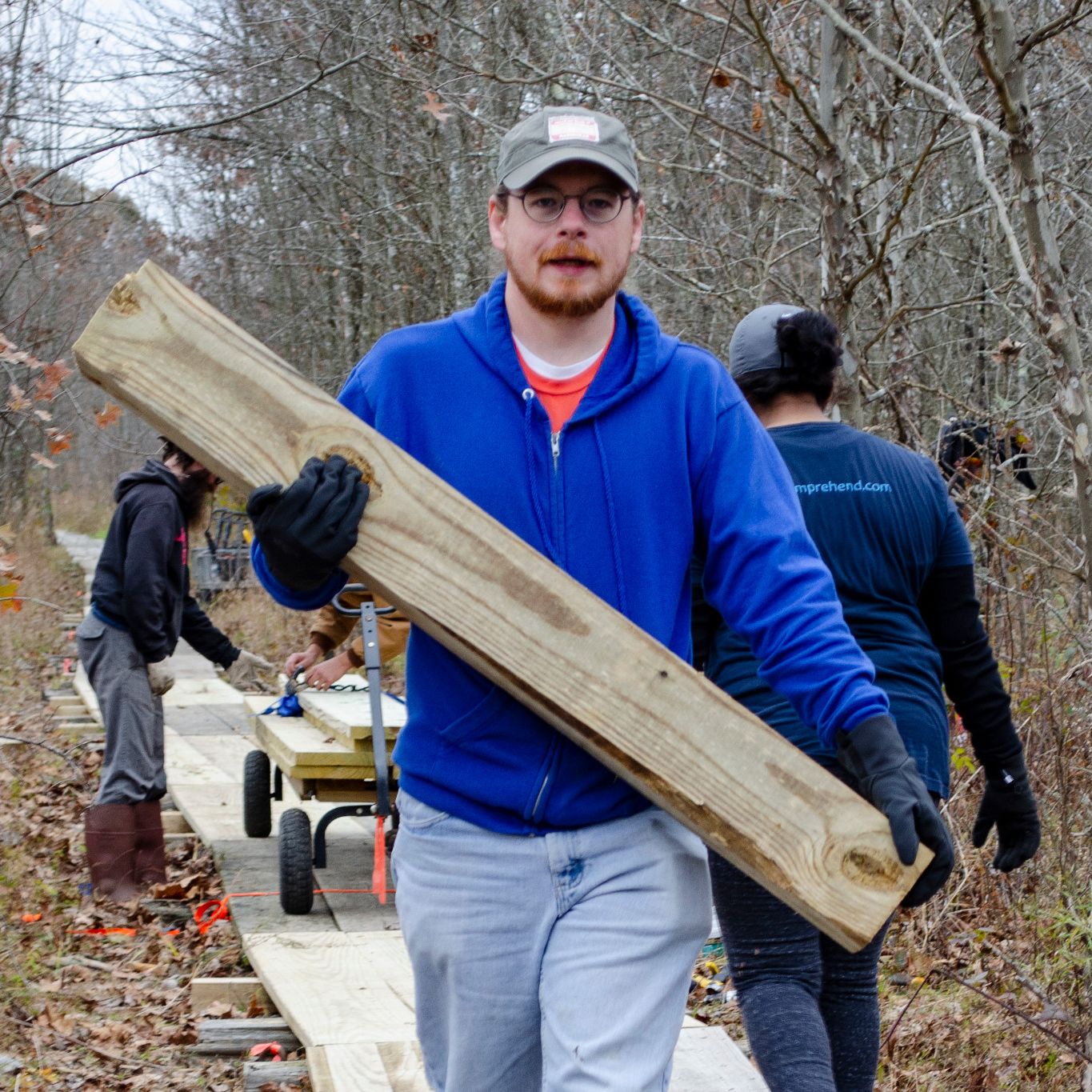 They replaced pieces of a boardwalk that were in disrepair – 480 feet of individual boards in all. The boardwalk allows visitors to tour the 733-acre nature preserve.
"Not only did we replace the boards, which was an obvious benefit, but it was great team building," said Mike Noth, director of business affairs at IU Libraries. "I enjoyed getting to know some folks I didn't know very well and work as a team."
Volunteer paid leave is available to all staff employees at IU. One volunteer paid leave of up to eight hours is available each calendar year for staff employees who participate in an IU-sponsored volunteer event.
Noth said volunteer paid leave provides a new opportunity to interact with the greater-Bloomington community. Noth is a member of Beanblossom Bottoms and suggested volunteering there.
IU Libraries used its weekly newsletter to promote the volunteer paid leave opportunity among staff, and a sign-up link was created.
"I just like to hike and spend time outdoors, but do not get the chance to actually do those things often enough," said Daniel Lewis Pierce, a programmer/analyst for digital library applications. "I jumped at the opportunity to have a work day spent outside in the forest. That it was for the Sycamore Land Trust was a nice bonus."
The dozen who signed up turned out to be the perfect amount for the project, Noth said.
They met at Beanblossom Bottoms at 8:30 a.m. Nov. 6. The temperature started in the 30s but eventually climbed into the 50s. Volunteers hauled in new lumber, ripped out decaying boards, installed new boards and hauled out the old boards.
"We were all sweaty, dirty, sore and tired by the end of the day," Noth said.
But they were satisfied with their efforts.
Pierce said he enjoyed pushing and steering the lumber carts.
"We had to watch our step closely and communicate clearly to make it down the boardwalk without spilling the load into the swamp water," he said. "Thankfully, everyone stayed dry!"
Chris Fox, Sycamore Land Trust's land stewardship manager, said this was the first time a group of volunteers had committed to an eight-hour block to help the Sycamore Land Trust, and IU's volunteer paid leave policy already has him thinking of new possibilities.
"Tree planting would be a great task in the spring," he said.
Pierce said he thinks volunteer paid leave is beneficial and a worthwhile opportunity that people should seize.
"It enables people who might not usually volunteer in community projects due to time constraints to get their feet wet," he said.
Noth said he'd like to see IU Libraries do volunteer paid leave projects once a quarter, which would give staff members multiple choices for participation. In fact, 16 participated in a Thanksgiving basket preparation Nov. 21 at Pantry 279 in Ellettsville.
One goal for next year, Noth said, is to identify some projects involving light-duty work, which might be more preferable to some staff members.
He also hopes local nonprofit organizations learn about IU's volunteer paid leave policy and reach out to the university's departments for assistance.