When the forecast calls for snow and ice, it's time to consider what inclement weather means for employees on Indiana University's Bloomington campus.
Inside IU Bloomington rounded up a few details intended to help staff and faculty navigate the cold and snowy season: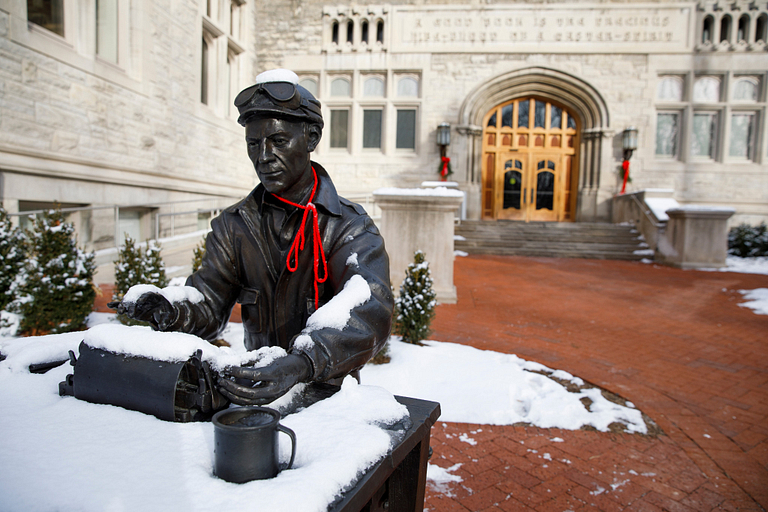 Am I required to come in to the office?
According to IU's adverse weather policy, all staff and temporary employees are expected to report to work unless otherwise notified. However, if the weather creates hazardous conditions for your commute to or from work, you are encouraged to use your best judgment and should not endanger yourself or ignore local travel advisories.
If adverse weather conditions cause extreme travel hazards to or from work:
Employees should make every effort to notify their supervisor.
Advance notice requirements for use of time off is waived.
Support, service, PAO, PAE and PAU staff may use accrued time off or, with approval, may make up the work time during the same week.
PAE staff absent for a full work day may use available PTO.
Staff employees may either charge an absence against time-off accruals or, at their option, be absent without pay but with benefit time accrual.
All absences from work for temporary employees are without pay.
There is no adverse weather policy for academics. Classes are in session unless there is a campus closure.
Will campus ever close? If so, how will I find out?
While the IU Bloomington campus doesn't typically close, sometimes classes and non-essential work functions are canceled or delayed. How does IU make such a decision? Designated senior management – including representatives from IU Emergency Management and Continuity, Facility Operations, Landscape Services, IU Police Department, and Residential Programs and Services – convene to consider details such as the status of the grounds, buildings, walkways and the bus system, as well as weather forecasts and travel advisories. Then, members of the campus executive policy group make the final decision.
Any cancellation or delay will be announced on local radio stations, via IU Bloomington social media accounts and on the Protect IU website. An IU-Notify alert is also sent via email, telephone, text and social media.
Staff who would normally be at work during hours the campus is closed and who were not already scheduled off are eligible for regular pay for the absence.
However, there are some essential jobs that must be performed during such circumstances; your supervisor will tell you if your job falls into this category. Essential support and service staff and temporary employees required to work on campus during a closure will receive additional compensation. Essential professional staff receive their regular pay but do not receive any additional compensation.
Non-emergency staff who report to work when the campus is closed will be compensated at their regular rate of pay. In addition, a campus closure might not necessarily apply to employees working at locations outside the immediate campus area. This includes employees who work from home or from other off-campus locations.
How do I report an icy spot?
Sidewalks, parking lots and roads may become slick again even after IU crews have treated these areas, especially with changing temperatures and new precipitation. If you notice an area on campus that needs attention, call the IU Operations Center at 812-855-8728. This number is staffed 24 hours a day, seven days a week.
I commute to my IU job. What should I keep in my car?
Protect IU has a complete list of items suggested to include in a safety kit for your home, office or personal vehicle to ensure your safety and comfort during cold weather.
In addition to water, snacks and a working flashlight in case you were stuck in your vehicle for some period of time, Protect IU recommends tucking a blanket into your trunk or back seat. A solar cell phone charger could be useful as well.
If you regularly commute in clothes or shoes that would be unsuitable for harsh weather, pack extra clothing. Other ideas include a small shovel, ice melt, sand or cat litter for better traction and jumper cables.